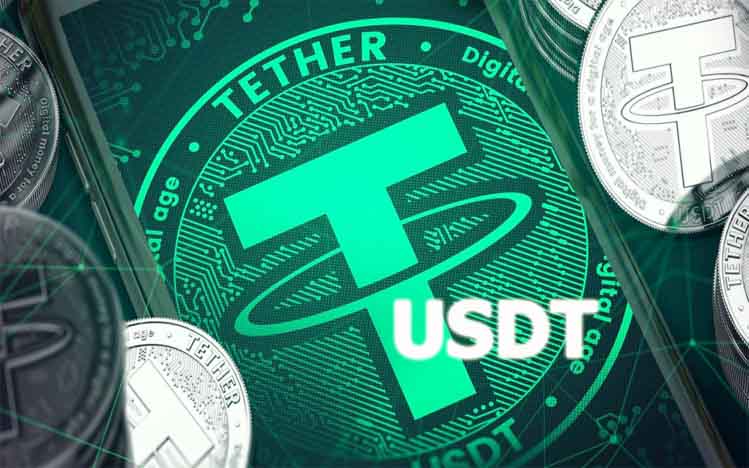 What is USDT? – Since the COVID-19 pandemic that occurred worldwide in the second half of 2019, investor interest in digital currencies has continued to increase. Despite having experienced a decline in value in early 2018 to the level of $3,400, the cryptocurrency actually experienced a steady increase and broke its highest level of $20,000 per BTC in 2020.
Among the various types of cryptocurrencies used, bitcoin and ethereum rank high. These two types of cryptocurrencies are the most recognized currencies among novice investors. In fact, there are various types of cryptocurrencies offered, such as XRP, ADA, DOGE and USDT.
What is USDT, Get to know USDT in depth
USDT is a tether that is pegged to its traditional fiat currency, the US dollar. But apart from that, tether is also guaranteed in other currencies such as the euro (EUR) and the yen (JPY). The blockchain used for USDT is not standalone, but is run as a second-tier token on other cryptocurrencies such as Tron, Ethereum, EOS, Algoran, and OMG.
In the world of cryptocurrencies, tether itself is categorized as a stablecoin where its value tends to be stable and free from the volatility of fiat currencies. There are three types of stablecoins, namely stablecoins secured by fiat/traditional currencies, stablecoins secured by cryptocurrencies, and unsecured stablecoins, such as True USD (TUSD), Pazos Standard (PAX), and USD Coin (USD).
USDT is a stablecoin with a long history that started trading since February 2015. Tether was originally launched under the name RealCoin by Tether Ltd. in July 2014, then changed its name to USTether.
In November of the same year, the name was officially changed to USDT. As the oldest stablecoin, USDT has now morphed into the stablecoin with the largest market cap in the world. In early 2021, USDT's market capitalization reached $49.43 billion.
USDT Developments Year by Year
USDT is increasingly becoming the prima donna in cryptocurrency because its value tends to be stable. Data from coinmarketcap.com shows that USDT continues to increase from year to year, both in market capitalization, trading volume, and circulating supply.
This makes it the fifth most demanded cryptocurrency in early 2021, up two places since 2019. The four cryptocurrencies that top USDT are bitcoin (BTC), ethereum (ETH), binance coin (BNB), and ripple (XRP).
Dari segi kapitalisasi pasar, USDT terus mengalami peningkatan yang signifikan sejak tahun 2020. Kapitalisasi pasar yang mulanya sebesar $4,1 miliar pada Januari 2020 kini berkembang pesat menjadi $49,43 miliar pada April 2021.
Meanwhile, USDT trading volume moved from $21.5 billion (January 2020) to $105.3 billion (April 2021). This volume far exceeds bitcoin, ethereum and binance coins which were at $49 billion, $31.85 billion, and $4.07 billion in April 2021. In terms of circulating supply, USDT reached a sizeable amount in 2021, which was around $49, 96 billion.
USDT Pros, Cons and Potential
Based on data from CryptoCompare, a provider of global cryptocurrency market data, as of February 2021, 57 percent of all bitcoin trades in the world were conducted in USDT. Tether is the main choice for investors because of the low volatility risk when compared to other cryptocurrencies.
The extreme volatility in the crypto market can increase or decrease by 10 to 20 percent in a single day. Cryptocurrencies other than tether such as bitcoin and binance coin tend to have short-term volatility which makes them less suitable for use in daily transactions.
In addition, by moving to USDT, traders can reduce the risk of a sudden drop in cryptocurrency prices and it is much cheaper to transfer BTC to USDT than fiat currency.
Reporting from Bullish News, on Monday (4/26/2021), Coinbase Pro reportedly added USDT to its application. Added details include BTC/USDT, ETH/USDT, USDT/EUR, USDT/GBP, USDT/USD and USDT/USDC.
The exchange was intended in response to a request from Coinbase Pro customers, in which the coin with the most interest must meet the standard in order to be added to the app. This news was certainly welcomed by Coinbase Pro and USDT users.
This is because consumers have not been able to make USDT transactions through coinbase.com or the Coinbase mobile application. Previous tether transactions were mostly done on popular cryptocurrency exchanges, such as BitFinex, CoinSpot, Binance, and Kraken. With this launch, it is hoped that USDT transactions will be easier and potentially more in the future.
The launch is the end result of a long journey. The reason is, Tether Ltd. has long faced controversy that they don't have enough spare cash in their accounts to value all the existing tether coins.
This resulted in the price of USDT having decreased by up to $0.88 per token. Tether has also been criticized by the public stating that tether reserves have never been fully audited by an independent third party.
This continued in the legal dispute that occurred with Bitfinex and the New York Attorney General which lasted for quite a long time, namely since 2019. The final trial decided that Tether Ltd. had to pay a fine of $18.5 million.
The release of Tether Ltd. These legal issues are believed to be one of the reasons for Coinbase considering adding USDT to its app. Reportedly, USDT will be added in stages once the tether supply is sufficient.
The controversy over the USDT issue doesn't end there. In March 2021, there were classified documents circulating online that claimed to belong to Tether. The sender threatened to leak the contents of the document to the public if it did not receive $24.1 million worth of coins.
Even so, Tether decided not to redeem the document and reported it as a form of blackmail. Not only once, it turns out that a similar hacking case has also been experienced by Tether in November 2017 where a number of tether coins worth $31 million were stolen.
After learning about USDT, are you ready to make cryptocurrency transactions with USDT?
(*)