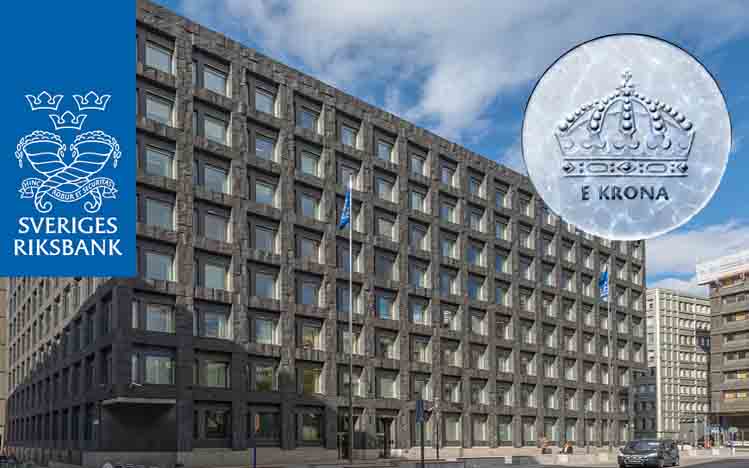 KANALCOIN NEWS – After the Bahamas, Sweden's central bank is now piloting a blockchain-based digital currency, but it's still in the early stages. This was announced last Thursday. The project, called e-krona from Sveriges Riksbank, is the latest effort by a digital currency central bank (CBDC) which for years has been uneasy about using projects based on DLT (Distributed Ledger Technology).
At least for now, the e-krona project is still limited. Where Sweden is still trying to use the digital currency issued by Riskbank, this will run as a simulation until February 2021, and can be extended by Riskbank for another six years.
The system that will be developed by Riskbank is to issue e-krona to participants, namely banks. Then the bank will distribute the digital cash to end users, namely consumers and traders. The user will then hold the e-krona in the digital wallet on the smartphone. The technology used is like a card that can make peer to peer payments as easy as sending a text.
The Bank is committed not to launch e-krona in any form in advance. That's because there is a "political decision" as stated by Riksbank. But this year-long project will illustrate how the e-krona DLT technical solution can work.
The project will also help Riksbank determine what, how, when and in what form it might issue digital money to the Swedish people.
Riskbank is more interested in developing a retail payment solution for Sweden and wants e-krona that consumers can use, not bankers. And even though it has been years to consider DLT as one solution among many.
Technological developments continue to progress rapidly according to reports in 2018 therefore the project cannot eliminate DLT solutions to be relevant for the longer term.
Sand dollar – digital currency for the bahamas
The use of digital currency has been carried out by the Bahamas which was tested on December 27, 2019, which took place in the Exuma district and in the Abaco district. The sand dollar digital currency was piloted for three months in early 2020, where the aim was to collect feedback on the performance of the sand dollar.
In addition, the government of the Bahamas has another purpose in using this sand dollar. Namely encouraging digital transactions in the world and streamlining local financial transactions. As well as for the world of tourism in the Bahamas to be one of the beneficiaries of this project. Where for teenagers or millennials in that country, sand dollars are considered very attractive because they can pay with crypto.
(*)