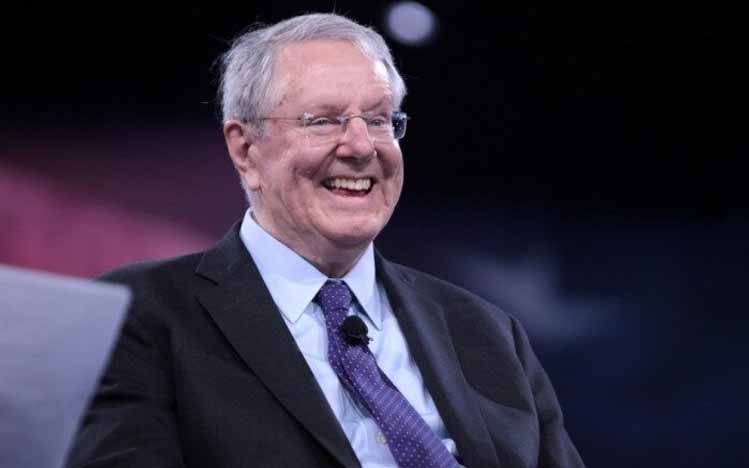 KANALCOIN NEWS – United States publishing executive, Steve Forbes, called bitcoin worthy of investment, but could not replace the position of fiat currency. That is because there is a limiting supply of bitcoins at the moment. This supply is considered to be bitcoin's weakness.
Steve Forbes, who is a publishing executive from the United States, conveyed his ideas about bitcoin, which is currently the prima donna in the investment world. Forbes conveys two important points about bitcoin.
This statement was made by Forbes in response to the opinion that cryptocurrency is capable of replacing the position of the dollar. However, Forbes said that his opinion was much different.
Forbes does not deny that bitcoin is currently the prima donna in the investment world. In fact, many financial institutions are adding bitcoins to their current portfolios.
According to Forbes, the emergence of bitcoin as a new investment prima donna was triggered by inappropriate government policies when facing current economic problems. Forbes said that the world's central banks are considered to undermine interest rates and print too much money.
Instead of improving the economy, Forbes said that this step could actually worsen economic conditions in the long term.
"People are piling bitcoins because of a lack of trust in the government's fiat currency," said Forbes as reported by Kanalcoin.com from News.Bitcoin.com.
"The Federal Reserve and other central banks have smashed interest rates and printed unimaginable amounts of money to pay for Covid relief measures and to stimulate battered economies," Forbes added..
Forbes also said another reason is the rising inflation rate in a country. Apart from that, there are also many parties who view bitcoin as the new gold in the investment world. In fact, there are those who think that bitcoin can replace the current dollar.
However, Forbes admits that they do not agree that bitcoin is able to replace the dollar as the current currency. Forbes considers that the volatility of bitcoin is too high and affects the long-term contract of a transaction.
Forbes conveys its argument about bitcoin by using a home mortgage analogy. If people currently took out a $250K mortgage in March 2020, that person could be $2 million in debt today.
"Say you took out a mortgage in March for $250K, today you could owe the bank almost $2 million," Forbes said.
This condition makes crypto currency can never replace fiat currency. Forbes also said that cryptocurrencies want to replace fiat currencies, at least have a value like the swiss franc.
In fact, Forbes calls people who want to sign long-term transaction contracts with bitcoin are people who are not sane.
(*)