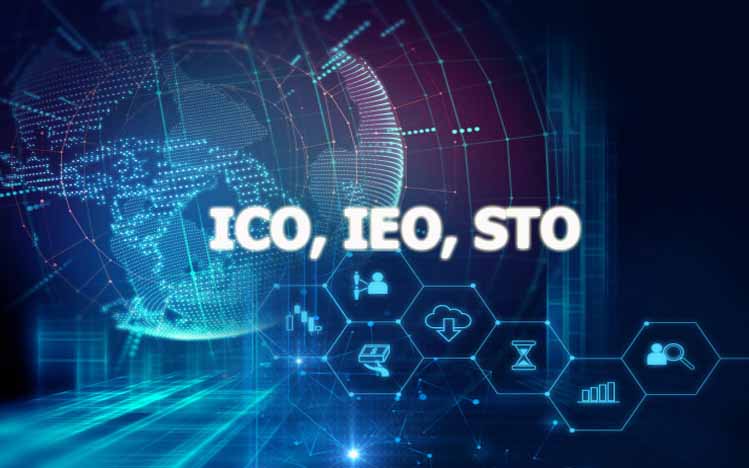 For those of you who are already familiar with the investment world, both stocks and digital tokens, the terms ICO, IEO, and STO may be familiar. However, for those of you who have just started to dive into the world of investment, especially digital token investment, these three terms are certainly still foreign to your ears.
Therefore, on this occasion, we will explain a little about the three basic terms in the blockchain world. The goal is for you to know the basics in the blockchain world. In addition, you can have a basis for determining and choosing where to invest digital tokens that you will use.
So, what are ICOs, IEOs, and STOs in the blockchain world? Here's the explanation for you.
Initial Coin Offerings (ICO)
Initial Coin Offerings or ICOs are simply referred to as a means of raising funds for blockchain projects. In other words, ICOs are a source of capital for blockchain technology project makers.
ICO functions are actually similar to Initial Public Offerings or IPOs. IPO itself is a term used by companies when companies first release their shares to the public. The shares released to the public will later become capital for the company. Before the shares are released, the shares owned by the company are privately owned shares.
The shareholders will later benefit from the profits of the process. The company's profits will later be obtained from the process of producing and selling goods or services from the company that released the shares.
However, ICOs are slightly different from IPOs. Blockchain technology-based application developers use the term ICO by distributing tokens to fund owners. Tokens owned by the owners of these funds will later function unlike shares. The token holders will only benefit if the blockchain project built is successful.
In addition, the ICO does not give long-term authority rights to token holders. The token holders also do not have the right to interfere in the project implementation process. Token owners only act as capital providers to blockchain technology-based application developers.
Thus, ICOs have a level of security that is arguably less. This is because application developers based on blockchain technology have the opportunity to deceive fund owners. What's more, the ICO system has a decentralized system that allows multiple people to participate.
The lack of capital and preparation required by blockchain technology-based application developers has resulted in many frauds taking advantage of ICOs. In fact, in some countries, fraud has often appeared or what is often called a scam under the guise of an ICO.
Initial Exchange Offerings (IEO)
The number of frauds experienced by fund owners or investors through ICOs makes developers or developers of blockchain technology applications start using new systems. From this phenomenon emerged a system called Initial Exchange Offerings or IEO.
IEO itself is an ICO that is not based on a direct relationship between application developers and fund owners. IEO involves an exchange that acts as an intermediary for buying and selling tokens between application developers and fund owners.
The developers of blockchain technology-based applications that are not fake are indeed quite disturbed by the emergence of various fraud or scam models that use ICOs. This makes it difficult for developers or developers to get funds from fund owners or investors.
In addition, the security offered by IEO makes investors or fund owners feel more comfortable to get tokens without fraud. To get tokens from developers, investors must first have an account on an exchange that provides tokens from developers.
For developers, the use of IEO will make the projects being developed or created by the developers look more legit and trustworthy. This is because projects that enter the exchange will be seen as projects that have large funds. Projects that have large funds are usually trusted projects and will have great value. The large value possessed by a project will give investors an idea that the profits they will get will also be large.
For investors, the use of IEO in developing blockchain technology-based application projects will make investors or fund owners have a guaranteed sense of security. This is because the projects entered into the exchange have been verified in advance by the exchanges. In addition, the big name of the exchange will be at stake if there are indications of fraud against the owners of funds or investors. Thus, investors will have more confidence in buying tokens from exchanges.
In addition to investors and developers, the emergence of this IEO also has advantages for the owners of the exchange market itself. Usually, the exchange and the developer have a separate contract to trade the developer's project. These contracts are usually of very large value and can add income from the exchange market. In addition, the existence of projects traded through exchanges will increase the chances of their tokens being sold and increase the credibility and income of the exchange itself.
Despite having many advantages compared to ICOs, IEOs also have some drawbacks that have more of an impact on the exchange market and developers.
For investors, the perceived loss will only occur if the developer who offers the project commits a scam. The money held by investors will be lost. However, when a scam occurs, the big name exchange market intermediary will be at stake. In fact, the exchange company concerned could go bankrupt and no longer operate.
This is because the exchange company could be sued by investors. In addition, the exchange market company must compensate investors who have purchased through the exchange market. It doesn't stop there, the name of the exchange market that has been polluted will make it difficult for the exchange market to find investors on the next opportunity. Not only having trouble finding investors, developers will also hesitate to offer cooperation with them for fear of not getting investors.
Meanwhile, for developers, usually starting a project through an IEO will cost a lot of money. This will be a big problem for developers who incidentally are still starting their own company. Of course, they have to raise a lot of funds first to use IEO. Inevitably, they will use an ICO which has the potential to be seen as a scam for some investors.
Secure Token Offerings (STO)
Secure Token Offerings or STO is a system that can be said to have the best security compared to IEOs and ICOs. This is because STOs are usually protected by a clear and definite legal umbrella. Meanwhile, IEOs and ICOs usually do not have a clear legal umbrella to protect the various parties involved in them.
One of the countries that has issued regulations on STO is the United States through the SEC. The concept used in STO can be said to be similar to share ownership in conventional companies that have been in the stock market. Investors have ownership rights and authority over the companies they buy tokens from.
In addition, investors have the opportunity to manage their own tokens. Investors have the opportunity to buy, sell or hold the tokens they have purchased from the company. Thus, the concept is the same as when investors trade stocks.
However, the very high cost that must be met by companies to use STO can sometimes be considered very burdensome. Therefore, there are several companies that use the mixed concept of ICO and STO in their fundraising. This concept is called Production-Oriented Token Sales.
This hybrid method is arguably a powerful way for companies to raise funds by saving their costs. However, there are other costs that companies must incur to market their tokens. What's more, ICOs have not been noticed by investors for a long time because of the lack of guaranteed security.
That was a brief explanation of some basic terms in the blockchain world, especially ICO, IEO, and STO. After knowing these terms ICO, IEO and STO, hopefully you can be wiser in considering investing in the world of digital tokens.
Hopefully helpful, and thank you. See you in the next articles.
(*)