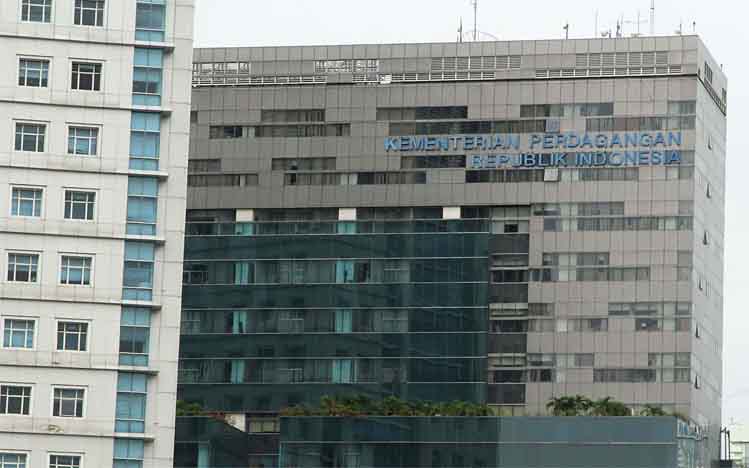 KANALCOIN NEWS – The Ministry of Trade (Kemendag) of the Republic of Indonesia is reportedly in the midst of establishing a new regulation regarding crypto assets in Indonesia. Through the Commodity Futures Trading Supervisory Agency (Bappebti), the Ministry of Trade officially permits cryptocurrency trading in Indonesia.
The regulations referred to are contained in the Commodity Futures Trading Regulatory Agency (Perba) Regulation Number 7 of 2020 concerning Establishment of Lists of Crypto Assets that Can be Traded on the Physical Market of Crypto Assets.
Head of Bappebti, Sidharta Utama, said that only 229 crypto assets have been granted permission to be traded in Indonesia at this time. The regulations submitted have also been in effect since December 17, 2020.
"In this regulation, Bappebti stipulates 229 types of crypto assets that can be traded on the physical market for crypto assets," said Sidharta in his official statement, Monday (11/1/2021) local time, reported by Kanalcoin.com from Kompas.com.
Apart from that, Sidharta also said that the regulations issued by CoFTRA had the aim that people who use crypto assets get protection. Sidharta also revealed that so far the public needs to get legal certainty when making physical transactions with crypto assets.
"With the issuance of the Bappebti (Perba) regulation, it is hoped that the physical trading of crypto assets in Indonesia will be able to provide legal certainty as well as protection for people who transact physical crypto assets in Indonesia," Sidharta said in his official statement, Friday (22/1), quoted by Kanalcoin.com from Kontan.co.id.
Bappebti itself determines 229 crypto assets worth trading based on two approaches. First, CoFTRA uses a juridical approach by looking at the 500 coin market cap/CMC rankings in accordance with the provisions of Article 3 paragraph (2) letter c of Perba Number 5 of 2019.
Second, CoFTRA conducts an assessment of CoFTRA's process hierarchy analysis (AHP) while paying attention to security aspects, profiles of the developing team and team members, governance of the blockchain system, scalability of the blockchain system, a roadmap explaining plans for the development of a blockchain system whose achievements can be verified, and standard values. 6,5.
Based on the two approaches taken by the CoFTRA, the Ministry of Trade has finally determined 229 crypto assets that can be traded in Indonesia at this time.
The following is a list of 229 crypto assets that can be traded in Indonesia after the regulations from the Ministry of Trade were released.
Bitcoin, Ethereum, Tether, Xrp/ripple, Bitcoin cash, Binance coin, Polkadot, Chainlink, Lightcoin, Bitcoin sv, Litecoin, Crypto.com coin, Usd coin, Eos, Tron, Cardano, Tezos, Stellar, Neo, Nem, Cosmos, Wrapped bitcoin, Iota, Vechain, Dash, Ehtereum classic, Yearn.finance, Theta, Binance usd, Omg network, Maker, Ontology, Synthetix network token, Uma, Uniswap, Dai, Doge coin, Algorand, True usd, Bittorrent, Compound, 0x, Basic attention token, Kusama, Ok blockchain, Waves, Digibyte, Icon, Qtum, Paxos standard, Ren protocol, Loopring, Ampleforth, Zilliqa, Kyber network, Augur, Lisk, Decred, Bitshares, Bitcoin gold, Aragon, Elrond, Enjin coin, Band protocol, Terra, Balancer, Nano, Swipe, Solana, Bitcoin diamond, Dfi.money, Decentraland, Avalanche, Numeraire, Golem, Quant, Bytom, Serum, Iexec rlc, Just,
Verge, Pax gold, Matic network, Kava, Komodo, Steem, Aelf, Fantom, Horizen, Ardor, Hive, Enigma, V. Systems, Z coin, Wax, Stratis, Ankr, Ark, Syscoin, Pwer ledger, Stasis euro, Harmony, Pundi x, Solve.care, Gxchain, Coti, Origin protokol, Xinfin network, Btu protocol, Dad, Orion protocol, Cortex, Sandbox, Hash gard, Bora, Waltonchain, Wazirx, Polymath, Request, Pivx, Coti, Fusion, Dent, Airswap, Civic, Metal, Standard token protokol, Mainframe, 12ships, Lambda, Function x, Cred, Ignis, Adex, Moviebloc, Groestlcoin, Factom, Nexus, Lbry credits, Gemini dollar, Einsteinium, Vidycoin, Nkn, Go chain, Cream finance, Medibloc, Fio protocol, Nxt, Aergo, High performance blockchain, Cartesi, Tenx, Siacoin, Raven coin, Status, Storj, Electroneum (etn), Aurora, Orbs, Loom network
Storm, Vertcoin, Ttc, Metadium, Pumapay, Nav coin, Dmarket, Spendcoin, Tael, Burst, Gifto, Sentinel protocol, Quantum resistant ledger, Digix gold token, Blocknet, District0x, Propy, Eminer, Ost, Steamdollar, Particl, Data, Sirinlabs, Tokenomy, Digitalnote, Abyss token, Cake, Veriblock, Hydro, Viberate, Rupiahtoken, Vexanium, Global social chain, Ambrosus, Refereum, Crown, Daex, Cryptaur, Spacechain, Expanse, Sumokoin, Honest, Auroracoin, Vodi x, Smartshare, Exclusive, Cosmo coin, Aidcoin, Adtoken, Play game, Lunacoin, Staker, Klaytn, Flamingo, Wing, Bella protocol, Milk, Bakery token, Lyfe, Ionomy limited, Smart chain solution, Kryptovit, Eautocoin, Quantum, Bankex, Chaincoin, Hara coin, Venus protocol, Alpha finance.
(*)