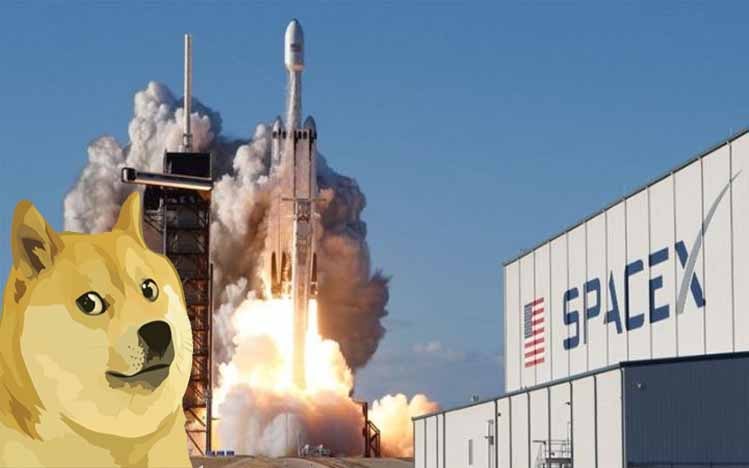 KANALCOIN NEWS – Geometric Energi Corporation as a manufacturing and logistics company based in Canada, is rumored to be launching a payload to the moon. Later, the project will be fully funded by Dogecoin as one of SpaceX's partners in developing space rockets.
Last week, the company announced that the rocket, which is being prepared, could eventually travel to the moon. The company emphasizes that the innovation will be realized as early as the first quarter of 2022, along with the launch of the SpaceX Falcon 9 rocket.
As for the details, the rocket weighs 40 kilograms and is designed as a tool that has artificial intelligence. This intelligence is adopted from the integration of the camera sensor with the data system that has been inputted.
Reported by Kanalcoin.com from Cointelegraph, after officially conducting transactions with Dogecoin, Geometric Energy Corporation has established Dogecoin as a business unit in the space sector.
SpaceX's Vice President of Commercial Sales said the innovation would demonstrate the application of cryptocurrencies. So, he said, cryptocurrencies can be designated as the base currency in interplanetary trade.
However, until now, neither SpaceX nor Geometric Energi Corporation have determined how Dogecoin will be used in rocket funding. However, still citing the Cointelegraph report, these fees may refer to the development of the payload, as well as being included as cash funds to be sent to the moon.
Previously, the company had a mission to develop a lunar exploration program in China. At that time, the rockets used in 2019 cost 1.2 billion yuan, or about $172 million.
The cost was spent on sending a landing weighing up to 1200 kg with a cruiser of 140 kg. NASA as the United States agency responsible for space programs and research, also carried a 49.6 kg payload at a cost of about $ 280 million.
These costs include research and development. Where, the funds used reached $ 5.6 million per kg. However, that value does not take into account the mass at launch.
Still according to a Cointelegraph report, if the Geometric Energy satellite bears the same costs as SpaceX's design, in the next eight years there is a possibility that the funds are disbursed more efficiently.
If calculated, the company only needs to pay around $ 225.88 million or equivalent to Rp. 3.3 billion. In Dogecoin calculations, the value issued is around 338 million Dogecoins for a 40 kg payload.
"This will represent 0.3% of Dogecoin supply which is worth 129.5 billion Dogecoin tokens," said Geometric Energy CEO Samuel Reid.
Meanwhile, on several occasions, Elon Musk as CEO of SpaceX has repeatedly hinted that Dogecoin will be the first cryptocurrency to reach the moon.
Because of this prediction, Musk was asked to be responsible for his tweets on social media accounts. Because, in the last 30 days, the price of Dogecoin almost jumped, its value increased by more than 800 percent.
(*)