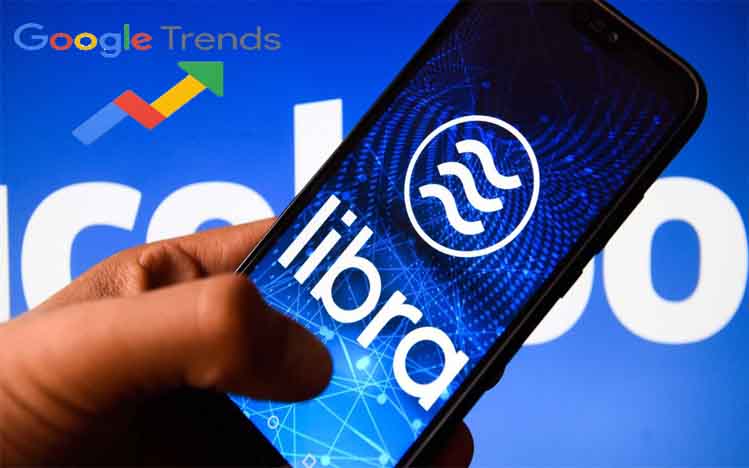 KANALCOIN NEWS –  Based on the news submitted by Cointelegraph (18/07), China occupies the first position in the Google search engine for "Libra Facebook" Searches after the release of the Libra White Paper for a full month.
China is really watching Facebook's Libra closely. The country was first on the list of countries to google for Facebook's latest cryptocurrency project. This is proven by data from Google Trends.
"Facebook Libra" in a Google search engine for the last 30 days
Based on the facts conveyed by Google Trends data, China is the country that has the highest proportion of Facebook Libra requests. The maximum value for its popularity even reaches 100 requests. While the other 4 countries that are also included in the top 5 countries are St Helena which ranks second with a score of 37, Singapore with a score of 32, Hong Kong with a value of 25 followed by Luxembourg with a value of 24.
At the same time, it turns out that the demand for the United States is lower, with an estimated request value of only 10. Thus, the country where Facebook originates is ranked 25th in the Google search list which refers to Libra's search popularity data on Google.
Marcus, who is a representative for Facebook's Blockhain subsidiary, Calibra, also emphasized that Libra will compete with WeChat, Alipay. Not even Google Trends data is the only source attesting to China's huge spike in interest in Facebook's Libra.
China's Sina Weibo which is the country's largest social media network has also had a record increase in the popularity of Facebook's Libra.
The recent statement by David Marcus from Facebook's Libra about his competitive plans in the current payment solution is very optimistic. Alipay Alibaba Group Holding and WeChay Pay from Tancent Holdings will be its competitors.
In addition, on July 8, 2019, the Central Bank of China announced that they would start working on their own digital currency. This is a response to Facebook's Libra because it can pose a risk, particularly to a country's financial system.
Meanwhile Facebook's Libra is on the rise in China. Back in 2018, CNBC reported that some 800 or more cryptocurrencies, which came into being as a result of initial coin offerings (ICOs), are now being called "dead," because they are trading at prices below $0.01. In 2019, this figure continues to increase. Many "dead" crypto projects are scams organized as ICOs and some of these cryptos could not even withstand the pressure of the bearish market at the end of 2018. Today (18/07) 5 other cryptocurrencies were also declared dead, including Emercoin, NEM, Bitconnect, Bitcoin Diamond and Universal.