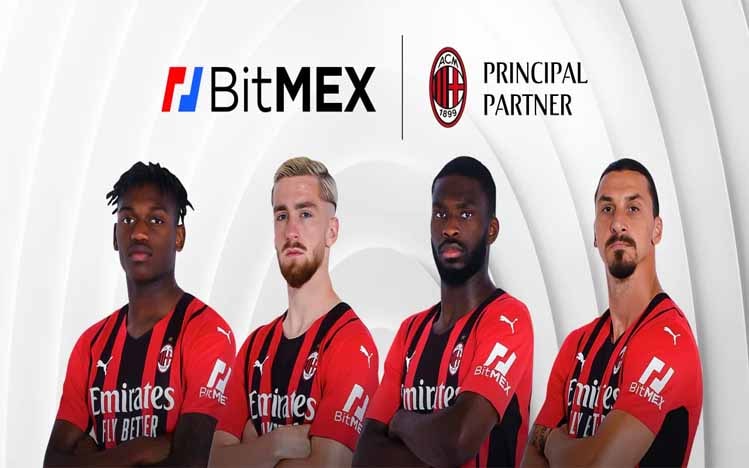 KANALCOIN NEWS – Italian League giant, AC Milan, has formed a partnership with crypto company, namely Bitmex. One of the most successful clubs in the land of Pisa, will establish cooperation as a trading partner in a cryptocurrency company.
Reported by Kanalcoin.com from News.Bitcoin.com, according to an announcement posted on the official website of the crypto company, Bitmex, AC Milan will be cooperating over the next few years, for the sponsorship that will be used on the sleeves of their official jersey.
Both parties have officially agreed to put the brand from Bitmex on the new jersey that will be used in the 2021/2022 season for the next few seasons. The Bitmex brand will be displayed on all team jerseys, both men and women.
AC Milan will certainly use the Bitmex brand on jerseys in all competitions they run in the 2021/2022 season, including all matches in the Champions League.
In addition, the placement of the Bitmex logo will also be pinned on the sleeves of the Milan e-sports team, namely AQM.
In line with this, Bitmex's expansion is the first time in the world of football and e-sports.
Alexander Höptner, who also serves as CEO of Bitmex, responded to his collaboration with the club nicknamed I Rossoneri.
Höptner commented that the partnership with AC Milan is an attractive prospective move for Bitmex in the long term.
Furthermore, Höptner also stated that the purpose of the Bitmex collaboration was to increase awareness of the Bitmex trademark and to spread an interesting understanding of cryptocurrency to the public.
Höptner also appreciates the achievements that have been achieved by AC Milan throughout the club's history, making it one of the most successful football clubs in the world with many trophies won.
Casper Stylsvig, who also serves as AC Milan's chief financial officer, gave a statement that also alluded to their partnership with Bitmex.
"Our red and black shirt is not just something our players wear on the pitch, it represents who we are, and it embodies the spirit of more than 500 million AC Milan fans around the world," said Stylsvig.
"The big step we are taking now is to establish a partnership with Bitmex. It will be a big step for the long term for the Bitmex brand and our fans around the world," added Casper.
Furthermore, AC Milan and Bitmex will make it easier for fans to access and enter cryptocurrencies.
Fans who have registered as official members of AC Milan fans will get a variety of special offers from crypto, such as the ease of doing exchanges and digital financial transactions.
(*)