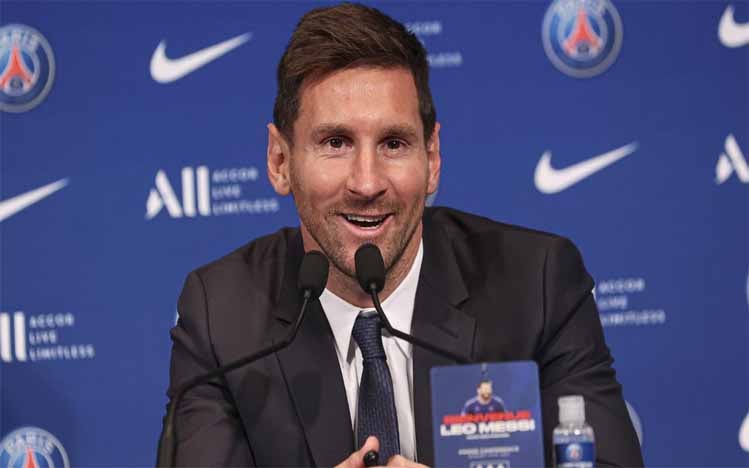 KANALCOIN NEWS – Recently, the world was shocked by the decision of the Argentine soccer superstar, Lionel Messi, who decided to move to Paris Saint-Germain. Messi will receive part of the payment in cryptocurrency when he signs the French club's contract.
Paris Saint-German has revealed that its new players will receive crypto as part of a $30 million "Welcome Package" payment. While the proportion of crypto deposits was not disclosed, the club stated that it constituted a significant share.
According to a report from his new French club, Paris Saint-Germain, quoted by Kanalcoin.com via News.Bitcoin.com, Messi, who has spent his days playing for Spanish football team Barcelona, will receive a share of around $30 million.
The payout is in the form of fan club tokens. This is part of the "Welcome Package" which is offered as an incentive to players. The total amount of the welcome bonus that will be paid out in cryptocurrency has not been officially announced.
Quoted by Kanalcoin.com from Reuters, the French club said that the amount they gave was significant from the total bonus. Coupled with rumors of Messi's move to a new club also made the token experience a huge increase in its trading volume.
Like bitcoin and other digital currencies, this fan club token can be used as a medium of exchange. This token is also commonly used to exchange other cryptocurrencies whose prices tend to fluctuate massively so that it will trigger central banks in various countries to remind investors about this digital asset.
PSG are said to be trading large amounts of fan tokens after reports emerged of Messi joining the club.
Still according to the same report, the token trading volume exceeded $1.2 billion in the days of rumors of Messi's arrival to the Paris Saint-Germain club. In fact, his price has also skyrocketed by 130% in reports indicating Messi could come to the club.
The PSG fan club token launched in January 2020 is part of the Socios.com token platform with an initial price of 2 euros. The token then had a price of $41.23 at the time of writing and has increased significantly since its issuance. This token will also give the holder some sort of decision power in some matters regarding the club.
Fan club tokens are becoming a new source of revenue that several clubs have adopted in recent years. It has been a huge success that other clubs, such as AC Milan and Barcelona FC have issued their fan tokens to leverage their relationship with their fan base.
Hal ini juga ditegaskan oleh Marc Armstrong, Direktur Kemitraan Paris Saint-Germain, yang menyatakan bahwa mereka telah mampu terlibat dengan penggemar sepak bola baru secara global dengan menciptakan aliran pendapatan digital yang signifikan.
(*)