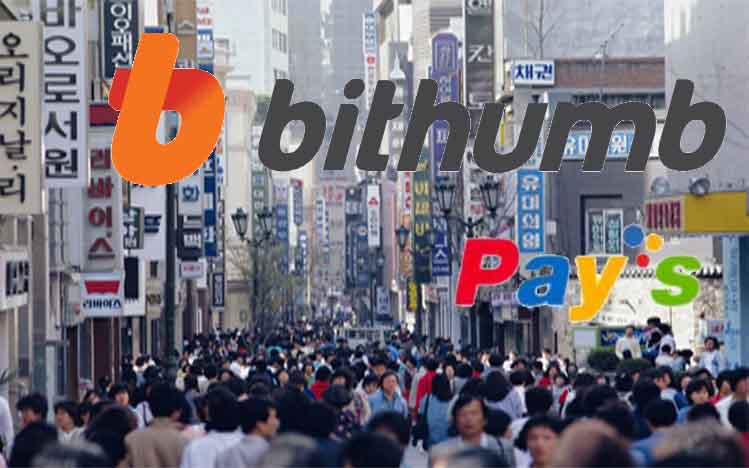 KANALCOIN NEWS –  Bithumb (26/03) announced that it will soon provide payment services using cryptocurrency at 8,000 physical stores in South Korea. Meanwhile, in the framework of pioneering Crypto payment services in South Korea, Bithumb will work with a digital payment service provider in Korea, namely Pay's. Cooperation is carried out to provide purchasing facilities to its users.
Bithumb is one of the largest crypto exchanges in South Korea with 20% of global ether trading, as well as 10% of global Bitcoin trading exchanged in South Korean currency. Bithumb is also the sixth largest Bitcoin exchange and the largest Ethereum exchange in the world. To date his Bitcoin trades have totaled $682 million.
According to news provided by the Korea Times, Bithumb and Pay's will work together to bring 6000 stores in the first half of this year, and plan to expand to 8000 stores by the end of 2018. In addition, there are about 200 franchised brands participating in the the launch of the service that allows ikon to adopt cryptocurrencies in the pay's platform.
One Bithumb official also claimed that they will work to continue to help and encourage the adoption and use of payments using cryptocurrencies in the community. "We have taken an important step. We will strive to create an environment where cryptocurrencies are widely used," said one Bithumb official.
In early March 2018, Bithumb Exchange said that they were working on an international expansion planning project by pocketing a direct agreement with BitPay.
According to news circulating in South Korea, Buthumb has also encouraged one of the largest companies in Korea, namely Cocoa Corp, to make payments using crypto. Meanwhile, the subsidiary that has run crypto exchanges is UpBit, which is reported to have integrated crypto exchanges into 12,000 trades and millions of users across its platforms, including KakaoPay, KakaoTalk, KakaoStory, KakaoTaxi and others.
Bithumb has also collaborated with the largest hotel booking platform in South Korea, and in recent weeks it has integrated cryptocurrency payments.
This effort to develop cryptocurrency payments is reminiscent of a similar move in Japan. Where traders start accepting payments using cryptocurrencies, such as Bitcoin. Meanwhile, in Australia, the same collaboration has also been carried out between domestic crypto exchanges and crypto payment providers and it is alleged that there have been up to 1,200 outlets throughout the country which are currently equipped with sales using Bitcoin and Ethereum and these sales can be made by anyone. including ordinary citizens.
(*)