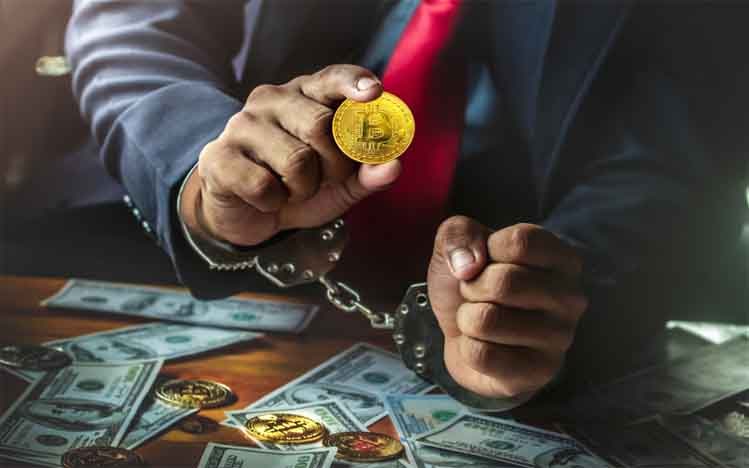 KANALCOIN NEWS – Recently the world was shocked by cases of embezzlement based on cryptocurrency. The potential loss in the embezzlement case reaches $366 million. Authorities in the United States (US) have also arrested the mastermind behind the darknet-based mixing of millions of Bitcoin (BTC), Bitcoin Fog, after analyzing 10 years of blockchain information.
Authorities have previously issued stern warnings to other users of illegal blockchain services that what they are doing now could backfire tomorrow as their activities can be tracked using a variety of cutting-edge analytical technologies.
Reporting from Coindesk, for about a decade, Bitcoin Fog has allowed users to hide the origin and destination of crypto heritage from their users.
However, in the end, the Internal Revenue Service (IRS) arrested a citizen of Russian-Swedish descent, Roman Sterlingov, on charges of laundering more than 1.2 million BTC, which is equivalent to $336 million when he worked as a website administrator.
Sterlingov was arrested April 27, 2021 in Los Angeles and the IRS estimated that he received between 2 and 2.5 percent commissions for blending services on each transaction, which was valued at around $8 million at the time. However, the IRS estimates Sterlingnov's pocketed total was exponentially greater.
Authorities estimate that at least 23 percent of Bitcoin flowing through mixing services is transferred to darknet-based narcotics markets such as Silk Road.
Sterlingov's arrest was also the decision of the local authorities who carefully opened a BTC transaction website that was linked to a mixer service since 2011 by using the Bitcoin blockchain to identify the web operator.
Sterlingov himself set up the website in late 2011 under a Japanese pseudonym to deprive authorities of any chance of detecting deposits and withdrawals on his service.
In 2019, IRS agents approached Sterlingov on the pretext of wanting to launder money from profits from selling ecstasy, but the transaction never elicited further response.
Law enforcement detected that Sterlingov had paid bitcoin hosting fog using his expired Liberty Reserve digital cash deposit, allowing them to follow a digital trail as to when he purchased Liberty Reverse cash using Bitcoin transferred through a bankrupt crypto exchange company. MT GOX.
From there, the IRS was able to identify the home address and phone number that Sterlingov registered with his account, and eventually a Google Drive account containing instructions about outlining the steps he took to purchase his Liberty Reserve coins was revealed.
"This is yet another example of how well-tooled investigators can use the transparency afforded by cryptocurrencies so they can following the flow of illicit funds", said Jonathan Levin, co-founder of blockchain forensics firm Chainalysis.
A computer scientist, Sarah Meiklejohn, stated, "By using blockchain analytics technology, we stated repeatedly that all the activities that you do will be stored in the ledger forever, and if you violated the law 10 years ago, you can be arrested and tried one day this."
Even though Sterlingov has been detained, Bitcoin Fog remains online. However, no one knows who the operator of the application is.
(*)