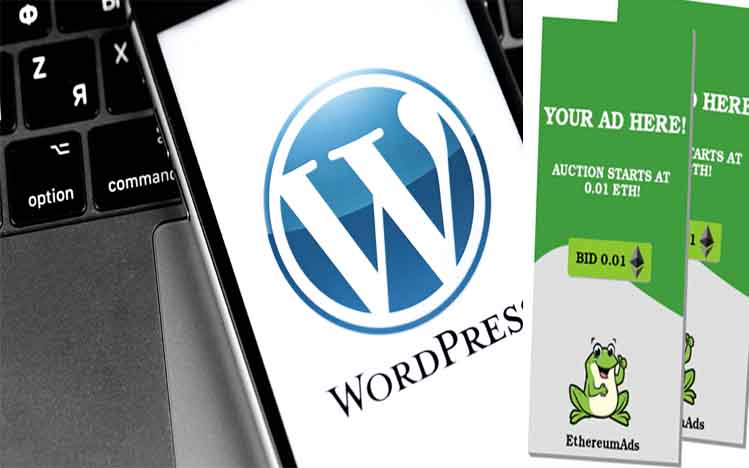 KANALCOIN NEWS –  The WordPress publishing platform has reportedly officially added to their system a cryptocurrency based advertising plugin. The installed plugin is said to use Ethereum tokens for payments to site owners based on WordPress
On the official WordPress website on Thursday (10/12/2020) local time, the developer said that owners of WordPress-based sites can currently earn income from advertising in the form of cryptocurrency, namely Ethereum.
Revenue from these ads will be directly received by the site owner from the advertiser which will be transferred to their Ethereum (ETH) wallet. The decision was conveyed directly through the official WordPress website.
"Once you enter our proprietary widget, your ad space is automatically openly auctioned using our smart contract every two weeks to the highest bidder," reads the description on the official WordPress website as reported by Kanalcoin.com from Cointelegraph.
The plugin is called EthereumAds which will allow site owners to auction off ad space using smart contracts based on blockchain technology.
Apart from supporting the use of cryptocurrency in the internet-based advertising sector, EthereumAds was launched with a special mission. The reason is, EthereumAds was published to compete with large ad monetization platforms like Google AdSense.
EthereumAds also promises a larger percentage in revenue sharing from advertising than Google AdSense. In its official statement, EthereumAds promises a low commission of only 10 percent of ad revenue.
"Google AdSense only pays you 68% of your advertising revenue. On the other hand, we pay you 90% of your advertising revenue," read a statement on the EthereumAds website.
Even though it is based on cryptocurrency, EthereumAds is apparently not only limited to products or services related to cryptocurrency or blockchain technology. Site owners can place ads with any content, but get revenue in Ethereum.
Apart from that, EthereumAds can also be used as a place to advertise various types of content, such as websites, blogs, products, and other services.
However, it is certainly not an easy thing for EthereumAds to compete with Google AdSense. What's more, Google as the parent company of Google AdSense has had several problems with cryptocurrencies.
In April 2020, cryptocurrency and blockchain news site Cointelegraph reported Google AdSense for allegedly placing ads with fake cryptocurrency content on their platform.
Not only that, Google AdSense also banned several legal and legitimate cryptocurrency companies from using their services. In fact, Google AdSense also acted discriminatory against crypto currencies.
The reason is, Google AdSense has included keywords that mention "Ethereum" in it to be blacklisted. This was reported by the crypto community in January 2019.
(*)