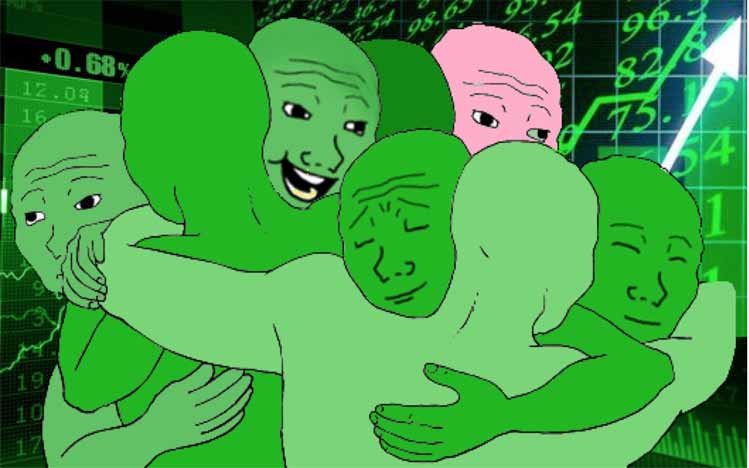 KANALCOIN NEWS – Meme Coin Wojak skyrocketed by over 1000% in the last 7 days. Of course, this attracts investors and speculators. But crypto experts warn against investing in coins that don't have any utility. Because even though the price is soaring, there are still times when the market is saturated and loses.
Wojak is one of the meme coins that depicts a bald man with various expressions. From CryptoAsset data, in one week this has experienced an extraordinary spike. Up to 1040%.
Little information, Wojak or better known as feels guy was originally just a meme on the internet. The meme depicts a bald-headed man with a black striped face.
At first it only had a sad facial expression. However, due to the growing creativity of internet users, finally Wojak has various expressions. Starting from sad, funny, happy, and so on.
Wojak coins are listed on various exchanges. Like on BitGet, BTCEX, BingX, LBank, and SuperX.
Meme users on the internet choose Wojak because of its adaptability and ease of application to various types of content. Like adding text, facial expressions, and accessories to make the meme more unique.
Investors Should Be Wary Of Meme Coin
In recent times, many investors have experienced skepticism about meme coins. Because price spikes or the popularity of meme coins are uncertain. But that skepticism has slowly faded in recent weeks. When Wojak began to experience a spike of up to thousands of percent.
This was revealed by Wesley XIA, founder of Rootz Labs and former Head of Innovation at Huobi Global during a discussion with Beln Crypto.
"Meme coins have no utility and are full of hype. Unlike Ethereum or other coins where people can verify their activity. Meme coins have no fundamental value but provide a pure sense of gambling," explained Wesley.
The same thing was also expressed by Erik Saberski, vice president of Data Science. He told BeInCrypto that spikes in meme coins when they first appear are common.
"However, this spike activity usually subsides within one day for most new ERC-20 tokens. WOJAK, interestingly, shows a spike two weeks after the initial run. There are currently about 4,000 active addresses generating around 12,000 WOJAK transactions per day. This is not exactly the same as the starting value in mid-April, but still a hefty amount," added Erik.
Various recent phenomena have fueled speculation that the so-called "mecoin season" has returned. Although currently market activity is dominated by newcomers. Pepe Coin, which was launched in mid-April, has attracted significant attention from investors. Even until this news was written, PEPE rose 157% in one day.
Interest in this type of crypto is often highly volatile. For example, older memecoins such as Dogecoin (DOGE) and Shiba Inu (SHIB) have seen significant declines over the last few months. Even though when it first appeared it was very hype.
(*)