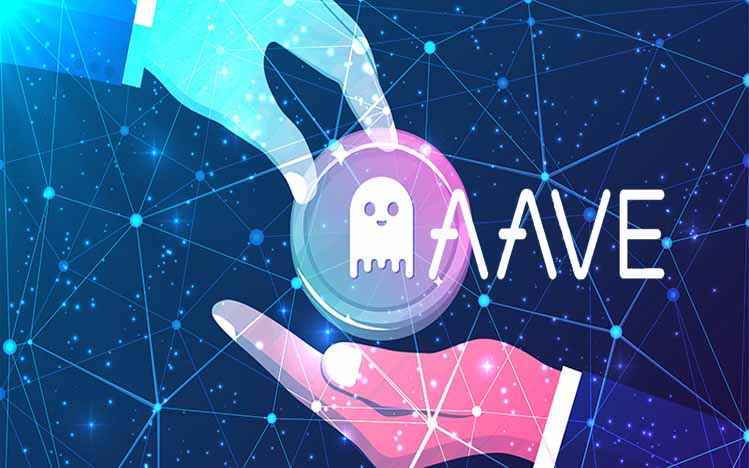 Talking about crypto, there is no death. Especially for those of you who are starting to jump in or want to learn the ins and outs of crypto assets. In addition to requiring an extra understanding of digital assets, how to run them to the network, another thing you need to know is about the various terms in them. AAVE Coin is one of them.
Crypto assets are digital currencies that are functionally the same as cash currencies, namely for transactions.
The difference is that these crypto assets are only used for virtual transactions. Crypto has an asset market and various lending platforms, one of which is AAVE Coin.
What is AAVE Coin?
AAVE itself is not an abbreviation, but a money market that is the largest in the crypto market. AAVE Coin is a pre-decentralized lending protocol. The protocol consists of a liquidity pool that allows users to lend any of the supported digital currencies.
AAVE is a very popular platform in shaping the money market. Borrowers or lenders can form their own market without going through a third party.
So when the financial sector is growing rapidly and has a significant order level, this platform becomes an integrated part of this sector.
AAVE's lending and borrowing protocols are regulated by the holders themselves, as this platform has a network native token that is highly confidential and staking.
Apart from being able to be staked, the original tokens can also be used to earn rewards, or provide governance rights.
Lenders, commonly called leaders, when making deposits to a liquidity pool will earn interest on their balances. It is certainly very tempting to be able to join the channel.
History of AAVE
In 2017, Stai Kulechov founded a non-profit and only company based in Switzerland. At that time, Kulechov founded his business while still studying for college with his status as a student.
At that time, the company was not named AAVE but had another name, namely ETHLend. Even though the founder is a student, he managed to raise 16.2 million US dollars in 2017 in an ICO (Initial Coin Offering).
During that time the company managed to sell 1 billion units of the AAVE crypto asset which was then named LEND.
Not only are the names different, but in their purpose ETHLend and AAVE also have differences in their working systems.
ETHLend does not focus on fundraising, but rather a peer-to-peer or end-to-end matching system between lenders and borrowers.
One year later, ETHLend officially became a subsidiary of AAVE and changed its name to AAVE.
So, the name is not an abbreviation of the founder, but AAVE Coin is a meaning with the meaning of ghost in Finnish.
How Does AAVE Work?
Previously it was explained that AAVE Coin is a digital currency lending platform with an uncomplicated way of working. This system has many users, one of which is a borrower of funds.
Borrowers of funds must previously deposit the amount of funds that they want to be loaned and then collected into the pool provided.
Meanwhile, borrowers can withdraw the amount they want to borrow from the pool when they want to make a loan.
The lending transaction activity is facilitated by a protocol that issues two types of tokens, namely aTokens and AAVE tokens.
The difference is, aToken is a token issued to lenders which will later be a token of interest from the proceeds of borrowed funds.
The token will later provide interest on deposits within a certain time in real time to lenders.
While the AAVE token is the original AAVE token as explained earlier. However, both tokens can be traded or transferred according to the wishes of the users.
You need to know that the interest rate charged depends on the level of utilization of an asset in the pool. If all the assets in the pool are widely used, the interest will increase.
It aims to attract funders. Meanwhile, if the assets in the pool are used a little, the interest will turn out to be small which aims to attract borrowers.
Advantages of AAVE Coin
Of course this platform has advantages for its sustainability. The advantage of AAVE Coin is that it is free of charge for borrowers who take loans in token currency.
Another thing is the discounted fees for borrowers who use AAVE tokens as collateral, besides that users of this token can borrow more funds than others.
But behind the lucrative mandate, of course, it has its own risks for users, both borrowers and lenders.
What are The Risks That Can Arise From AAVE Coin?
As with other digital money market platforms, AAVE also has risks which of course will someday be a challenge. As already explained that the AAVE Coin protocol is the protocol with the largest liquidity on Ethereum it allows users to supply and borrow crypto assets.
The borrower will be willing to pay interest on the funds that have been used, while the lender will get an additional balance on the funds lent.
With this very rapid development, of course, financial and market risks are points that need to be considered.
The main risk factors that need to be considered for the sustainability of this platform are security, governance, oracles, and markets.
To keep AAVE growing, of course, it is very necessary to pay attention to these main risk factors.
Current AAVE Coin Challenge
All loans are oversecured or overcollateralized which is very different from traditional finance. The digital financial system is still unable to assess whether all borrowers are able to pay off the loan at once along with the interest.
The limitation of the AAVE Coin system is that it requires users to provide large amounts of capital, making it difficult for small-scale users.
The measure is made to protect lenders or creditors. But on the other hand it will naturally limit the aggregate loan size on AAVE.
Conclusion
AAVE Coin is a financial system breakthrough that paved the way for creditors in digital currency. Crypto users can access the funds and services provided transparently in lending and borrowing their assets.
The token owned by AAVE shows promising developments and interestingly the protocol provided has been decentralized.
Thus an explanation of AAVE that may be needed for those of you who just want to find out what AAVE is. Hopefully this review is useful.
(*)