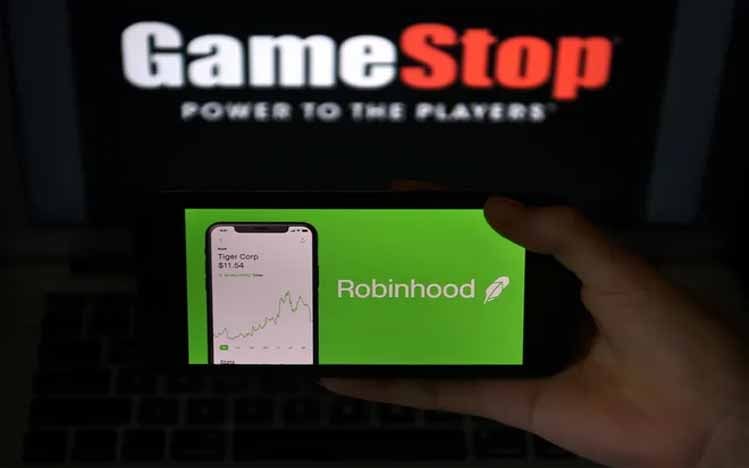 KANALCOIN NEWS – The stock trading app Robinhood took a hit after GameStop and AMC's stocks skyrocketed. In fact, Robinhood had to take a policy that made them hated and despised by most of its users.
Stock trading app that is currently in trouble, Robinhood, has reportedly reduced the list of stocks on their platform. Robinhood is said to have imposed massive restrictions on special shares, namely GameStop (GME) shares.
Through its official website quoted by Kanalcoin.com from Cointelegraph, Robinhood has restricted trading to eight stocks on their list. The eight stocks are GME, AMC, BlackBerry, Express, Genius Brands International, Koss, Naked Brand Group, and Nokia.
Previously, based on a CNBC report, Robinhood also briefly restricted stock trading on its platform to 50 shares on January 29 last. Today, some stocks still have big limits, but some are very tight.
In fact, Robinhood limits its users to only being able to buy one GameStop share along with five option contracts. Meanwhile, for AMC shares, Robinhood users can buy 10 shares and 10 option contracts at one time.
Robinhood also says that users who already hold more shares or contracts than are within the limit, they are advised to sell their holdings to open more positions..
"If you already have more shares or contracts than the limit stated above, your position will not be sold or closed. However, you will not be able to open more positions in each of these securities unless you sell enough of your holdings that you are well below the respective limits," Robinhood said in a statement on its website.
Currently, Robinhood is trying to maintain its trading services to stay afloat amidst the skyrocketing shares of GameStop. The Reddit community r/ Wallstreetbets is reportedly pushing GME shares to an all-time high.
On January 28, Robinhood even had to suspend buying GME shares after the stock skyrocketed 1400 percent from its old price of $20 on January 12. A day later, Robinhood finally temporarily disabled instant deposits for the purchase of cryptocurrencies citing unusually extreme market conditions.
Meanwhile, Robinhood's decision to restrict GME trading through its app has elicited a negative response from its users. The reason is, when this news came down, 100 thousand negative reviews appeared on the Robinhood application on Google PlayStore. In fact, the rating that Robinhood got on the PlayStore has now touched one star.
In addition to the bombardment of negative reviews on the Google PlayStore, Robinhood users also took to the hashtag #robinhoodboycott showing their disappointment with Robinhood. Some Robinhood users have also requested that the company remove their ownership from the platform.
On the other hand, the United States Securities and Exchange Commission (SEC) is currently investigating the condition of the Robinhood platform amid the extreme price volatility of certain stock trading.
(*)