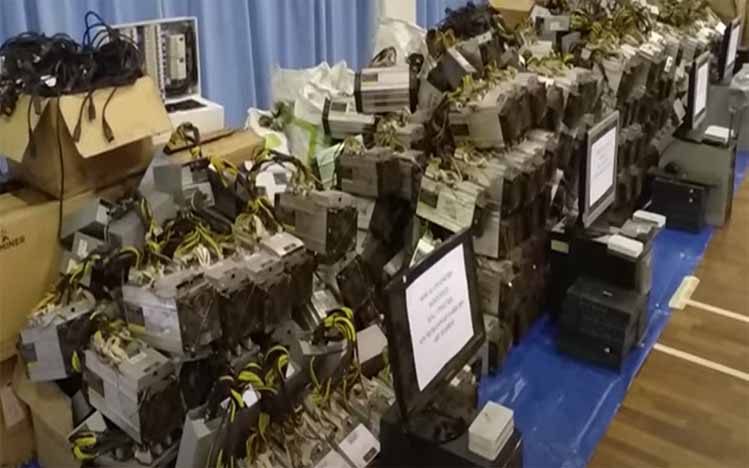 KANALCOIN NEWS – Police in the state of Johor, Malaysia, have reportedly arrested a bunch of Bitcoin miners. The bunch has stolen electricity from the state of Johor with a value of 8.6 million ringgit or around $2 Million USD.
The Johor state police have uncovered a crime that had troubled the local power company. The reason is that the Johor State Police managed to apprehend a number of perpetrators of electricity theft in Johor.
In the raids conducted between February 15 and 16, police confiscated around 1,746 bitcoins (BTC mining machines) in 21 different places. According to a Malay Mail report reported by Kanalcoin.com via News.Bitcoin.com, the perpetrators have a combined wealth of 2.6 million ringgit (Rp 9.05 billion) from Bitcoin mining.
The bunch of Bitcoin miners who stole the electricity consisted of seven people and was between 24 and 64 years old. The criminal action of the gang involved the domestic electricity company, Tenaga Nasional Berhad (TNB) in the Johor area.
Reportedly, TNB in the Johor area claimed to have suffered huge losses as a result of the actions of the Bitcoin mining group. Last year, the Malaysian-owned electricity company suffered losses of up to 90 million ringgit or around $18,9M. All of these losses are due to the theft of electricity that has occurred so far.
Johor state police chief Datuk Ayob Khan Mydin Pitchay said the group was in the form of a syndicate and had been active since last year. Usually, they operate on the upper floors of shophouses to avoid detection by the authorities.
"The syndicate, which was active since early last year, carried out its activities on the top floor of a shophouse to avoid detection by the authorities," said Ayob Khan..
In addition, Ayob Khan also said that the police were still investigating the operation carried out by the group. The reason is, other group members have not been caught and are fugitives so far.
Meanwhile, several people who were arrested by the Johor Police were the masterminds of a syndicate of electricity thieves to mine Bitcoin. Ayob Khan said that this one syndicate is related to other syndicates in other Malaysian states.
The dispersed syndicates also carried out the same modus operandi as those caught in Johor today.
"Investigators have not ruled out the possibility that the syndicate also has links to syndicates in other states that carry out the same modus operandi used in their bitcoin mining activities," said Ayob Khan.
The skyrocketing price of Bitcoin in recent times is indeed very tempting for some people. Therefore, it is not uncommon for criminal activity to appear with the aim of getting as much Bitcoin as possible. In fact, the current Bitcoin price has touched a value of more than 50 thousand United States dollars.
(*)
Kredit Gambar : The Star