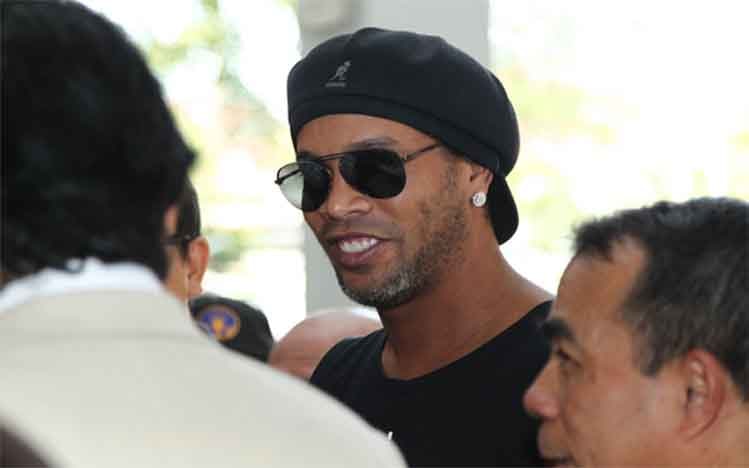 Kanalcoin.com (NEWS) – Former world footballer, Ronaldinho, is back in the conversation. This time not because of his achievements in football. It's the case of the 2% daily return crypto scam that drags his name.
Even the football legend has also avoided going to court over allegations that his company is running a crypto scam.
Prosecutors explained that with his popularity and image, Ronaldinho was running a business with a pyramid scheme. And being able to hook more investors to invest in a scam. Thus, causing huge losses.
Profits Galore with Good Oversight
Ronaldinho's absence at court in Porto Alegre, Brazil is not without reason. The former footballer had actually planned the Porto Alegre flight. But due to bad weather, he finally canceled the flight for safety.
The plan is that Ronaldinho and his business partner, Marcelo Lara, and his brother, Assis, will attend the trial. Testify on a parliamentary commission of inquiry. Where, during the investigation, the company founded by the three men, 18K Ronaldinho, had committed fraud with a pyramid scheme.
Investors were attracted to enter because of the high daily profit return agreement.
The company has claimed that it trades with cryptocurrency arbitrage and promises returns of as much as 2% per day on the money invested. This is where investors start to suspect the company is carrying out a pyramid scheme. Because it gives high returns and very fast.
Alex Mashinsky, CEO of bankrupt crypto aid company Celsius, was arrested on July 13th. This happened because the securities commission and exchange took legal action against Celsius. After the company's bankruptcy last year. Celsius was charged with misleading customers because he promised high returns.
Meanwhile, Mashinsky was accused of running a Ponzi scheme. By manipulating the price of the Celsius Network token, CEL. Selling at a higher price than the original price.
And after this, the plan is that Ronaldinho will also be secured. In order to be able to attend the trial of the Ponzi fraud case in the name of this crypto investment. The court did this to show that Ronaldinho's big name and popularity cannot give privileges to all legal processes.
"Why? It's not because of conditions as a player or not, rich or poor, and Mr. Ronaldinho has a lot to say to this CPI and to the Brazilian people, him and his colleagues," concluded the prosecutor.
This is indeed not Ronaldinho's first history in the crypto business. In July 2021, Ronaldinho launched a non-fungible token (NFT) collection, in partnership with creative studio NFT INFLUXO. To be able to take part in the auction, participants must show the amount in their wallet as proof of funds.
By participating in the auction, these NFT holders can go on adventures with Ronaldinho in Dubai. This price includes return tickets to Dubai with their idol.
(*)