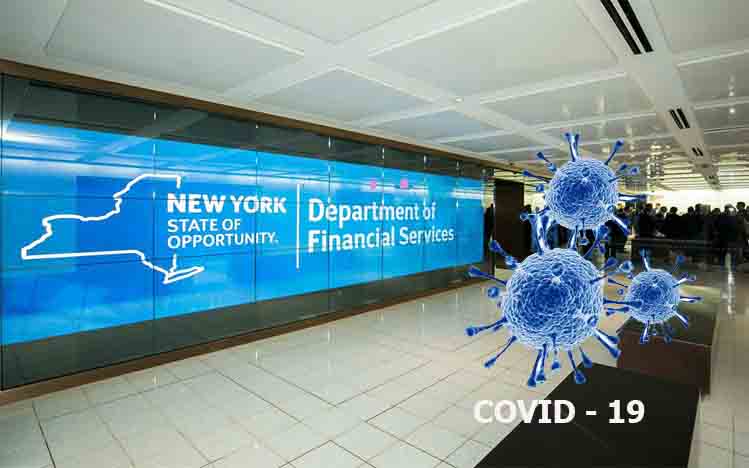 KANALCOIN NEWS – The New York regulator, namely the New York Department of Financial Services (NYDFS), gave notice to Cryptocurrency companies to develop detailed contingency or preparedness plans for the Corona virus according to what was approved by the state. This is done to indicate that the seriousness caused by COVID-19 for business and public health.
That's why businesses related to "virtual currency" must have a contingency plan carefully and also detailed details. In a letter sent by the New York regulator, it contains preparations that must be made by Crypto companies in that country. Which preparations include strategies for protecting workers, increasing mitigation of cyber risks, as well as procedures and communication disaster plans to ensure the continuation of critical operating functions (even in minimal conditions).
This was done because the New York regulators showed their special concern about the possibility of hackers trying to exploit the virus outbreak. So the NYDFS in the notice 'underlined the under-the-radar hacking risk' and appealed to Cryptocurrency companies to consider and implement stricter and stronger security measures, in order to detect in case of any "fraud in trading or fraudulent withdrawal behavior". So it is imperative that Crypto companies develop this plan by compiling it point by point to avoid potential snowballing. So agencies are highlighting the possibility of remote workers which can harm protected assets when moving funds from offline storage to online wallets or when connected to the internet.
That's why Cryptocurrency companies are asked to immediately submit a Corona Virus Contingency plan within the next 30 days, but it would be better sooner. This notice offers a surprising insight as New York's response to the crisis has only gotten worse over time. This can be seen from when the NYDFS issued a letter, in fact the state of New York had entered a state of emergency days before due to the Corona virus pandemic. But businesses across the state and city (where the majority of New York companies are based virtual currency), are still weighing about what to do for or in response to this outbreak. However, after two days, this condition finally changed, because the Governor together with the mayor of the state and the city of New York declared a moratorium on mass gatherings which declared a state of emergency throughout the city and warned the public that the Corona virus could become an easy crisis for the next six months.
So that the statements made by the Governor and Mayor ended up drastically shifting public opinion, government views, and business realities throughout the week. Where plans that previously only seemed preventive, now appear to be far more vital in New York's daily life. But actually there is still confusion among some people, because there is no answer regarding "is this notification only valid for Cryptocurrency companies or for all BitLicense holders?".
(*)