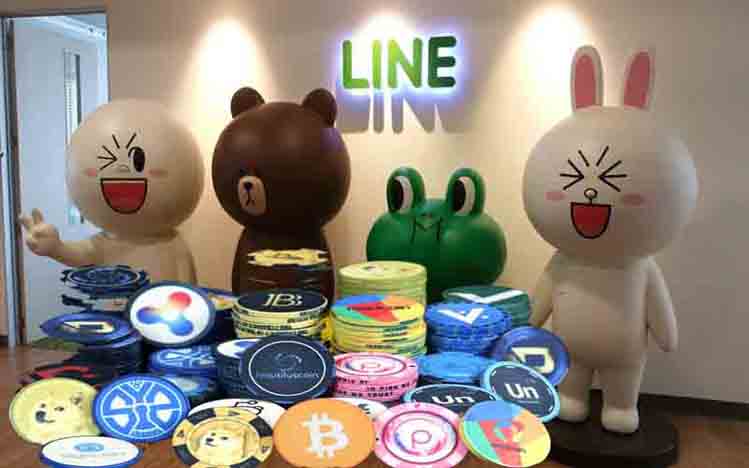 KANALCOIN NEWS –  One of the largest application-based messaging technology service companies in Japan, Line Corporation, has just announced its plans to expand its wings in the Financial Technology (Fintech) Industry. Line, which was originally established to facilitate communication through chat services between fellow users, announced its expansion plans on the company's official website on Wednesday, January 31, 2018. Line Corporation formed a new company called Line Financial Corporation, which is a follow-up to the Line Pay payment project, a service payments available on the application. The company recently founded by Line will also develop other business financial services including Cryptocurrency exchange, Loans and Insurance to strengthen its position in the financial business.
Line announced that its Line Pay Transactions last year achieved massive growth, with its global annual volume exceeding JPY 450 billion and reaching 40 million registered users.
According to Wikipedia, the Line application itself has reached 101 million users spread across 230 countries and has official offices in countries such as Japan, Korea, Thailand, Taiwan and Indonesia.
In its bid to become a part of the Crypto currency exchange industry, Line has submitted its application to the FSA (Financial Services Agency), Japan's financial regulator, which is currently under review.
In a press release, Line announced that it will actively promote the research and development of technologies such as blockchain and provide safe and convenient financial services, and has also involved people who are experts in these technologies and finance.
They also do not plan to issue a separate coin with a specific name, like other ICO companies in general.
"We have no plans to issue a coin line or anything like that," said Idezawa, CEO of Line, quoted by Bloomberg.
The announcement of Line which is in its plans to open a Crypto currency exchange, was announced after a few days there was a case of theft of cryptocurrency at one of the exchange exchanges in the country. One of the media stated that the NEM Cryptocurrency worth 530 million US dollars had been stolen by a group of hackers from Coincheck, whose whereabouts are unknown until now.
(*)