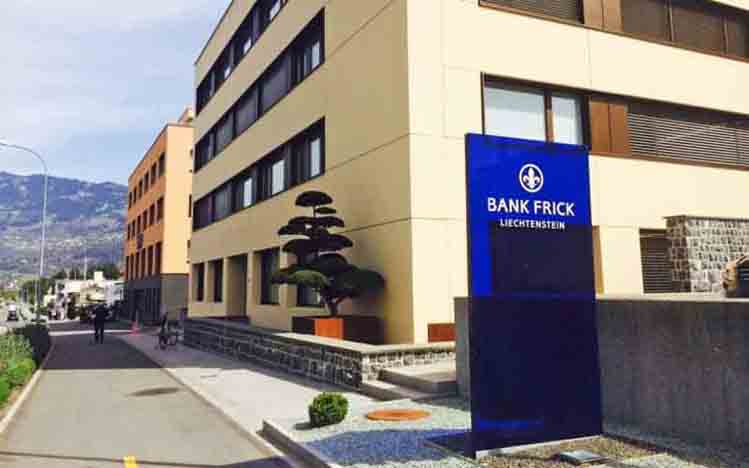 KANALCOIN NEWS –  Right on February 28, 2018, Bank Frick made a statement via a press release on the Bank's official website that it would offer investment opportunities and deposit a service for cryptocurrency users. Frick Bank is a private bank in Liechtenstein based in Balzers.
The statement was issued by the Bank saying that they would provide investment facilities to cryptocurrency users, especially in the 5 leading cryptocurrencies such as Bitcoin (BTC), Bitcoin Cash (BCH), Litecoin (LTC), Ripple (XRP) and Ether (ETH). The offer is also addressed to financial market players. Frick Bank customers can buy the five Cryptocurrencies by spending a number of Euros, US Dollars and Swiss Francs which can be done once a day.
Chief Client Officer, Hubbert Buchel provides an overview of how this service can be the best when serving customers and can provide added value to financial actors for their clients.
"Financial performers, such as asset managers and fiduciaries, can take advantage of our new offerings to successfully differentiate themselves in the market and buy added value for their clients."
"By investing directly, their partners and clients can easily discover new and exciting worlds and can diversify their portfolio. Investing in crypto is highly speculative so it only forms a small part of your portfolio." he continued.
Just like traditional financial transactions, Friech Bank is also fully regulated according to Liechtenstein and European Union (EU/EEA) laws. Frick Bank will take steps to trace the source of investment capital, according to regulations from AML (Anti Money Loundry) and KYC (Know Your Customer), clients must fulfill the verification and identification process as a condition for Cryptocurrency investment services.
Butchel also said that the Bank has the ability to support and implement its new business model when it starts operating. Within the regulatory framework it has met its demands throughout the European region.
"Our goal is to put cryptocurrency at least at a high quality level to be able to put crypto banking at least at the same quality level as traditional banking"
Frick Bank also confirmed that Cryptocurrency will be stored in a frozen storage wallet that is physically separate from the internet making it difficult to hack, which is a bid for a very high level of protection and avoidance of loss and theft.
While a similar service was recently required by the Dutch Multinational Rabobank Group, the bank has yet to confirm when the project will open.
(*)