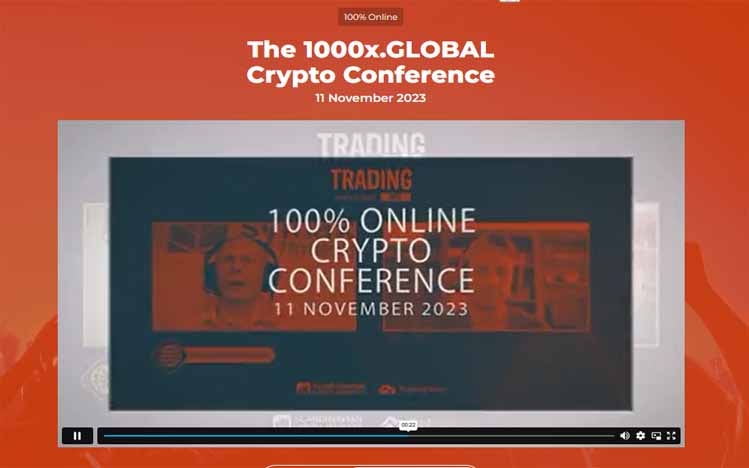 – This event has ended, see other events in the Events Calendar. –
---
The 1000x.GLOBAL Crypto Conference is a pioneering event, standing as the world's first 100% online conference with a core focus on tokenization, web3, and various aspects of the cryptocurrency ecosystem. Our mission at 1000x.GLOBAL is to make the crypto experience accessible to everyone, irrespective of their ability or willingness to attend a traditional crypto conference. We aim to bridge the gap by allowing individuals globally to acquire first-hand information, interact with industry leaders, and immerse themselves in the world of crypto – all from the comfort of their own living room.
The 1000x.GLOBAL Crypto Conference will delve into an array of subjects within the crypto space. The focus will primarily be on tokenization and web3, but the discussions will also cover a broad spectrum of cryptocurrency-related topics. From the latest developments in ICO/IDO strategies and DAO technologies to innovative concepts like Online Exhibitors Booths (OEB's), we'll ensure attendees receive comprehensive exposure to the world of digital currency.
---
Silvia Mogas, Founder of Blockchain Marketing Boutique
Michael Proper, Founder, Chairman at ClearUnited
Vlad Pivnev, CEO of ICODA, bc.team, Gocha
Kuan-Ning Tseng, Co-Founder FUND THE PLANET
Bogdan Vaida, Co-founder of Iron Capital, Dubai
Marco Kowalewski, Founder of Starzz, sports & entertainment
Paul Democritou, Sales & Marketing, Video, Blockchain, Author
Chriss Tubby, Veteran Trader, Director of Trading and Education for Symax Fintech
Alexander Plaschko, 20x Interim CFO
Sudeep Saxena, Co-Founder-Coin Gabbar, Writer, Creator, Thinker, Economist and also a Financial Consultant
Aaron Tsai, Founder of MAS Capital, MASFi Financial Blockchain and HBS
Mahsa Doorfard, Sales and Marketing Manager, CoinIX
Tim Haldorsson, CEO Lunar Strategy
Oleks Dot, CMO
Daniel Heinen, Founder XIONI – Member of the board Bundeblock
Julio Verissimo, President & CEO Borderless Consulting
Pratibha Yadav, Founder & CEO Web3'Oclock
Ulrik Lykke, Director Peanuds
Chris Ebeling, Chief Creative Officer meta11, Co-Founder Virtually Human Studio
Dr. Suren Movsisyan, Founder & CTO, Aigorithm, Software Engineer/Instructor at Bitcoin Center NYC
Julia Upiterskaya, PR Director in SLAVI.io and and SLEX.io, Founder JULS
Michele Zilocchi, Adivsor – Tokenomics Specialist
….
Elvis Kolawole, Web3 Marketeer & Creator
Krystelle Galano, Founder and CMO Starzz.eu, CryptoFemale.org
Richard Trummer, Cryptocurrency Advisor
SUCCESS OLA-OJO, WEB3 EDUCATOR/ COMMUNITY BUILDER
TALAL ZBIDI, Web3 Consultant, Trader, Writer, Thinker
Bruno Calabretta, Co-Founder, Hub Manager at DISRUPTIVES ICP.Hub Indonesia
Ayman Itani, Founder Think Media Labs and Web3 Content Creator
Gheorghe Biculescu, Founder at xHumanity crypto project
Eric Guthrie, Partner, The Cogent Law Group & Author, Blockchain or Die
Shubham Karwa, Marketing & Growth Manager Pandora Finance
Chris Cousins, CEO Eve Exchange
Jason Fernandes, Co-Founder of AdLunam Inc.
Oliver Naegele, CEO & Founder Blockchain Helix
Viktoria Soltesz, CEO PSP Angels
Claudia Nieves, CMO Fidunova
Fito Kahn, Author/crypto evangelist
Ofir Paz, CEO Wikey
Zach Gordon, VP-AccountingPropeller Industries
Rickey Pinkney, CEO & Guild Commander Final Frontier
View More Speaker
---
The Evolution of Digital Securities
The Role of Smart Contracts in Digital Assets
Blockchain-Based Shares and Stock Trading
NFTs: Beyond the Hype
Decentralization and Governance in the Metaverse
The Impact of Virtual Reality (VR) on the Metaverse
Lending and Borrowing in DeFi
Liquidity Challenges in DEXs and Potential Solutions
The Role of Exchanges in Preventing Crypto Fraud
---
Twitter : twitter.com/1000x_global
Instagram : instagram.com/1000x.global
Linkedin : linkedin.com/company/1000x-global
---