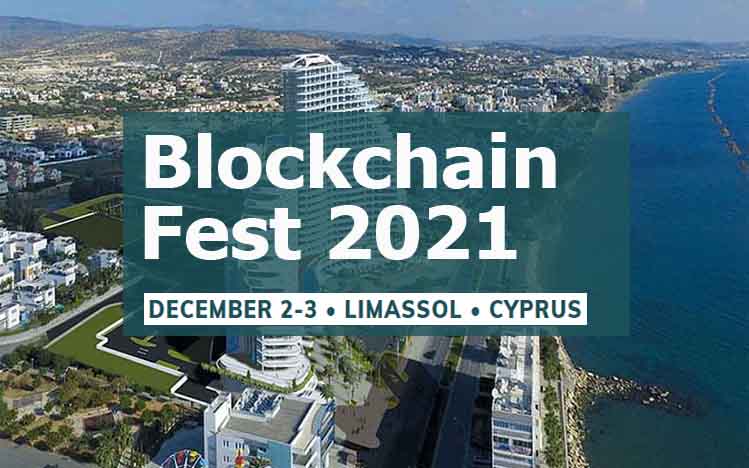 – This event has ended, see other events in the Events Calendar. –
---
The Blockchain Fest 2021 Forum will be one of the biggest and most important events in the crypto industry. This festival brings together not only top professionals and global leaders but also those who have just entered Blockchain, Cryptocurrency, Cryptoe xchanges, Decentralized Finance (DeFi), Mining, Payment Systems and Investments.
Cyprus was chosen as the meeting place for this festival which makes it even more perfect not only in terms of travel but also because it attracts attention as the country is known as the IT center of modern European finance. Experts and investors from other continents will join us under one roof to cover the hottest topics of the crypto world and take the industry to a new level.
Blockchain Fest 2021 is not just a global event but a unique space for personal and business development where every participant will get the opportunity to join the biggest show filled with exhibition booths, networking rooms, conference rooms and workshops as well as to meet teachers and innovators in blockchain and intelligence artificial.
Also present as a speaker : Ministry of Finance (Cyprus), Andrey Barchenkov (Co-Founder Finexpo & Unicap), Johnny Lyu (VP & Co-Founder of KuCoin), Tanja Bivic Plankar (President Of Blockchain Alliance Europe), Ethan Ng (CEO of Biki.com), Thomas Borrel (CPO of Polymath), Marc Taverner (Executive Director of the Inatba), Dr. Oriol Caudevilla (Fintech Advisor), Jesus Rodriguez (CEO of Intotheblock), Irina S. Litchfield (President of Lumeria), Stefan Gergely (Head of Blockchain Department of Zitec), Mariana Danilovic (Managing Director of Inflom, LLC), Henrik Gebbing (Co-Founder of Finoa), Christophe Fonteneau (Head of Strategic Partnerships and BD of Request)
Produced by FINEXPO (a community of over 100,000 crypto & fx people), organizer of financial conferences, forums, summits, exhibitions, shows, festivals, bazaars and awards.
---
Telegram: t.me/finexpo
---

Finexpo
Contact
Email:
info@finexpo.org
Login to View
---