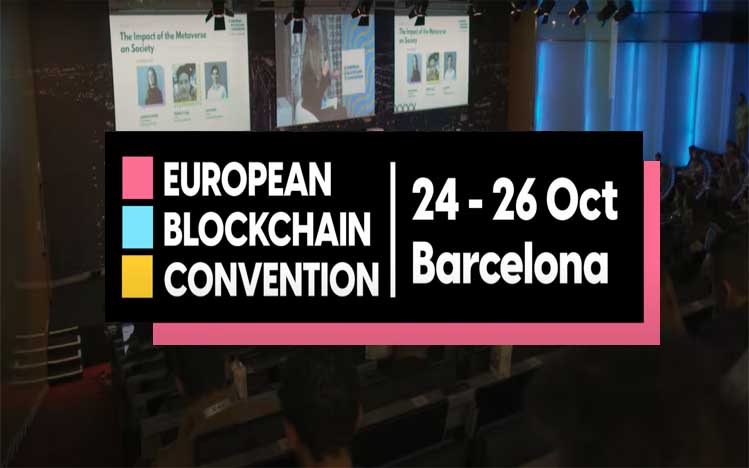 This event will take place in the next,
Register
---
European Blockchain Convention was born with the mission to accelerate the blockchain ecosystem in Europe.
Since its inaugural conference in 2018 in Barcelona, EBC has hosted thousands of attendees, hundreds of leading speakers and the best startups in the blockchain & crypto space.
Its global audience of founders, investors, regulators, developers, corporations, and many more come together every year to learn, get inspired, and connect.
---
Robby Yung, CEO, Animoca Brands
Mounir Benchemled, Founder, ParaSwap
Lars Bakke Krogvig, Co-Founder, Nansen
Richard Muirhead, Founding Partner, Fabric Ventures
Christoph Hock, Managing Director, Union Investment
Tim Grant, Head of EMEA, Galaxy Digital
Manuel Nordeste, VP, Fidelity Digital Assets, Fidelity Investments
Tim Walther, Group Manager Metaverse & NFT, Volkswagen Group
Coty de Monteverde, Head of Crypto & Blockchain, Banco Santander
Jon Fink Isaksen, Head of Policy, EMEA, Uniswap Labs
Alfonso Gomez, CEO Switzerland, BBVA
Nathalie Oestmann, COO, Outlier Ventures
Nadia Filali, Head of Innovation & Development, Groupe Caisse des Dépôts
DavideFi, Founder, Trader Joe
Kevin McHugh, Group Treasurer, Xapo Bank
….
Jingwei Li, VC Investor, Fidelity International Strategic Ventures
Dotun Rominiyi, Director of Emerging Technology, London Stock Exchange
Laurence Arnold, Head of innovation management and strategic initiatives, AXA Investment Managers
Barbara Schlyter, Head of Digital Products, DWS
Joao Rodrigues Frade, Head of Sector, Digital Building Blocks, European Commision
Niccolò Bardoscia, Head of Digital Assets, Intesa SanPaolo
Michael Hall, Founding Partner & CIO, Nickel Digital AM
Claus George, Head of Digitalization and Innovation, DZ Bank
Pedro Lopez Belmonte, Web3 & Tech Innovation, Richemont
Oliver Gale, Co-Founder, Panther Protocol
Rajeev Bamra, Head of DeFi & Digital Assets Strategy, Moody's Corporation
Andrés Fondevila, Head of Digital Assets at AM & Global Wealth, BBVA
Caner Sevinc, Regulatory Counsel, Wirex
Natacha Dezert, Digital Strategy & Transformation, BNP Paribas
David Cunningham, Global Head of Strategy & Partnerships for Digital Assets, Citi Bank
Waqar Chaudry, Executive Director, Innovation and Digital Assets Product, Standard Chartered Bank
Daniel Maggs, Senior Manager, Blockchain / Digital Currencies, Lloyds Banking Group
Sarah Gottwald, Managing Director, Blockchain Founders Group
Ignacio Fonts, Managing Partner and CEO, Inveready
Matthew James Low, Head of Special Projects, Fansara Capital
Tony Cheng, General Partner, Foresight Ventures
Alex Strzesniewski, Founder, AngelBlock
Thomas Nägele, Managing Partner, NÄGELE Attorneys at Law
ShihYun Chia, CEO, VerifyVASP
Maha Al Saadi, Compliance & Regulatory Affairs Director, Bankhaus Scheich
Mirko Schmiedl, CEO & Co-Founder, Staking Rewards
David Uhryniak, Ecosystem Development Leader, Tron DAO
Joshua Ashley Klayman, Head of Blockchain & Digital Assets, Linklaters
Jordan Lazaro Gustave, Partner, Aglae Ventures
Sören Hettler, Head of Investment Strategy and Private Clients, DZ Bank
Jarno Marttila, Software Engineer, Streamr
Nicholas Cannon, VP of growth, Gauntlet
Nena Dokuzov, Head of Project Group for New Economy & Blockchain, Ministry of Economic Development & Technology, Slovenia
Vineet Budki, Managing Partner & CEO, Cypher Capital
David Chreng, Managing Director, Leadblock Partners
Philipp Sandner, Head of Frankfurt School Blockchain Center, Frankfurt School of Finance & Management
Alex Wenham, Digital Asset Product & Strategy Lead, Bloomberg LP
Juan Carlos Salinas, Head of Digital Assets and Fintech, MoraBanc
Julian Banks, Founder, Cosmic Haze
Stefan Klauser, CEO & Co-Founder, Aisot Technologies
Cristian Cengher, Product Owner Cross Border Payments, Erste Group
Carsten Emmelius, Director | Banks & FinTech Coverage, LBBW
Niklas Kunkel, Founder, Chronicle Protocol
Denis Dounaev, Product Owner Cross Border Payments, Digital Token Identifier Foundation (DTIF)
Stephan Dreyer, Managing Director, Association of National Numbering Agencies (ANNA)
Joe Rotondi, Co-Founder, Unit Network
Álvaro González de Buitrago, CEO, Team Queso
View More Speaker
---
3 Stages
Exhibition area
Networking and side events
Startup Competition
1:1 Meetings
Investor Meetup
---
Linkedin : linkedin.com/company/european-blockchain-convention
Twitter : twitter.com/EBlockchainCon
Instagram : instagram.com/eblockchainconvention
Youtube : youtube.com/channel/UC0hhm0r8FUllvs1gcL2EgFA
---