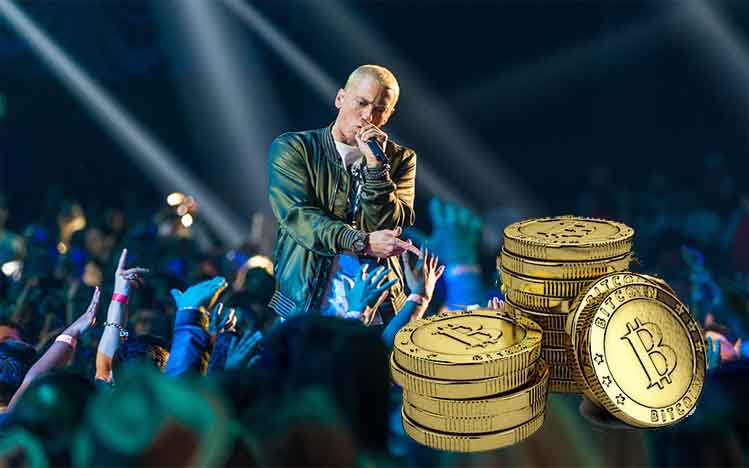 KANALCOIN NEWS –   Rapper and actor Eminem has recently made public awareness of the existence of Bitcoin. He mentions bitcoin in a song, it's in his recently released album, "Kamikaze". The song is called "Not Alike", a bit of a lyrical quote in the song is "Remember everyone nikes nikes, now everybody does Bitcoins."
This album was released on Thursday, August 30, 2018, at midnight. Eminem made the announcement as a surprise to his fans. Meanwhile, the previous release was "Revival" in December 2017.
Besides that, the lyrical quotes that discuss crypto certainly can't possibly aim to crash the price of Bitcoin. It emerged as the latest major entertainment industry reference for cryptocurrency existence and over market valuation.
Another memorable mention of cryptocurrencies in entertainment has been made by chat-show host Ellen DeGeneres, who took quite a humorous view of cryptocurrencies on her regular in February. He said, "Everybody talks about Bitcoin," he said, but, "no one understands it." He also went on to say regarding existing investors in Bitcoin, "You will either be a millionaire, or you may go bankrupt." The statement is of course directed at cryptocurrencies.
One month later, John Oliver also made fun of the Bitcoin community and reminded viewers to always be careful when investing, delivered in the "Last Week Tonight" program. Grabbing the headlines at the time, he then compared Bitcoin's volatility price to a $15,000 beanie Baby and said cryptocurrency was a gamble, not an investment.
There's no denying the rap entertainment industry has helped raise the profile of cryptocurrencies in ways other than recording. On the other hand, another Rapper step 50 Cent has also mentioned Bitcoin in his album. This made him a crypto millionaire. Although he denied owning Bitcoin in a bankruptcy court case a month later.
Also in March 2018, the son of the late Wut tan Clan rapper Ol'Diry Bastard namely Young Dirty has also been involved in the launch of the latest cryptocurrency which is called as Dirty Coin. The tokens were issued for the purpose of raising some funds for Young Dirty's upcoming album and a suggestion for his fans to be able to access his events and purchase his merchandise.
A few months ago, and still in touch with the entertainment scene in May 2018, Snoop Dogg appearing at an event in New York was asked to grace XRP, a cryptocurrency related to payments blockchain startup Ripple.
(*)