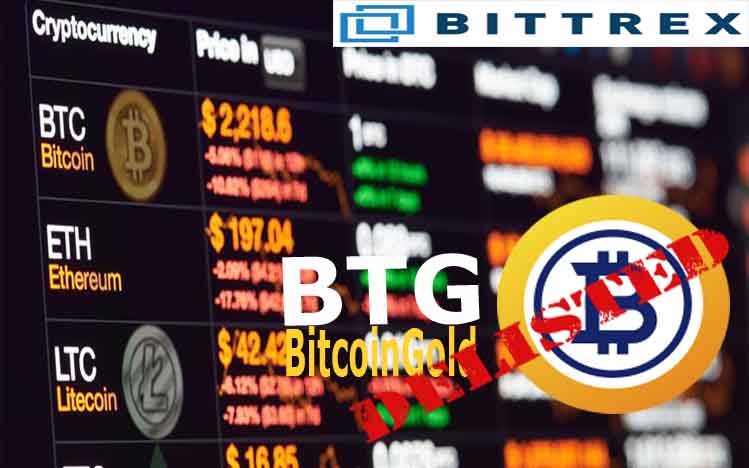 KANALCOIN NEWS –   The Next Web on September 3, 2018, reported Crypto Exchange, Bittrex moves to delist Bitcoin Gold (BTG). This was done as a precautionary measure, because in May 2018 there was a $18 million BTG hack.
Having been around since 2017 doesn't keep Bitcoin Gold in a secure state. Often there are attacks from hackers. It is likely that these unknown hackers have controlled up to 51% of the BTG hashhrate. For its first attack, namely on May 18, 2018, and managed to get more than 388,000 BTG or $ 18 million at that time from several well-known exchanges, including one of them, Bittrex.
Because they had experienced attacks from hackers, the Bitcoin Gold team finally gave an explanation of the attack which utilized a combination of 51% and a double attack in order to deceive crypto exchanges. They also noted that the hackers had indeed targeted crypto exchanges that were able to obtain large and automatic deposits from users. This allows its users to be able to trade using different coins and can withdraw automatically in a short time.
As a result of the hacker attack that occurred, it has wreaked havoc on the large number of BTG deposits on existing exchanges. At the same time, the process of sending crypto funds can also be done in one's own crypto wallet. When the user realizes that the transaction is invalid, on the other hand the hackers have managed to get some funds from the exchange.
Bittrex also recently issued a report that until now they themselves have not been able to determine the exact amount of loss due to the hacker attack. But for the main crypto exchange, until now it has been reported that requests for more than 12 thousand BTG or if in dollars are equal to $ 255,000, it is compensation that comes from Bitcoin Gold.
Meanwhile, Bittrex also blames the BTG Proof of-Work (PoW) consensus for attacks from hackers. However, Bitcoin Gold unfortunately claims to be "not responsible for the security policies of private entities like Bittrex," adding "Should manage the associated risks and ultimately be responsible for their own security. Therefore, the team in charge with the development of BTG acknowledged the risks their own blockchain was taking, and announced plans for an upcoming hard fork upgrade."
But the attack from hackers which caused losses of up to $ 18 million is not the first attack that has a relationship with BTG. At the end of 2017 there was also a fake BTG wallet created and carried out an attack to earn $ 3.3 million.
(*)