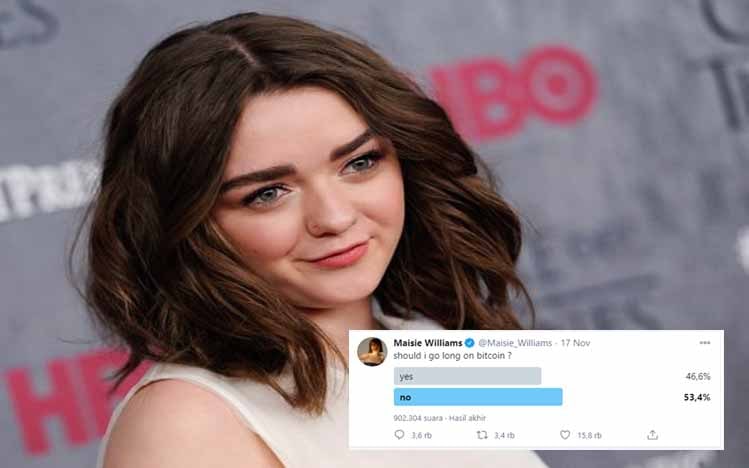 KANALCOIN NEWS – Shocking news came from the world of entertainment abroad. Reportedly, Bitcoiners will have new 'members' from Hollywood celebrities. She is playing Arya Stark in the Game of Thrones film series, Maisie Williams.
The reason is, Maisie had created a poll which was uploaded to her personal Twitter account last Monday (16/11/2020). In the tweet, Maisie asked a question to her 2.7 million followers on Twitter.
should i go long on bitcoin ?

— Maisie Williams (@Maisie_Williams) November 16, 2020
Maisie asked her followers if she should buy Bitcoins. However, until this report was made, 55 percent of the 821,969 voters advised Maisie not to invest in this booming cryptocurrency.
Based on a report from Cointelegraph quoted by Kanalcoin.com, Maisie is currently estimated to have a net worth of US$6 million. The 23-year-old actress obtained this wealth from her work on television and the big screen.
The poll made by Maisie invited various reactions from her followers. Although many advise against investing in Bitcoin, that hasn't stopped Bitcoiners from trying to persuade Maisie to follow their lead.
One of the figures who persuaded Maisi was Peter McCormack. McCormack himself is the host of the What Bitcoin Did podcast. McCormack advises Maisie to invest in Bitcoin only without touching altcoins.
In addition, Bitcoin and cryptocurrency tracker company, Blockfolio, also commented on Maisi's tweet. Blockfolio advises Maisie to buy in order to become a completely 'independent' person.
The founder and CEO of Digital Currency Group, Barry Silbert, actually suggested to Maisie to check other types of Grayscale to invest. Other world-famous figures also commented, including the CEO of Tesla and SpaceX, Elon Musk.
Apart from Maisie, there are actually many entertainment activists in Hollywood who have jumped into the world of Bitcoin investment. Call it the names Ashton Kutcher and Jamie Foxx.
Kutcher himself is the founder of venture capital A-Grade Investments. The company founded by the actor Steve Jobs in the film Jobs is the funder of Uber and Airbnb. Meanwhile, Jamie Foxx plunged into the Bitcoin world in 2017 and introduced a brand-new Bitcoin trading platform at the time called Cobinhood.
Besides the two of them, there is a world-class singer, DJ Khaled, who also seems to be a Bitcoiner. DJ Khaled introduced Initial Coin Offerings to his followers on his social media accounts.
In fact, DJ Khaled had invited his fans and followers to use crypto currencies, such as Ether, Bitcoin, and others through his personal Instagram account.
There are many other world figures who are starting to explore the world of Bitcoin and other cryptocurrencies. In fact, two big figures in the sports world, Lionel Messi and Mike Tyson, are also reportedly investing their wealth in crypto currency.
(*)