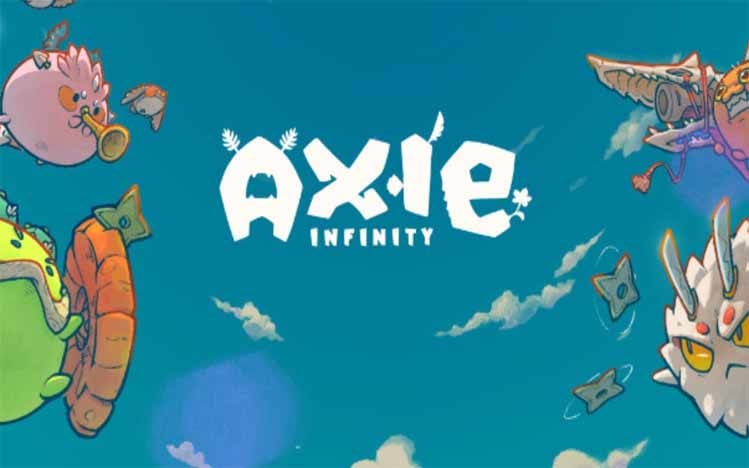 When else are you playing games while making money. Do you know what Axie Infinity is yet? Axie Infinity is a game that leverages the Ethereum blockchain on a non-fungible token (NFT) ecosystem.
Also commonly abbreviated as AXS. The game itself is a battle between monsters called Axies. These monsters will fight each other. You could say it's similar to a combination of Pokemon and Crypto Kitty games.
In this game system also uses the help of Ronin. Ronin itself is a sidechain whose function is to minimize transaction costs.
The items in this game use NFT or a kind of token that has ownership properties to the buyer. In making money, you can trade Axies & owned items.
History of AXS
Axie infinity game actually comes from Vietnam. Created by a startup called Sky Mavis. It was first released in October 2018. This game can be accessed via Android and Microsoft Windows.
When it was first released Axie published a battle system called Idle Battle. This battle system is inspired by Idle Heroes and Final Fantasy.
The game itself already has 350,000 active users. 40% of them come from the Philippines, Venezuela and the US which are also the largest markets. The objects traded in this game are called small love potions or SLPs.
Top player pada umumnya mampu menghasilkan SLP1.500 atau setara dengan US$435 per harinya dari Axies mereka. SLPs ini juga bisa diperdagangkan dalam Axies Infinity Marketplace. Pembeli bisa menggunakan bitcoin atau ethereum dalam bertransaksi.
To play this game the player needs 3 Axies. The average price ranges from US$190 to US$350 depending on the level. There are also more than that, for example, in 2020, a triple mystic named Angel was sold for ETH 300.
This value is equivalent to US$120,000. While in October 2020 alone there have been 15,000 downloads on the platform.
Not only that, the property in this game was even sold for US $ 15 million in early 2021. Trading volume for all Axie Infinity NFTS can reach US$170 million.
The advantages of Axie Infinity
The advantage of playing this game is of course being able to entertain yourself. In addition to being a means of entertainment, it can also be used as an investment venue. The other advantages you can see below:
The existence of Ronin is able to reduce network congestion. Moreover, it is designed as an Ethereum backup chain. Ronin's own validators are Binance, Ubisoft, Animoca Brands and Sparq
Unique NFT that can be used for battles and traded on the Axie marketplace. In just one month there were 750,000 Axies traded
Has the highest daily, weekly and monthly active users
Reward system based on player contribution in blockchain ecosystem
There is a staking program, namely claiming prizes through voting and games
The biggest crypto game with high market cap
Senior players have experience in blockchain
The AXS token can be used as an investment portfolio, besides that it has been recorded to have a surge in value of more than 600%. This was recorded by coinmarketcap in mid-June 2021 to mid-July 2021.
How to Earn Money with AXS
Players of this game can earn by doing PVP matches. You can also generate assets by breeding Axies. From the results of breeding you can sell in the market. Also don't forget to collect rare Axies whose value is higher than ordinary Axies.
You can buy Axie in the Axie marketplace. There are 500 types of Axies to choose from and they range from animals to plants. The most expensive Axie is currently priced at 999,999,999,999 Ethereum with the number #578874.
How to Play Axie Infinity
To play this game is not free because you must have at least 3 Axie first. In playing you need to visit http://www.axieinfinity.com/ or download the axie infinity apk.
Click on the marketplace page first. Create a crypto wallet account by opening a MetaMask and Ronin Wallet account. These two crypto wallet accounts are obligatory to create.
After that transfer the ETH in MetaMask to Ronin Wallet with a deposit to Ronin. The step to buy it starts with entering the marketplace. Select the desired Axie and after it is successfully purchased, the Axie will immediately enter the inventory.
To download the application, you can follow the steps below:
Visit the official website, namely http://www.axieinfinity.com/
Click the play now button and just choose what device you want to play on. This game can be played via PC, iOS, Android or Mac
If you have selected the device, just download the application then do the installation
For PC or Mac users can use an email account to access the application. For Android, you can use QR CODE
Press the Sync Axie menu then the inventory market will be detected immediately
So how after knowing what Axie Infinity is, want to play this game from now on?
(*)