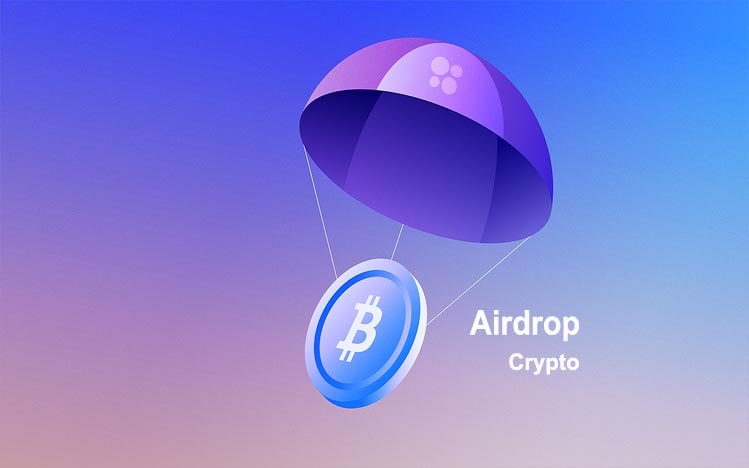 Digital currency investment or more commonly referred to as crypto investment has now become one of the most preferred and reliable investment assets because it is considered to be able to generate large profits in a short time. In addition, advantages in the field of digital asset trading can also be obtained from airdrops. Then, what is an airdrop?
If you are learning about digital asset trading or have even started to get into it, surely you have heard of the term crypto airdrop.
Airdrops are very easy to get because they are usually only distributed free of charge, so many people are often eyeing to get them. You may be wondering what exactly is an airdrop and how do you get it?
To answer all these questions, this article will explain what an airdrop is and how to get it. Hopefully this article can add to your knowledge.
What are Airdrops?
Airdrop is a promotion in marketing or a marketing strategy in the digital currency business by giving crypto assets or digital assets to a number of people or a community for free and for free. And in the process, the airdrop will be sent directly to the recipient's wallet.
An example is when a project holds an airdrop, users are usually asked to participate in certain activities or must meet certain requirements. If successful, you will be rewarded with a certain crypto coin or a free token. This whole process is what is meant by an airdrop.
Because the more it is done, the public will become more familiar with what an airdrop is. This is great for building public awareness of new cryptos. In addition, crypto airdrops are also used to increase exchange volume on exchange platforms when they first appear on exchanges and increase public attention to crypto assets.
When the project organizes what is an airdrop, the goal is definitely to expand public awareness of the use of the latest crypto assets, as a form of promotion, and as a token of appreciation for loyal customers of the digital asset trading platform. Usually, the implementation of the airdrop is published through the company's website or in the crypto community forum.
Then, after the public understands what an airdrop is and public awareness of new assets has increased, when these new assets start being listed on the stock exchange, their prices can skyrocket in a short time.
Several platforms that have held airdrops include Auroracoin in 2014, Uniswap in 2020, Bitcoin in El Salvador in 2021, and Tokocrypto with TKO assets. The platform introduces new cryptos with the airdrop method before plunging into the exchange. Of course the method is considered quite profitable.
Even though it has been held frequently, some crypto activists still don't know what an airdrop is and often miss when the airdrop is implemented. However, you don't need to worry because usually the organizers will announce the implementation date in advance.
How to Get Airdrops
After knowing what an airdrop is, then you have to understand how to get it. Basically, an airdrop can be obtained by purchasing new assets through initial coin offerings before the assets are officially listed on the stock exchange, fulfilling a number of conditions or participating in activities held by the organizers.
Among the various ways you can get an airdrop, the easiest method is to join an airdrop hunter group that can be found on instant messenger platforms such as Telegram or Facebook.
If you want to find information about what an airdrop is and its implementation on Telegram, you can look for it on certain accounts which often share information about airdrop implementation. Judging from how to get it, airdrops can be classified into several types, including:
1. Standard airdrop
This type of airdrop requires you to register first to be able to get newsletters or info updates through the organizer's website. It's easy to register, you only need to register your name and email.
2. Bounty airdrops
This airdrop generally requires crypto activists to do a number of things on social media first to be able to get prizes in the form of crypto assets.
Users are usually asked to make a tweet in the form of a link to the organizer's website or to make a tweet inviting your account followers to participate in the activities being carried out by the hosting company.
3. Airdrop Holder
In how to get this crypto airdrop, you must have certain crypto assets that are already stored in a digital wallet. For example, Bitcoin or Ethereum. You will get assets from implementing the airdrop according to the ratio set by the organizing company if you meet the requirements.
4. Exclusive airdrop
Exclusive airdrop is an exclusive distribution of digital assets. This activity is usually managed by websites and social media with a large number of followers. Only those who are members of the website or followers of the account, you can only take part in the exclusive airdrop.
Airdrop Scam
Even though there are already many companies in the field of cryptocurrency that distribute assets for free and for free, this activity is actually quite new in the crypto market itself. Even today, there are still no rules or regulations governing the airdrop implementation mechanism.
Therefore, it's not surprising that people who don't understand what an airdrop is can be exposed to the airdrop fraud mode. With the increasing sophistication of technology, the crimes that lurk are also increasingly diverse. Many irresponsible persons take advantage of the airdrop as a field for deceiving ordinary people.
Therefore, it is necessary to have a thorough understanding of what an airdrop is and the types of airdrop fraud that can occur. Here are some methods of fraud that often occur and use airdrops as a mode, including:
1. Personal Data Theft
Usually, fraudsters will try to convince users to access a strange website page or link. If you enter the page, then all confidential personal information can be accessed immediately, starting from the email address and password, social media, and even access to the wallet.
The purpose of these scams is to sell the personal information to third parties or other fraudulent businesses and it can be used for phishing. Therefore, crypto activists who are new to what an airdrop is should seek advice from an expert when they want to take part in an airdrop.
2. Private Key Airbud (Private Key Theft)
This one scam is also quite dangerous because it steals the public key, which is a key that can be shared with other users to make shipping transactions. This Airbud is specifically designed to commit fraud against crypto wallet holders by tricking them into giving the private key to the user's wallet.
3. Dump Airdrops
Basically, not all airdrops have the goal of building a new cryptocurrency value or building a community. Some parties who carry out crypto airdrops only want to create a short sensation so that their coins/tokens can immediately sell on the market and reach the target exchange rate.
If you pay attention, this type of fraud does not actually make cryptocurrency holders really lose money. However, from the beginning the intention of the organizers was only to seek profit.
4. Referral Fraud
This scam will ask you to fill out a certain form on a website page. The personal information that you provide will later be used to register and create accounts on different platforms. They then use the referral code obtained for personal gain.
Even though they already understand various types of fraud with the Indonesian airdrop mode, crypto activists still have to learn a lot about what an airdrop is and always be vigilant when making transactions with digital assets. This is because there are no regulations governing airdrops so that activity in this sector is very vulnerable to fraud.
Thus a brief explanation of what an airdrop is and how you can get it. The method that has been described is quite easy to follow, so you don't need to access suspicious sites.
(*)