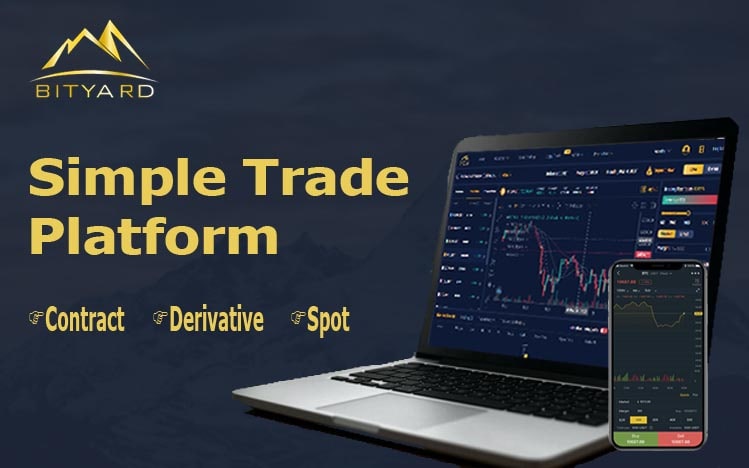 PRESS RELEASE, Bityard, headquartered in Singapore, has a professional management team and a strong trading system. Our users come from more than 150 countries and regions including North America, Europe, Asia Pacific and Southeast Asia. We provide safe, simple and fast digital asset derivatives trading services for our users. Bityard has always adhered to the product concept of "Simple Trading Complex Contract", aiming to provide customers with an excellent user experience.
Bityard focuses on bringing high simplicity to users, and is committed to creating a low-threshold and highly professional trading platform, so that all investors without blockchain background can easily get started and quickly enter the depths of the cryptocurrency investment field.
Pros and Cons
Before we continue with this review, let's take a quick look at the good and not so good sides of Bityard Exchange.
Advantages:
Things you might like about Bityard:
Supports crypto and fiat deposits and withdrawals
Fast trading engine, processing up to 1 million TPS (transactions per second)
Regulated, licensed and fully compliant
The website is available in 9 different languages and over 150 countries
Simple, clean and professional user interface
24/7 support via email and live chat.
Provides a demo account to help you familiarize yourself with the platform and trade before using real money
You get a welcome bonus of up to $258 USDT.
Fully secured with real-time risk audit technology, multiple cold storage wallets, multi-signature technology.
Provides a wider range of trading assets compared to its competitors.
Available on mobile (Android & IOS) and web.
Lowest transaction fees.
3 pasar perdagangan yang berbeda: Kontrak, Derivatif, Spot
Support Copy Trading feature with many top copy traders
lack:
Things you might not like about Bityard:
KYC is required to use most of the features.
You can only withdraw and deposit a minimum of $15.
There is a maximum withdrawal limit of $100,000 and that's even with KYC. No KYC, for $1,500.
Offers a limited number of trading pairs on the spot market, compared to other centralized exchanges like Binance, Kucoin, etc.
Get started Bityard
Being a relatively little-known cryptocurrency exchange, you'd think (as I did at first) that Bityard would be one of the newer exchanges with a cluttered, hard-to-navigate user interface that resembles a DEX in 2017.
If you think so, you are as wrong as I am. Let's take a look at the user interface of the exchange and follow the registration process in 3 quick and easy steps.
1. User interface
The first step is to visit the Bityard exchange website, where you will be presented with a very clean homepage that gives you everything you could want in one view.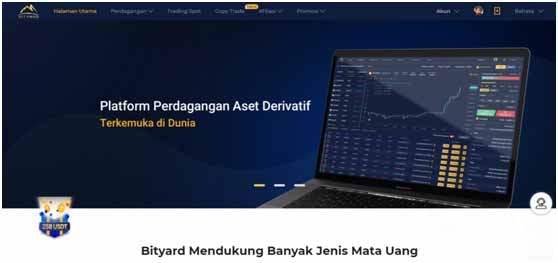 From the first look, it is easy to know what trading markets the exchange offers (contracts, derivatives and spot). Immediately after that there are links to affiliates, promotions and learn more pages where you will find all the information you need about specific aspects of the exchange.
And finally, you have login, Get Started (sign up), download button, and language options in the far right corner. The rest of the space below is the exchange's bold claim to be the world's leading cryptocurrency contract exchange.
Click the icon in the lower right corner to take you to the live chat support system, where you can talk to real humans 24/7. It will follow you around as you scroll through the page so no matter where you are on the website if you want to talk to someone help isn't far away, just click and start typing.
But that's not all.
As you scroll further you will be presented with other bits of information about the exchange. Like:
List of the top cryptocurrencies you can trade with leverage
Several good reasons why you should choose it
List of their license certificates
Links to download stock exchange mobile apps on Google Play Store and App Store
List of popular media covering Bityard.
Which tells us that this isn't some obscure exchange. Well. Enough with the practice of looking around it. Let's proceed to register a free Bityard account, claim the welcome bonus and start playing around with the various features and functions available on the exchange such as demo trading, copy trading and all that jazz.
2. Register your account
Most of the top cryptocurrency exchanges have very simple signup processes and Bityard is certainly NOT lagging behind in this regard. So without wasting time, let's create an account for you.
Step 1: Click HERE to open the website
Step 2: From the website, click the yellow Get Started button in the upper right corner or the Register Now button at the bottom of the page. Whichever your mouse is closest to.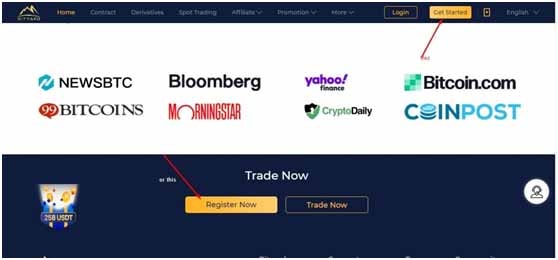 Step 3: On the registration form that appears, you can choose to use the email or phone number registration option.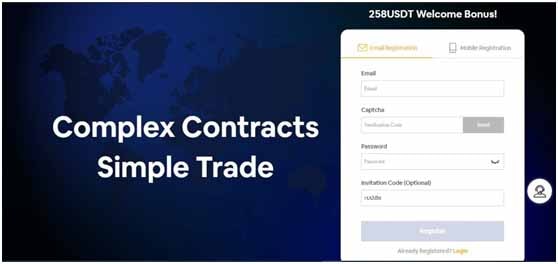 Or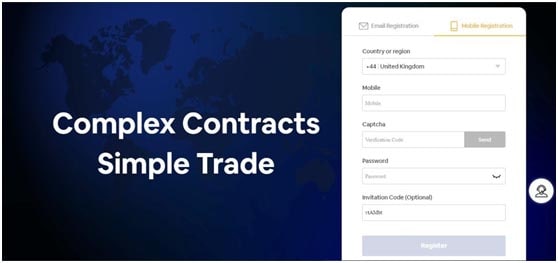 Whichever registration method you decide to use, simply fill out the form with the required information, enter the verification code that will be sent to your email address or phone number, and hit the Register button below it.
I have decided to use the email signup option.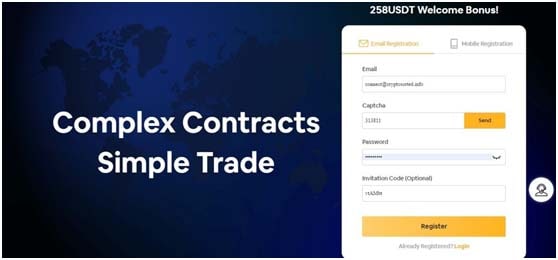 Once you click the Sign Up Button, you're done. You will be automatically logged in to your account and presented with a beautiful message like the one below.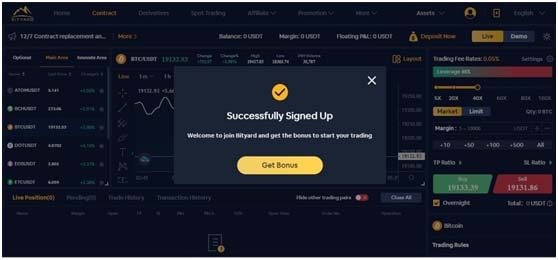 3. Claim your welcome bonus
Just click the Get Bonus button to go to the bonuses page where you can start claiming your newbie, trade and first deposit bonuses:
• Newbie Bonus up to $4 USDT

• Trading Bonus up to $254 USDT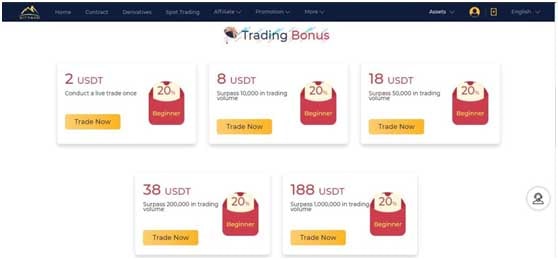 • $50 First Deposit Bonus

I know you noticed that 6 BYD Sign Up Bonus you get just for signing up. (BYD is the native cryptocurrency and utility token of Bityard Exchange).
4. Deposit in Bityard
Before trading using Bityard, of course you need an initial balance in various forms of cryptocurrency in your account. You can easily make a deposit via bityard by clicking on the 'Account' menu on the main cryptocurrency trading page. Then, select the 'Deposit' sub menu to make a deposit.
If you have opened the 'Deposit' submenu, a display like the one below will appear. You can top up or deposit several cryptocurrencies, such as USDT, BTC, ETH, XRP, TRX, EOS, LINK, and CRV.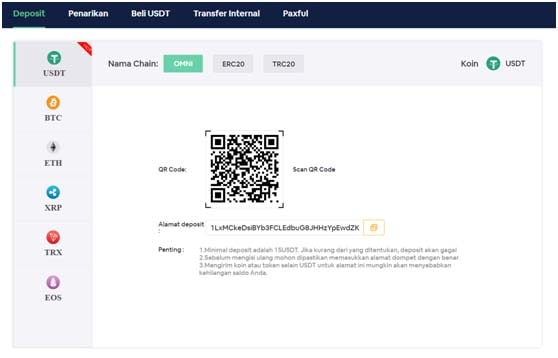 Specifically for USDT, you can choose the OMNI, ERC20, or TRC20 chains. You only need to scan the barcode or copy the deposit address on the exchange you use. You can automatically deposit the crypto currency you want.
5. Withdraw at Bityard
Similar to the deposit process, the withdrawal process at Bityard can also be done very easily without the need for complicated steps. You can choose many crypto currencies which you will withdraw later. Since you may want to withdraw it in fiat currency, this time I will give an example of withdrawing USDT.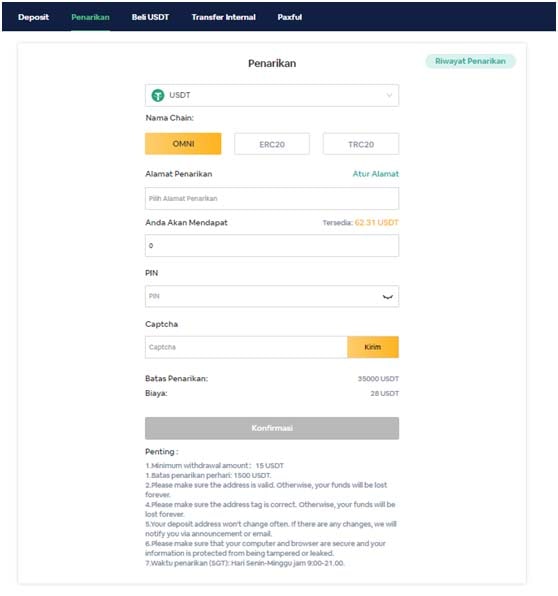 All you have to do is copy the address on the exchange you are using, then place it in the 'Withdrawal Address' column in the 'Withdrawal' section. Enter the amount of USDT you want to withdraw. Don't forget the PIN that you previously created. In this step, you need your PIN.
Enter the PIN and Capctha that was sent to the email address/phone number according to the way you registered earlier. If you have everything, all you have to do is click 'Confirm'. Automatically, the USDT that you want to withdraw will move to your exchange address.
6. Buy USDT with IDR
You can also buy USDT using the rupiah currency (IDR). All you have to do is enter the amount of USDT you want to buy or the amount of IDR you want to spend to buy USDT.
The minimum limit for buying USDT using IDR is IDR 200,000. So, make sure you have at least that amount of money.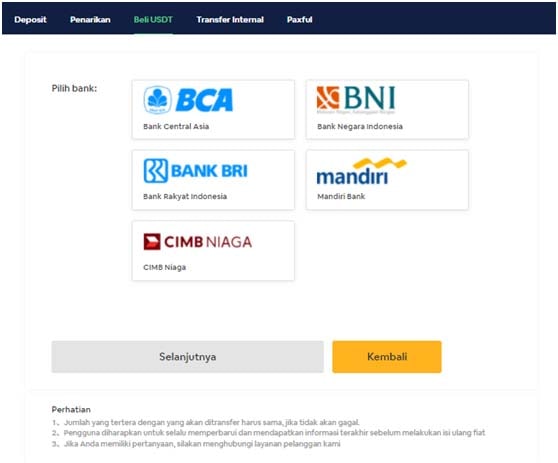 If you have determined the amount of USDT that you will buy, now is the time to choose which type of bank you will use as payment. Make sure you have specified your bank in your account to make it easier. If you have chosen the bank that you will use, click 'Next'. You will be given instructions on how to pay.
7. Internal Transfers
Apart from making deposits and withdrawals on the cryptocurrency assets that you use, you can also transfer them to your friends who use Bityard.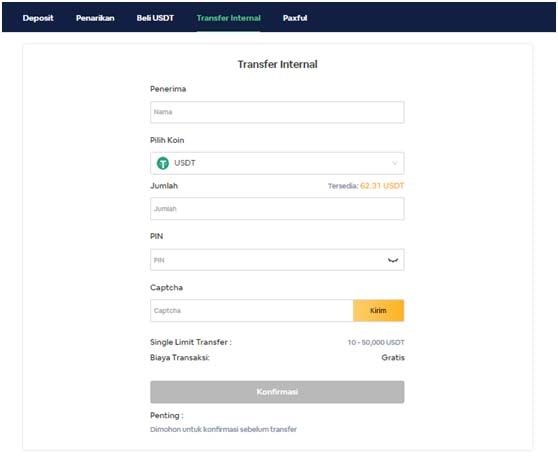 You only need to know one piece of data, namely the name of your friend's account at Bityard. Easy isn't it? However, make sure your friend's account name is correct, don't send it wrong.
The next step you only need to choose the cryptocurrency that you will transfer. There are many types of cryptocurrency that you can transfer to your friends. Don't forget to once again enter your PIN and Captcha which will be sent to your email/phone number that you used when registering earlier.
What you need to know, this internal transaction fee is free of charge or FREE!
8. Paxful Payment
Apart from using bank transfers or deposits through other exchanges, Bityard also uses a secure payment system issued by Chien Hsiang Hung.
By creating an account on Paxful, it will be easier for you to deposit the cryptocurrency you want. With Paxful, you can pay in various currencies, starting from rupiah, dollars, euros and other currencies in the world.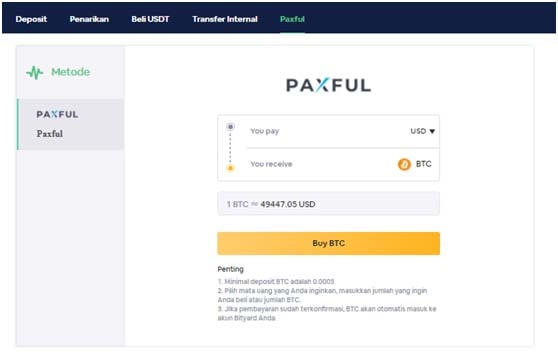 Thus, you can buy BTC or other cryptocurrencies very easily. Just need to enter the amount of BTC you want and click 'Buy BTC'.
No need to worry, Paxful will serve various types of payments, including using bank transfers that you may have at the moment. Apart from that, you can also pay using Amazon, PayPal, Western Union, and also VISA.
Conclusion
One thing you cannot take away from Bityard is that it is the simplest contract trading platform among its competitors. Couple that with a fast order matching and trade execution engine, security, lowest fees, excellent support service, and what you have is a world-class exchange.
SOCIAL MEDIA LINKS
Telegram Group: https://t.me/bityardindonesia
Twitter: https://twitter.com/Bityardofficial
Facebook: https://www.facebook.com/Bityardofficial/
Linkedin: https://www.linkedin.com/in/bityard/
Youtube: https://www.youtube.com/c/BityardOfficial/
(*)