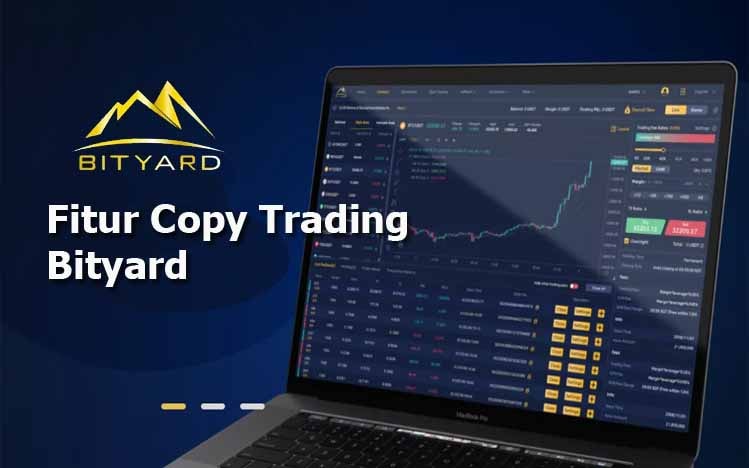 – Sponsored by Bityard –
Are you a person who wants to start trading crypto? However, are you confused about which trading application to use which is easy and relaxed in the midst of your busy schedule? Maybe you can try a trading application called Bityard.
Bityard is a cryptocurrency trading contract platform headquartered in Indonesia's neighboring country, Singapore. Bityard was founded in November 2019. Even though it is not even two years old, Bityard is able to offer easy and reliable cryptocurrency trading.
Bityard itself has opened services in more than 150 countries in the world and puts forward features that are safe, easy and fast. You also don't need to worry because Bityard has obtained an ACRA license from Singapore, MSB from the United States, and MTR from Estonia for the European Union.
So, then there is one feature that makes Bityard the friendliest platform for those of you who are busy with work and don't have time to analyze the market. What feature is it? Yes, this one feature is called Copy Trading. Come on, see the explanation of what the Copy Trading feature is.
Copy Trading, Buying and Selling like a Professional Trader
Copy trading is a special feature owned by Bityard. By using this feature, you can trade cryptocurrency like a professional trader who is your favorite.
Thus, you can get a percentage of the profit just like what the professional trader of your choice gets. In addition, you don't need to bother doing cryptocurrency market analysis at this time.
So, you can focus on your work and let your account trade like your favorite professional trader. Oh yes, you can also use the copy trading feature at Bityard via two platforms, namely the mobile app and also from a PC.
So, how do you use the Copy Trading feature on Bityard? Check out the explanation in the next point.
How to Use the Copy Trading Feature in Bityard
For those of you who have never used Bityard or are new to it, here we explain how to use the Copy Trading feature on Bityard.
1. Click the "Copy Trade" Tab
You can start using the Copy Trading feature by pressing the "Copy Trade" tab in the initial view of the Bityard application on your smartphone. If you use Bityard via PC, all you have to do is click the "Copy Trade" tab in the top menu display on the start page of your Bityard account.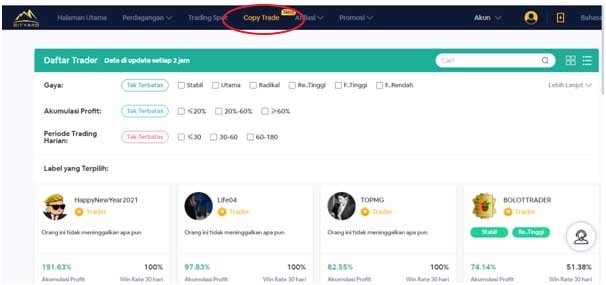 2. Choose Your Favorite Trader
If you have pressed the "Copy Trade" tab, you will be redirected to a page listing professional traders who have performed well while using Bityard. So, here you just have to choose which trader you will use as a benchmark for trading at Bityard.
You can see the percentage level of success that the trader has. You can also see more detailed information about your favorite trader's information by clicking on the photo of the trader in question.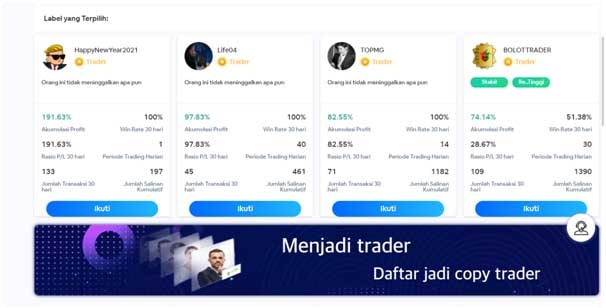 3. Learn Trader Profiles and Start Copying
If you have pressed the profile photo of the trader of your choice, you will be presented with a display of the trading style and performance of the trader of your choice.
You can start studying the history of your chosen trader, starting from trading intensity, profits earned, followers who copy trades against these traders, and much more.
If you are sure to choose the trader, all you have to do is press the yellow button that says "Follow" in the top right.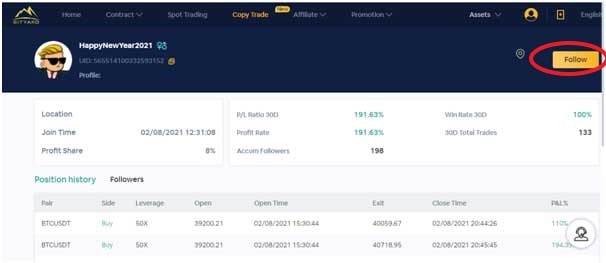 4. Choose Fixed Count or Fixed Ratio
Before making sure to copy certain traders, you will enter the "Copy Trade Settings" menu which is used to set how far you can copy your favorite traders.
In this menu, you will be faced with two main menu options, namely Fixed Count and Fixed Ratio. The Fixed Count itself is based on a certain amount of capital, while the Fixed Ratio is based on a certain ratio of the position margin of your favorite trader.
a. Fixed Count
In the Fixed Count menu you will find three submenus, namely Amount, Max Daily Copy Margin, and Advanced Settings. Amount is used to set a certain amount of capital that you will use in trading according to your position margin.
For example, you choose an amount of 20 USDT, then when the trader of your choice trades, your 20 USDT capital will be used in the trading process.
Then, Max Daily Copy Margin is used to determine your maximum daily income limit. If you set 5000 USDT as your daily income limit, then you will not be able to copy your favorite traders again for that day once your income has reached 5000 USDT.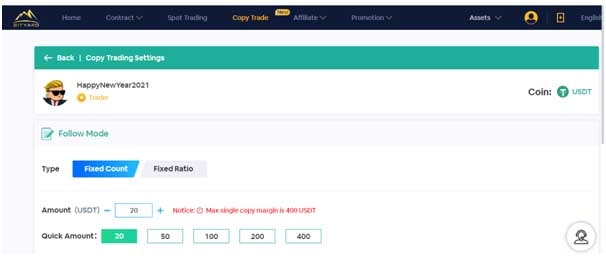 Meanwhile, in Advanced Settings, you will find a MAX Position Amount section which functions like Max Daily Copy Margin and Stop Loss Ratio which functions to close your position if you have reached a certain level of loss.

b. Fixed Ratio
In the Fixed Ratio menu you will find a menu display that is almost the same as Fixed Count, namely Max Daily Copy Margin and also Advanced Settings. In the Advanced Settings menu there will also be MAX Position Amount and Stop Loss Ratio sections.
However, there are two different sub-menus, namely the sub-menu ratio and warning value. You will use the ratio sub menu later to determine the ratio limit that you will use.
Meanwhile, you will use the warning value section to determine your position margin limit. Later, your position margin will not be higher than the warning value that you previously set.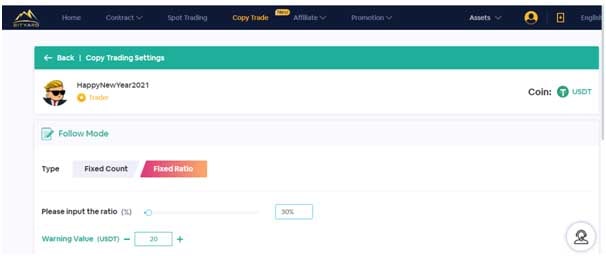 If you have chosen to use one of the Fixed Count or Fixed Ratio, all you have to do is press the yellow button that says "Copy" which is at the very bottom. Thus, you have officially copied your favorite trader.

5. Organize and Manage Copy Trading as You Like
You can manage your Copy Trading according to your wishes in the "Manage Copy Trade" section. Later, on the menu a list of traders will appear whose trading performance you copied.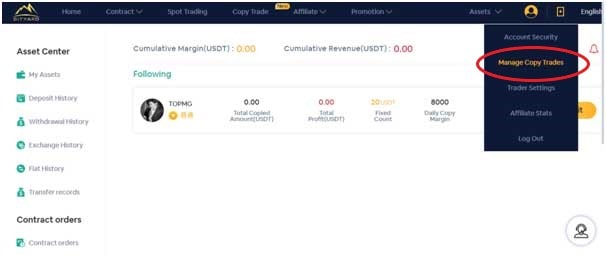 You can edit and delete your favorite traders according to what you want. If you want to edit your choice between Fixed Ratio or Fixed Count, you can choose "Edit". Meanwhile, to turn off copy trading from certain traders, all you have to do is turn off the "Switch" button.

So, that was the Copy Trading feature which is Bityard's mainstay. With you using Bityard, you don't need to bother analyzing the current cryptocurrency market. You can also be safer and easier when trading with Bityard.
Interested in trying trading at Bityard? You can download the Bityard application on the App Store and Google Play. Come on, just start downloading and trading cryptocurrency at Bityard.
(*)
---
This article is a sponsored article from a third party, which contains information and is distributed as advertising or promotional material. Readers should do their research and due diligence on the products, services or companies mentioned in the content of this page.