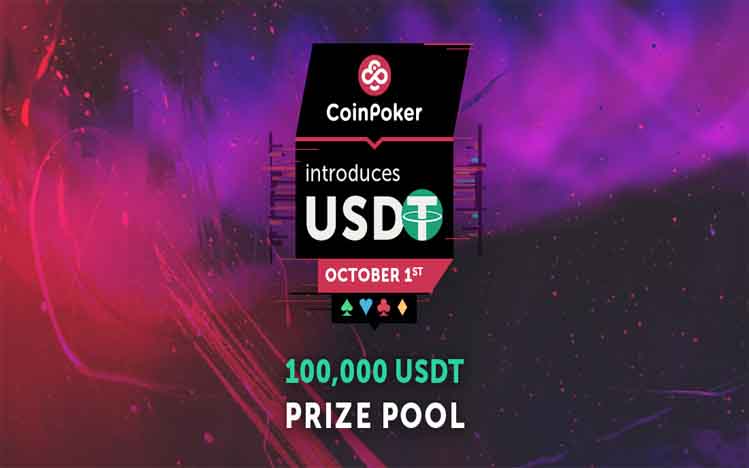 PRESS RELEASE, CoinPoker – the industry leader, the largest and oldest pure crypto poker room was the first to introduce USDT as an in-game currency, solving the ever-present problem of volatility and creating the foundation for accelerated growth. Along with the launch of two promotions awarding 100,000 GTD in prizes.
The changes will ultimately allow the poker community to play using dollar-pegged chips, while at the same time offering the industry's lowest rake and a verifiable decentralized card-shuffling mechanism – a trio never before seen in online poker history.
Choose a coin
With expert advisors, poker elite and a community supporting the need for change, USDT was the obvious choice as it matched the high criteria that the room has for coins: stability, transaction speed and overall reliability.
Plus, USDT is easy to use for crypto beginners: switching from fiat in a user's bank account to USDT in a poker account and back can be done in a matter of hours. CoinPoker also allows its users to deposit and withdraw in BTC and ETH utilizing an in-app currency conversion tool.
Better for a player
From a player perspective, USDT has a clear advantage when it comes to providing liquidity and a hedge against the volatility of the crypto market. The tokens are pegged to fiat money so this stablecoin is less risky than regular cryptocurrencies making it safe for newcomers to poker apps and poker pros who will always know their bankroll in terms of fiat value.
Unique bonus system
USDT will work in perfect balance with the CHP token, the precursor in-game currency to CoinPoker, which will not be mandatory to play, but will guarantee exclusive rights and perks to its users and holders: rakeback, additional leaderboard points, exclusive access to the sportsbook section. and discounted withdrawal fees. Reportedly more benefits to come in the nearest future.
A room that gives more chances to win
It should be noted that CoinPoker is the lowest earning crypto poker room in the industry and big promotions giving away thousands of fiat values every week. It is also the first poker room to return 100% of the rake to players in various shapes and forms.
A look at what's in the table makes it clear that the combination of stablecoin USDT as in-game currency and CHP as bonus fuel is set for long term success which is a must for players to take advantage of.
The best time to join is now
USDT will become the official CoinPoker in-game currency on October 1. The room marked this important date by awarding 100,000 GTD in prizes.
Players will be invited to enjoy the 'Crypto Series of Poker' – the largest crypto poker tournament series that has become a tradition at CoinPoker, while Cash players will be treated to a two week Leaderboard that rewards a total of 100 spots!
Once registered don't forget to invite your friends to do the same because CoinPoker referral program gives 30% of what referrals earn.
(*)