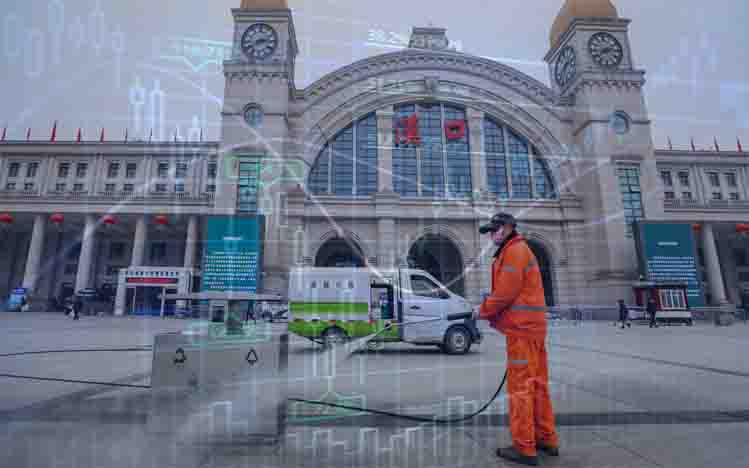 KANALCOIN NEWS –  The news that the corona virus has spread to two people in the United States (US), the stock market took the biggest hit this week. The market fell a full 1 percent and Bitcoin followed suit. News of the cases of two people in the US was confirmed by the Center for Disease Control (CDC). The two people had just come from Wuhan, China, and had been infected. While 63 other suspected people are being tested.
This epidemic is so painful along with Chinese New Year celebrations. It should be running normally and trade between China and the US should be quite high. But these events have limited business and international travel between them. The Chinese economy is also feeling the weight of the news. US companies in China such as Disney and McDonalds have temporarily closed their businesses.
The pullback in those stocks is somewhat different from the Bitcoin loss. The Bitcoin rally has brought the asset close to 9,000 US dollars. This number is still far from the all-time high (ATH). Although the pullback was relatively large, it appears to reflect a return towards support levels as before. On the flip side, stocks have posted dramatic ATHs in recent weeks.
The stock recall is more likely to be related to gross overvaluation than to the corona virus outcome itself. According to analysts, the market has seen unrealistic euphoria in recent days and the expected decline has already taken place. But when stocks retreat due to news and overvaluation.
Bitcoin may have a short term gain. Even if the market remains relatively stable with small losses. Investors are also likely to start taking profits . That is, with the market looking for somewhere to move profits after a strong year, investors may view Bitcoin as a hedge.
In addition, the corona virus also shows the relative fragility of international finance. Bitcoin's ability to move across international borders could easily provide the kind of financial mechanism needed during this viral crisis.
Meanwhile, Changpeng Zhao, a Chinese-Canadian entrepreneur, CEO of the world's largest crypto exchange binance, revealed on his Twitter account that his company promised to donate 1.5 million US dollars to help the victims of the corona virus.
But in this case, Zhao seems to refuse to use crypto assets. For him, it is unrealistic to use crypto for the outbreak in Wuhan. This makes the Binance company the one that started the charity initiative to help the victims of the corona virus in China.
"We are not making any announcements. But the BCF/Binance team has been busy the past few days. Still need help to arrange local logistics," said Zhao.
This is not the first time Binance has done charity work. In 2018, they donated US$1 million to help with the aftermath of the massive floods in West Japan. Even this first crypto company also has its own charity.
(*)