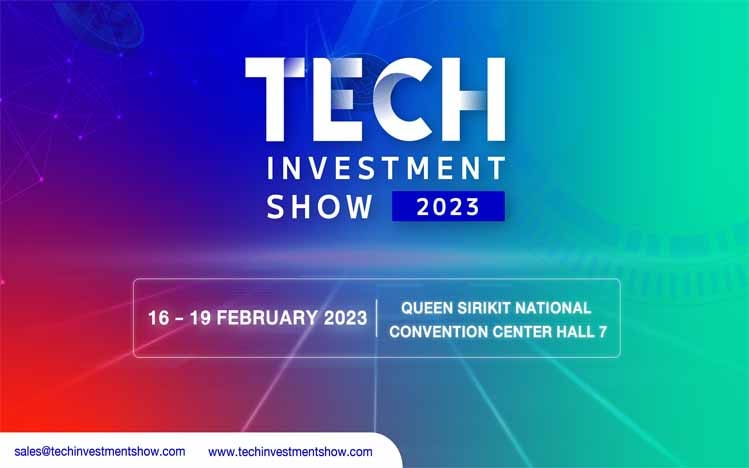 "Youth could be source of wealth and get the chance to interact with a lot of investment funds and business in tech industry"
Date:
16-19 February 2023
Time: 10:00 a.m. – 7:00 p.m.
Venue:
Queen Sirikit National Convention Centre (QSNCC), Bangkok, Thailand.
Location:
https://goo.gl/maps/22uVHfBMRyGJmxMv9
PRESS RELEASE, Staying on top of the Tech industry and emerging ideas throughout the world right now has never been more important for investors. With strong economic growth and maturing tech ecosystems, Southeast Asia's long-term prospects are giving investors the confidence to heavily invest in the most creative , passionate technologists and builders. Tech Investment Show 2023 brings
Enterprise Financial Software, including InsurTech, Payment Technology,
Investment Management,
Education,
Healthcare,
E-commerce,
Web3 including, Blockchain technology, cryptocurrency, metaverse, non-fungible tokens, digital assets, etc.
It's crucial to comprehend these ideas and the most recent technical advancements to maximize the results.
The Tech Investment Show will debut on February 16–19, 2022, in Thailand, according of M Vision PCL. This expo aims to shed light on the following:
Get ready for upcoming February 2023!
Engaging experience for all attendees to Initiative participants to build, grow and be a part of the Tech and Web3 ecosystem.
Connect directly with leaders in investment firms from around the world.
Opportunity to meet and consult directly with various angel investors and venture capital funds.
Chance for builders to win the award from the "Pitching Day"
Offer in-depth understanding of real builders in the tech industry.
Assist people, groups, and investors in connecting with specialists and service providers in search of fresh investment prospects.
Expand your network and level up your startup in the tech landscape.
Hear from and connect with C-Level executives, professionals, and influencers in tech globally.
Investment opportunities in the Tech industry globally.
The Tech Investment Show event brings a lot of exciting opportunity zones, including:
Conference Zone – To learn a significant impact on every sector in the tech industry to maximize their business and investment potential.
Exhibition Zone – Meet the top, hand curated projects from the Tech industry.
Networking Zone – Connect with exclusive and thought leading investors, corporations and founders in various tech verticals for business matching and explore investment opportunities.
Workshop Zone – Enjoy the in depth, intimate learning experience from experts in depth
Community Zone – Join the global community and also get involved with key opinion leaders in each sector.
More than 8,000 attendees, 30+ exhibitors, 40+ VCs, 150+ journalists and media partners, 20+ specialized speakers, and >90% C-Level Executives, Experts, and Founders from around the world will speak and share cutting edge insights and solutions on the venture landscape in 2023.
We are looking for tart ups in the Tech industry with a growth mindset that is ready to lead the future revolution around the world.
Apply & Follow news for a chance to win the prize from competition on "Pitching Day" at Website Interested to become our sponsors and partners? Check out our Website for more details.
Book your calendar on 16-19 February 2022!
About M Vision Public Company Limited (PCL)
Established in 2002, on January 17, M Vision PCL provides its services in media production and produces content in information technology, especially smartphones. The company mainly distributes various information technology products through many channels.
The range of channels is broadly categorized as the services range from online, digital agency, offline, exhibitions, events, seminars, webinars, and e-commerce. The company also helps its clients in increasing brand awareness and helps them in maximizing their revenue by building customer trustworthiness.
Contact Information
Mobile:
0-2735-1201 (For Thai), +66914152929 (For International)
Email:
contact@techinvestmentshow.com, sales@techinvestmentshow.com
Telegram:
https://t.me/techinvestmentshow
PressKit:
Tech Investment Show 2023 Deck.pdf
Website
Company Profile
(*)