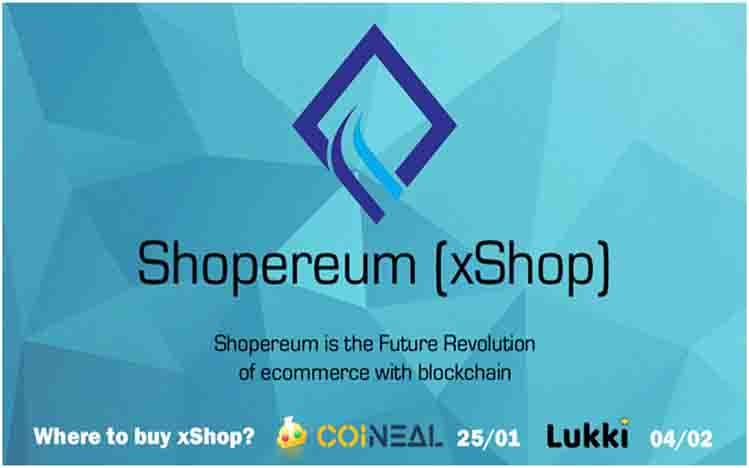 PRESS RELEASE, Cryptocurrency has been with us for much longer than we believe, in fact, 11 years have passed now since Bitcoin was created. During this time, the big challenge for those of us who are passionate about this world has always been the same: adoption. And the adoption path has been slower than we would like. One thing is clear: adoption will come at the hands of two big sectors: online gaming and commerce. All the experts agree on this point which removes any doubt about this question. Well, today we bring you the latest news about online trading with Shopereum.
What is shopeeum?
Shopereum is a company that offers a wide range of potential solutions related to e-commerce and cryptocurrency job assistance. Its commitment to a clear goal: Increasing cryptocurrency adoption to empower merchants and buyers around the world. Everything runs on its own token (xShop) which works on the Ethereumblockchain.
This solution is mostly supported by the important portal of blockchain project analysis, approved proven by the ratio of 4.2 / 5 in ICObench. One of the great references from this sector.
Basic characteristics of Shopereum
Despite offering many different features, we can say that the Shopereum development team is committed to becoming an integrated Marketplace of all types of technologies related to e-commerce. As a result, buyers can now access multiple marketplaces, regardless of the software and with transparency. On the other hand, sellers can also grow their market without searching for it on thousands of platforms.
As a basic starting point, Shopereum offers us to buy using major cryptocurrencies (BTC, LTC, ETH, XRP, etc.), native xShop tokens (which offer 5% discount on your purchases) or fiat money. Therefore, Shopereum accelerates adoption and empowers clients and sellers, thanks to intermediary transparency.
Join the pieces
In recent years, the biggest problem in e-commerce for cryptocurrencies has always been the same: adoption and online stores are not connected, in other words, where we have an online store developed to accept cryptocurrencies, we have few users and a small marketing budget; and where we have a broad user base (Amazon, AliExpress, etc.) we don't have cryptocurrency payment options. So far, all approaches in this regard have been based on wallets and extensions or plugins for browsers that allow you to pay with cryptocurrency on some of these popular websites. However, they are only a temporary measure, not an unpleasant solution.
Shopereum's goal is to go a step further and make all those integrations into a single Marketplace within the platform itself.
business models
Therefore, Shopereum can be defined as a MARKET in capital, market integrator, or second level Marketplace.
Under the Shopereum umbrella, small online store owners can easily integrate, allowing access to a much larger base of potential customers. Also, apart from solving some of the technical issues due to accepting Shopereum technology, they can also set up their payment platform to accept payments in any type of currency. This is all the more advantageous because it converts all cryptocurrencies to fiat at the time the purchase is made, applying the exchange rate prevailing at the time.
Buyers have the advantage of having multiple markets grouped under the same portal and with the possibility of getting additional discounts (payment by xShop tokens) and using their cryptocurrency to buy. Although we do not forget that fiat money will also be accepted, given the strategy of trying to reach the whole world.
In addition, Shopereum informed us that its drop-shipping strategy – which in itself will be a breakthrough in the current cryptocurrency e-commerce options – will be complemented and enhanced with Artificial Intelligence (AI) tools that will optimize search to help us find the best products at the lowest price. the best prices in one of the integrated marketplaces.
xShop tokens initiate trading
Technologically, Shopereum has developed its platform on Ethereumblockchain. The operating token of the platform is toxShop and will allow us to get discounts. These are the basic features:
• Name: Shopereum v1.0 Token
• Symbol: xShop
• Technology: token ERC-20
• Total number: 600.000.000
• Circulating free-float: 180.000.000
The developers estimated that the platform was up and running in August 2020, but tokens started trading on January 25!
To celebrate the successful launch, xShop private sale is also available on shopereum.io main website with 25% BONUS by Signing up and buying directly.
So, xShop tokens can be bought and sold on Coineal Exchange on January 25, and Lukki Exchange on February 04. However, it won't be until March when the tokens can be stored and deleted, when their implementation on the platform has been properly tested. This is a very common defensive maneuver in cryptocurrency exchange houses.
To celebrate this launch, we have a trading contest on the Coinal platform itself. A total of 250 xShops will be distributed in classifications that will cover the first 10 contests (starting with 100 xShops for the first, 50 xShops for the second, 30 xShops for the third, and 10 xShops for those classified from 4 to 10).
Summary
We must pay great attention and carefully analyze the evolution of this project because it promises to be a great revolution. They have a very ambitious roadmap and a very well-defined value proposition.
Official link
• Web: https://shopereum.io/
• Twitter: https://twitter.com/shopereum
• Telegram: https://t.me/Shopereum
• LinkedIn: https://www.linkedin.com/in/shopereum-coin-5370a0194/
(*)