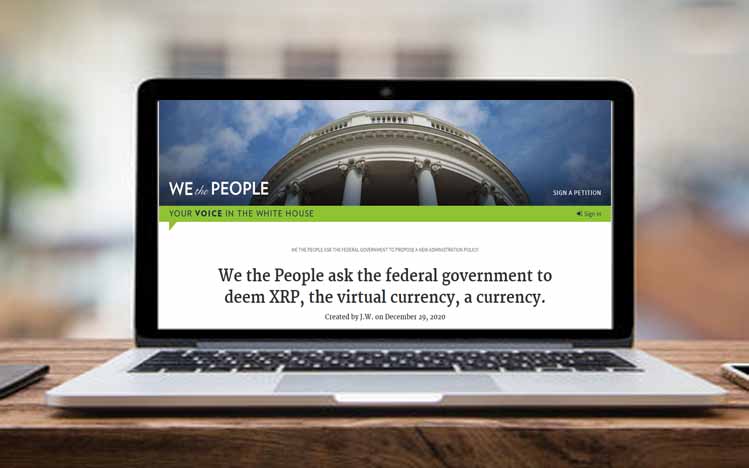 KANALCOIN NEWS –  XRP supporters are reportedly rallying support for parent company, Ripple, by creating a petition addressed to the White House. This was done by XRP supporters so that the United States Securities and Exchange Commission (SEC) dropped the lawsuit against Ripple.
On December 22, 2020, the United States Securities and Exchange Commission (SEC) sued the XRP token producing company, Ripple. Ripple is being sued by the SEC for allegedly offering and trading digital asset securities that are not registered with the SEC.
Apart from that, the SEC also mentioned that the profits that Ripple has received so far from trading illegal tokens are being enjoyed by its superiors. The SEC also dragged the names of Ripple's CEO, Brad Garlinghouse, and Ripple's co-founder, Chris Lansen, in the case.
The SEC claims that the 'illegal' activities carried out by Ripple have been carried out since 2013. This then made investors and Ripple customers begin to withdraw one by one from trading and exchanging XRP tokens.
Several clients have withdrawn from working with XRP, including Moneygram and Bitwise. Bitwise is reported to have liquidated all of their XRP assets after the SEC sued Ripple. Meanwhile, Moneygram emphasized that they had nothing to do with Ripple.
Moneygram said that they have not relied on tokens and technology issued by Ripple to convince their customers. Some small clients have also decided to suspend XRP assets on their exchanges.
OSL, Beaxy, and CrossTower have announced that they will stop trading XRP tokens with their companies. Apart from that, there is also Bitstamp which plans to suspend XRP trading, specifically for the United States only.
Most recently, OKCoin decided to remove XRP from trading and deposits on their exchange on Monday (28/12/2020) local time. This policy is cited as OKCoin's best course of action in response to legal action taken by the SEC against Ripple.
With the withdrawal of clients from Ripple, the value of XRP has dropped dramatically. In fact, the value of XRP markdown reached $130 billion in just two years. Previously, in 2018, XRP reached a capitalization value of $140 billion which is an all-time high.
Josh Frank from The TIE even called XRP's value the third biggest collapse of all time. The XRP collapse is the third biggest collapse after Washington Mutual ($327 billion) and Lehman Brothers ($691 billion).
This condition prompted XRP supporters to decide to support Ripple by creating a petition through the We the People website. The We the People website itself was created during the administration of Barack Obama in 2011.
The petition created by "JW" asked the SEC to stop the lawsuit that was considered "reckless" against Ripple. According to XRP proponents, FinCEN calls XRP a legal currency. To date, the petition has reached 10,000 signatures.
We the People call on the federal government to consider XRP, virtual currency, currency," the XRP proponents wrote.
(*)