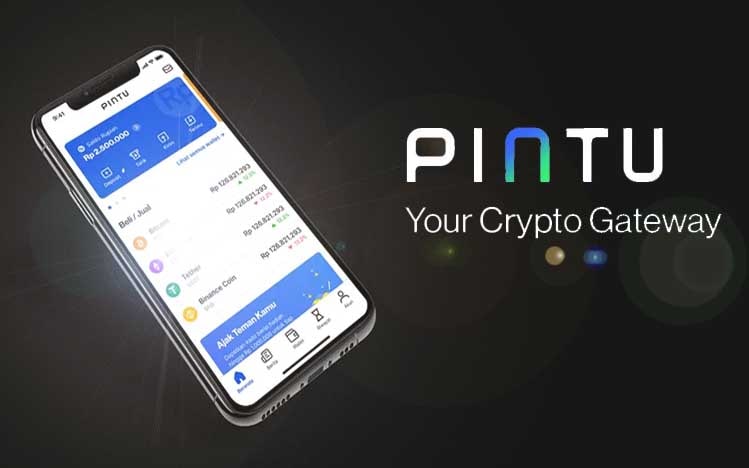 – Sponsored by Pintu –
The Pintu application is a cryptocurrency platform issued by a startup from Indonesia, namely PT Pintu Anywhere. The Pintu application is the first mobile platform to serve buying and selling bitcoin activities and other cryptocurrencies in Indonesia.
Currently, cryptocurrency is indeed a booming phenomenon in society throughout the world. This cannot be separated from the skyrocketing price of bitcoin which was followed by the birth of various types of other cryptocurrencies.
Pintu provides convenience and comfort to all of its users, especially in Indonesia, to carry out cryptocurrency trading activities through the smartphones they have. Thus, all Indonesian people who are interested in cryptocurrencies can join this promising trend.
User Interface yang Simpel
The advantage that the Pintu application has compared to other applications is the user interface, which is simple and easy to understand, even for a novice crypto trader or investor.
The features that Pintu displays on their platform are arranged in such a way as to be well understood by its users. Moreover, the problem that is often experienced by novice crypto traders or investors is the appearance of a platform that is complicated and too complicated.
Not only that, the Pintu application also has a very minimalist wallet card display. Thus, users can manage their cryptocurrency assets very easily and quickly.
Free Transaction Fees
Another problem that is also often the main topic of crypto traders and investors is the existence of additional or hidden costs from platform owners. This makes the profits of traders and investors smaller.
In the Doors app, you won't find such things. Every time you make a trade, Pintu will display the final price when you want to sell or buy cryptocurrency. As such, Pintu does not charge any additional or hidden fees from its users.
A small fee will be charged to users when sending crypto out of the Door. In fact, crypto transfers between Pintu users will not be charged a penny.
High Level Security
Pintu always prioritizes the comfort and safety of its users when using their platform. Therefore, Pintu uses advanced technology in storing your crypto assets.
The wallet on the crypto platform uses Curv.co technology. Curv.co Technology. itself is a multi-party computation (MPC) protocol. This technology will prevent theft of the private key that you have. So, the assets you have at Pintu will remain safe.
Buying and selling Crypto Assets Starting at Low Prices
If you usually use trading applications from abroad, you must first have a large amount of money or capital to be able to invest and trade in cryptocurrency assets.
In fact, you can start buying and selling cryptocurrency assets starting from IDR 11,000. So cheap, right? You can also buy and sell various types of cryptocurrency assets at Pintu. The reason is, Pintu already serves the sale and purchase of 17 types of cryptocurrency.
Some of them are big assets in the cryptocurrency world, such as Bitcoin, Ethereum, Tether, Binance Coin, and many more.
Pintu has been registered at BAPPEBTI
Apart from security issues, legality is also a major issue for traders and investors who wish to invest their capital. If other financial institutions are regulated by the Financial Services Authority, the institution dealing with crypto assets is regulated and supervised by the Commodity Futures Trading Supervisory Agency (BAPPEBTI).
BAPPEBTI itself is a government institution created specifically to oversee and regulate the activities of the industry engaged in the investment and trading of cryptocurrencies in Indonesia. In addition, BAPPEBTI ensures that the institutions under supervision are legal institutions and can be used by Indonesian people.
The Pintu application has been registered and supervised by BAPPEBTI and the Ministry of Communication and Information. Thus, the assets that you have are guaranteed to be safe and secure.
Start Trading Cryptos
Reported by Kanalcoin.com from CNBC Indonesia, the number of crypto asset (cryptocurrency) investors in Indonesia has increased very high. Since crypto currency boomed over the last two years, the number of crypto currency users in Indonesia has reached 6.5 million people.
This data was submitted by the Indonesian Ministry of Trade at the end of June 2021. The transaction value in the crypto investment process is indeed very high, reaching IDR 370 trillion.
This number even exceeds the number of capital market investors which only reached 4.5 million people. In fact, the number of capital market investors has also increased by 16.35% compared to last year.
The world community, including various world leaders, are also in love with cryptocurrencies, both as an investment and a transaction tool. Not surprisingly, the current price of 1 bitcoin even reaches no less than IDR 600 million.
You can start trading and investing in crypto with the Pintu application. Download the Pintu application on the Google PlayStore or AppStore.
(*)
---
This article is a sponsored article from a third party, which contains information and is distributed as advertising or promotional material. Readers should do their research and due diligence on the products, services or companies mentioned in the content of this page.