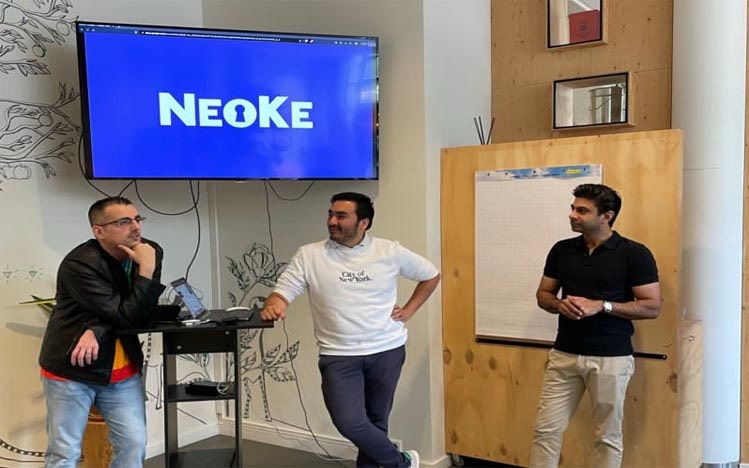 Develop breakthrough decentralized digital identity and biometric solutions for travel. NeoKe, a travel technology startup, has raised €1.3 million in funding from Dreamcraft Ventures, ff Venture Capital, GHARAGE: Vision Hub of Gebr.Heinemann and Plug & Play
NeoKe is an Amsterdam-based travel technology startup. Founded by Vikas Bhola and Sebastian Honores, an entrepreneur and former executive at booking.com.
The aim of establishing this company is to revolutionize the travel industry by creating a platform that makes travel smoother. As well as connecting tourists with service providers.
Platform
neoke.com
Stage
Pre-Seed
Raise
€1.3 Million
Founder
Vikas Bhola and Sebastian Honores
Investor List
Dreamcraft Ventures, ff Venture Capital, GHARAGE: Vision Hub of Gebr.Heinemann and Plug & Play
Year
Jul, 2023
/*
Funding Summary Table
In order to securely store and share user verified identification, the NeoKe platform, in addition to using cloud-based technology, also uses blockchain-based technology. With this platform, users can view and save personalized single travelers. As well as simplifying processes such as check-in, guest verification, access control, and data management for travel services.
"We finally have the technology to solve the problem of making travel more seamless and connected. In our modern age, there is nothing more valuable than personal data and identity. Sebastian and I are thrilled to partner with Dreamcraft, ff Venture Capital, GHARAGE, and Plug & Play to fulfill our vision of creating a 'connected journey' that enables a secure, seamless, and personalized exchange of information spanning all stages, from planning and booking to the actual travel experience." explains NeoKe CEO and co-founder Vikas Bhola.
NeoKe has two core products. Namely NeoKe Wallet and NeoKe Connect. NeoKe Wallet is a digital wallet that allows travelers to store and share their personal data securely at their own discretion. Meanwhile, NeoKe Connect is an identity management and automation platform for travel providers.
NeoKe will use the funding to further develop NeoKe's technology and go-to-market initiatives as they spearhead innovation for digital identity on the go. NeoKe is aware that privacy is an important requirement for consumers. And NeoKe's innovative platform helps protect user data, empowering each individual as the sole owner of their information.
NeoKe was founded in 2022. With over three decades of experience, one of the founders brought that experience to a startup company. And this team is here to make the platform a safe, comfortable and easy travel solution. And the startup's technology partner is Microsoft, they were also the global winner of last year's Microsoft Hackathon.
NeoKe emerged as last year's winner in a Future Travel Pitch Competition. For this feat, he received a gift package with a credit value of around €56k. And that includes a spot in the €36k Scaleway Growth Program, including a $10k Freshworks credit for their product suite, and a €9.9k credit for a premium account creator of simple show explainer videos.
(*)