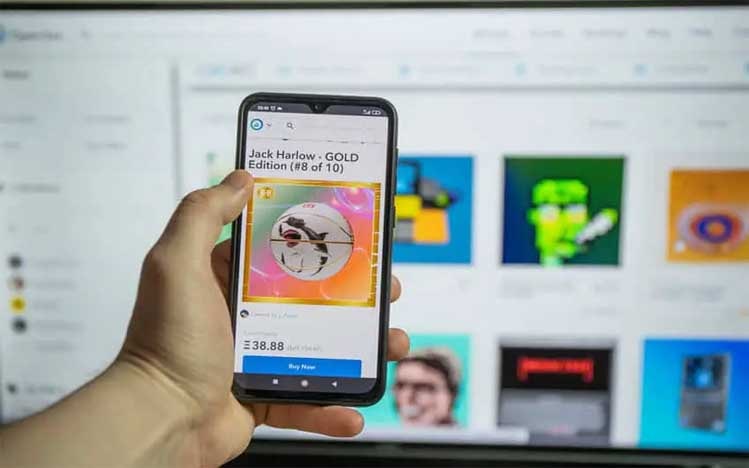 💡 TIPS – NFTs and crypto are dominating different areas, including entertainment, where it's increasingly mushrooming in Hollywood. It's also used in other areas like logistics, trade, finance, supply chain, and more. 
NFTs represent digital assets that exclusively work as a token of trade in the industry. It is also stored in blockchain technology, which makes them safe, secure, and unforgeable.
While NFTs are associated with several positive points, they can also be shared among people, so they can view or interact with digital assets. Now you must be thinking about how to share an NFT and how to prove your ownership. Here's a quick brief:
Primary Steps
Before you share your NFTs with others, you must perform the initial steps mentioned below –
Selecting a Blockchain Platform
Start by selecting a blockchain for your NFT, so you can secure the NFT ownership. Blockchain helps to tokenize your asset and boost the transparency and traceability of the shared data. It helps to maintain decentralized records of the transactions. You can choose different blockchains for NFTs, including the options like Ethereum, Openchain, Binance, etc. To avoid any security loopholes, do your research and choose the ones that offer the best security.
Create NFTs and Setup Digital Wallet
If you don't have an NFT, make sure to create one. For that, decide on an asset that you want to create as NFT. Then, select a marketplace, set up your wallet, and buy some cryptocurrency for minting the NFT. Once done, connect your wallet to the NFT platform and then start minting. For those, who don't know, minting means publishing the NFT on the blockchain, so it can be traded.
Depending on your blockchain platform, set up your digital wallet. For example, if you have chosen Ethereum as your blockchain, you can set up MetaMask for the same. Crypto wallets are important for your NFTs because they store the keys (both public and private) for sending, storing, or receiving the cryptocurrency.
Make sure to transfer the NFT to your wallet if you have got it from a marketplace.
Sharing Methods
Now that you are done with the initial steps let's quickly check out some common ways by which you can share your NFT with others:
Social Media Share
Depending on the platform, you may already have the option to share your NFT on any social media website like Facebook, Instagram, or Twitter. You can also share your media by creating a new post or story and attaching the files to the same. Make sure to add an impressive caption for better exposure.
Direct Sharing and Marketplace Listing
If you want to share your NFT with family, friends, or a known person, you can directly message them the link and other details, so they can access the same. You can also list your NFT to marketplaces, so people who are interested can view or buy it if you are interested in selling.
Transferring Ownership/NFT as a Gift
If you are planning to give your NFT ownership to someone else, you can select the transfer option and enter the recipient's address to do the same. It's highly advised to be careful while inputting your recipient address because blockchain transactions are permanent. Once it's confirmed, you cannot alter or reverse it.
If you want to ensure the smooth functionality of NFT transactions, you can try ETH staking (for Ethereum). As staking ensures a safe, reliable, and secure infrastructure, it can indirectly support NFT transfers. You can also earn rewards to secure funds and make future investments. Before you indulge in staking, it's recommended to do your research and familiarise yourself with the risks.
How To Prove Your NFT Ownership?
Here are some indicators of your NFT ownership:
If you have purchased an NFT from a marketplace, you must have received ownership of the unique token in your wallet. This indicates the authenticity and proves that you are the owner of the NFT.
You can sign the messages to indicate that you are the owner of the private key (associated with the public address). As digital signatures work as cryptographic proofs, it clearly indicates your ownership.
So, to sum up, that's how you share your NFTs and prove your ownership. Try the above methods to share your NFT today.
(*)