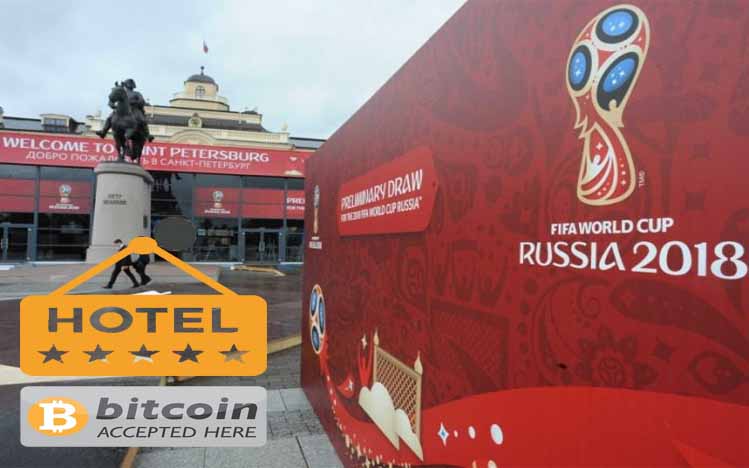 KANALCOIN NEWS –  The biggest sporting event in the world, FIFA 2018, will soon be held, only a few months away, fans have started to order seat tickets to be able to watch it live. Meanwhile, the implementation plan will be held in Kaliningrad, Russia.
There is surprising news that will make it easier for crypto users, because one of the hotels in Russia currently provides payment services using cryptocurrency. This is very profitable, especially for viewers who come from abroad.
One news report in Russia reports that the Malina Apartment is currently collaborating with an online payment system, free cash, which will allow users to rent rooms using crypto currency.
Manager of the Malina Apartments, Anna Subbotina said, "Currently, crypto currency is experiencing an increase in demand. So that it will gradually begin to be used as a means of payment, and we decided that FIFA fans can also make payments with the help of this innovative technology."
Meanwhile, the 11 other cities in Russia that will host other FiFA World Cups are Eaterinburg, Moscow, Kazan, Saint Petersburg, Vogograd, Rostov-on-Don, Sochi, Nizhny Novgorod, Samara, Saransk, and also Kaliningrad.
Hotels across the city have partnered with payment vendors specializing in cryptocurrency payments to provide seamless and hassle-free service for their customers to ensure a smooth transaction.
Several other sources report a rise in room costs across Russia in anticipation of demand during the FIFA World Cup. Director of Public Relations of Avisales Travels, said that, to book a room on June 28, when England play Belgium, the cost of one room would be around 18,000 Rubles, which is about 300 US Dollars.
They say that this costs ten times the cost of a normal hotel room in Russia. They also say that other cities in Russia are also significantly increasing their prices in anticipation of the World Cup.
The free-flow development director, Vitaly Lavrov, said that it was an interesting experience. They don't need to work with hotels in such a format, but in fact the hotel industry is currently very sensitive to trend developments, especially in the use of crypto as a means of payment. However, Free-Kassa's current collaboration with Petersburg Social Commercial Bank (PSCB) proves that there is a chance that Saint Petersburg will adopt cryptocurrency payments as well.
In addition, Russia is also currently carrying out the preparation of regulations for the use of cryptocurrencies and holding ICOs in the new proposal "On The Digital Financial Asset" last month. However, the amendment has also been requested by the Ministry of Economic Development, Ministry of Communications, Ministry of Justice, Central Bank of Russia and others to soften the rules for current cryptocurrency users.
While this decision was not liked by the Department of Finance, it did submit a bill last week that lists cryptocurrency as a "financial asset" not a legal payment method that is considered valid.
(*)