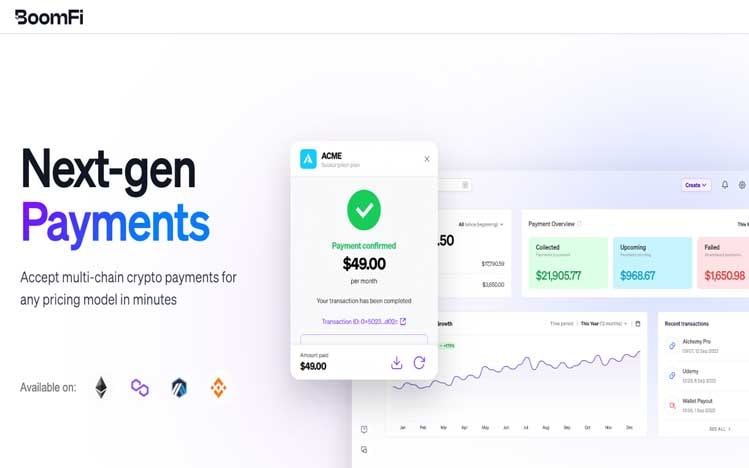 Boomfi announced that it has secured an additional $3.8 million in capital. The Boomfi team will use these funds to transform crypto and digital currency payments for web3, SaaS, eCommerce, builders, marketplaces, and traditional web 2 merchants.
Stablecoin exchanges in 2022 jumped to $7.4 trillion. This number is very astonishing because it has increased by up to 47 times compared to during the first pandemic. From Worldpay and Crypto.com surveys, around 60% of 1.5 million merchants are ready to accept crypto payments.
Platform
boomfi.xyz
Stage
Seed
Raise
$3.8 Million
Founder
Jack Tang and Michael Si
Investor List
White Star Capital, Passion Capital, Blockchain Founders Fund, Kraken Ventures, GSR, Aqua Now, Mantle Network, founders from Moonpay, Ramp Network, Transak, Layer Zero and former & current execs from Stripe, Revolut, Shift4 and Worldpay.
Year
June 13, 2023
/*
Funding Summary Table
But only 4% offer this option. With lower fee offerings, faster bidding, less risk of fraud, you can be sure that robust and user-friendly crypto payment solutions will soar.
Jack Tang, co-founder of BoomFi said that in the future the way to pay for goods and send or receive money will involve crypto rails and bridge between traditional and decentralized systems. But for now, there are still challenges that are complex and tend to be a mirage.
"We're simplifying payments across various blockchains and traditional payment channels into one seamless, seamless, and intimate payment experience. This funding will propel us full speed ahead into a world where crypto payments are the norm, not the exception," added Jack Tang.
BoomFi's additional capital is supported by leading venture capitalists, strategic investors and industry figures, including White Star Capital, Passion Capital, Blockchain Founders Fund, Kraken Ventures, GSR, Aquanow, Mantle Network, founders of Moonpay, Ramp Network, Transak, Layer Zero , The Giving Block and former executive of Stripe, Revolut, and Worldpay.
The funds will be used for business development. Such as forging strategic partnerships, product development, and expanding the merchant base in the growing web3 sector.
About BoomFi
Boomfi is a crypto payments company founded by serial tech entrepreneur Jack Tang and fintech product executive Michael Si. BoomFi is here to simplify the complexities associated with crypto transactions.
BoomFi all-in-one products support a variety of payment models. Such as one-time payments, recurring payments, structured billing and invoicing, seamlessly integrate crypto and fiat systems and ensure a superior user experience.
The advantage of this platform is that it offers traders a simple and fast onboarding process. With codeless payment links to get started in minutes, low code integration, and fully customizable API options.
The enterprise crypto checkout plugin will be available across major eCommerce, payment orchestration, and billing management platforms. To make crypto payments across the blockchain more accessible and suitable for businesses.
To be able to realize this desire, BoomFi has spent about 4 months of intensive product development. And have obtained strategic partnerships. Boomfi will announce this along with its public beta launch in the coming months. While waiting for an increase in the acceptance of new traders.
(*)