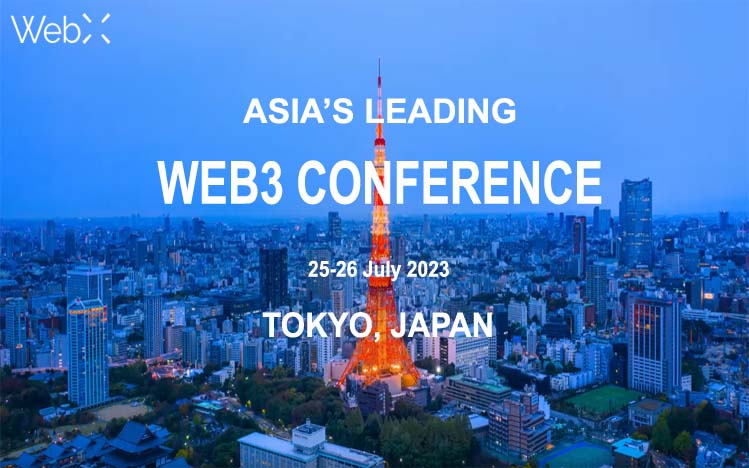 – This event has ended, see other events in the Events Calendar. –
---
WebX is Asia's largest web3 conference planned and managed by CoinPost, Japan's largest crypto/web3 media.
Key players, startups, companies, investors, government officials, and media from Japan and abroad will gather at the Tokyo International Forum, Japan's leading international event venue, for this 2-day global event.
Participants from Web3, Web2, and other industries will gather to discuss the introduction of decentralized technologies such as blockchain into society, creating a world-class conference that will accelerate global business collaboration among companies and position Japan as a Web3 hub in Asia.
---
Robbie Lim, Near Foundation GM, Business Development
Jeremy Allaire, Circle Co-Founder, Chairman and CEO
Nischal Sheetty, Shardeum Co-Founder
Ryan (Raz) Zarick, LayerZero Labs CTO (Chief Technology Officer)
Tatsuya Saito, Mitsubishi UFJ Trust and Banking Corporation / Progmat VP of Product / Founder CEO
Arisa Toyosaki, Cega Co-Founder / CEO
Jake Stolarski, Nero CEO and Founding Member
Ingrid Sia, Nansen Head of Marketing
Sota Watanabe, Astar Network / Startale Labs Founder / CEO
Yuzo Kano, Bitflayer Holdings CEO
Diane Maurice, Senior International Policy Advisor – Risk and IT Governance
Charles d'Haussy, dYdX Foundation CEO
….
Genki Oda, Japan Virtual and Crypto Asset Exchange Association Vice Chairman
Colin Wu, WuBlockchain Founder
Samuel Yim, 1 Inch Network
Suji Yan, Mask Founder
Yusuke Shiraishi, MZ Cryptos, Inc Representative Director
Alexandre Dreyfus, Chiliz / Socios.com CEO
Emi Yoshikawa, Ripple VP, Strategy & Operations
Marc Mathieu, Salesforce co-founder of Salesforce Web3 Studio, SVP Strategic Custumer Transformation and Innovation at Salesforce
Masaaki Taira, Member of the House of Representatives Head, Project Team on web3, LDP
Brandon Truong, Zetachain CPO
Takeshi Chino, Binance
Noriyuki Hirosue, Bitbank CEO
Yoann Turpin, Wintermute Co-Founder
Tridog, Pleasr DAO Member
Eiji Araki, GREE, Inc. Senior Vice President, Metaverse at GREE
Nelson Zha, Tencent Cloud International
Dennis Jarvis, Bitcoin.com Chief Executive Officer
Salman Banaei, Uniswap Global Head of Policy
Utkarsh Amitabh, 5ire.org Chief Marketing Officer
Ryo Matsubara, Oasys Pte. Ltd, Represenative Director
View More Speaker
---
WebX Hackaton
Japan Web3 Night on Tokyo Bay
WebX VVIP Party
WebX VIP Party
VC Night
Asia Web3 Hackaton
---
Linkedin : linkedin.com/company/webx-july-25-26-2023-in-tokyo
Twitter : twitter.com/WebX_Asia
---