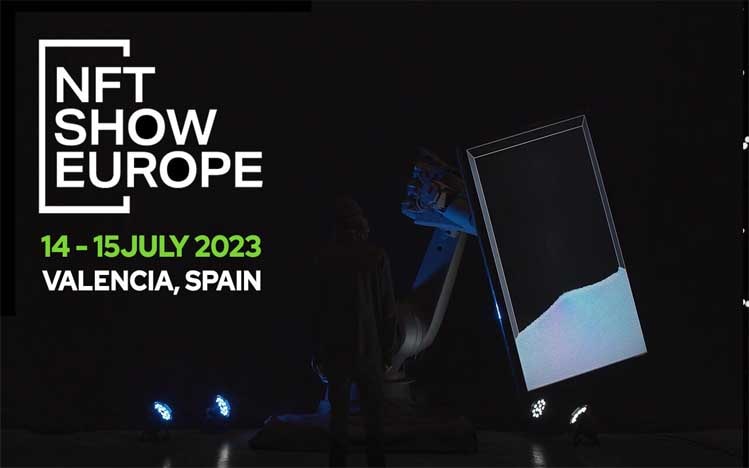 – This event has ended, see other events in the Events Calendar. –
---
NFT Show Europe 2023 is the premier European destination for web3, digital art, blockchain and metaverse experts. This multisensory experience will captivate attendees with an array of interactive and experimental art, providing the ideal setting to foster international collaboration among all of the stakeholders.
The second edition of the NFT Show Europe 2023 event will take place from 14-15 July 2023 in Valencia, Spain, and will feature renowned leaders in the blockchain and web3 space.
---
Guillaume Vergnas, Alpine F1
Irakli Beridze, UNICRI, United Nations
Leila Hurstel, Verse Estate
Sarah Burslem, NianticLabs
Odile Panciatici, XCEED
Lucy Maguire, Vogue Business
Rafa Garcia, Hugo Boss
Clare Tattersall, Digital Fashion Week
Seung Yoo, Zepeto
Amna U Chaudhry, UNICEF
Guillaume Brunet, Orange Web3 / XR
George Dobrodeev, Epic Games
Benjamin Stoll, SKI Federation
Hide Uehara, Square Enix
Irina Karagyaur, BQ9, Polkadot
Jai Jegal, Navi Studio
Arnoldo Concepcion, Animoca Brands
Madison Edgar, Activision Blizzard
Alex Garn, Odos / Semiotic Labs
---
NFT Show Europe is designed as a business event, where the main goal is to foster international collaboration among participants. All this surrounded by NFT and digital art galleries, exhibited with the most advanced technology of the moment.
---
Linkedin : linkedin.com/company/nftse
Instagram : instagram.com/nftshoweurope/
Twitter : twitter.com/nftshoweurope
---