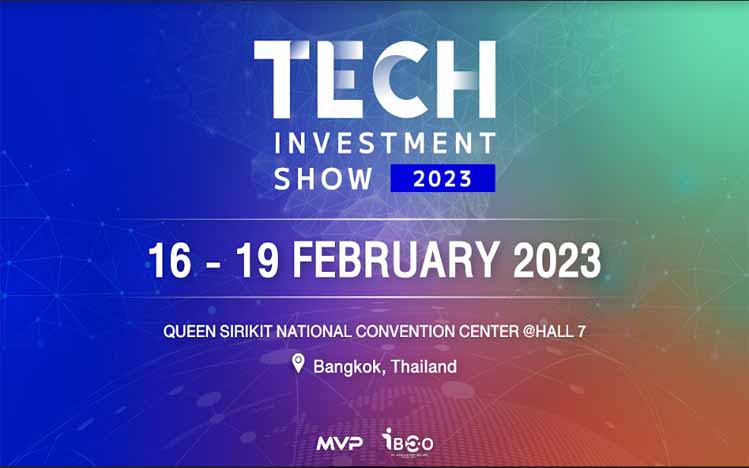 – This event has ended, see other events in the Events Calendar. –
Feb 16-19, 2023
Bangkok, Queen Sirikit National Convention Center I HALL 7, Thailand
Techinvestmentshow.com
---
Tech Investment Show 2023, encouraging the growth of tech Industry. Tech investment show will be held in Thailand, Queen Sirikit National Convention Center I Hall 7 on February 16-19, 2023. where C-Level executives, professionals, project owners, founders and influencers in the tech industry share their view on the market globally.
Staying on top of the Tech industry and emerging ideas throughout the world right now as investors are confident in SEA's long-term prospects and are spreading their bets through creativity, passion and knowledge of technology from builders. Tech Investment Show brings Banking, Cloud Funding, Enterprise Financial Software, Investment Management, InsurTech, Payment Technology, Education, Health, E-commerce, Web3, Blockchain technology, cryptocurrency, metaverse, non-fungible tokens, digital assets, etc. It's crucial to comprehend these ideas and the most recent technical advancements to maximize the results.
---
Tobias Bauer, The principle at Blockchain Founders Fund
Ken Nizam, Founder & CEO AsiaTokenFund Group
Ain Mohd, Director Partnership Coinweb & OnRamp
Sharon Tse, CEO Colorverse
Palida Jantratip, Head of Tech Investment Show event & Co-Founder IBEO
Kanyarat Saengsawang, Head of Growth Sandbox
Cyrus IP, Partner Newman Capital
Pongtorn Kietdumrongwong, MD Project Management
Carlson Lau, Managing Director and Co-head Northstar Group
Boonrat Lohwongwatana, CEO and Co-Founder Meticuly
Punthep Punthong, Senior Analyst Spartan Group
Tanawat Boonpanya, Head of Investment Krungsri Finnovate
….
Marouen Zelleg, Director DeFi & Wallet Consensys
Toby Gilbert, CEO & Co-Founder Coinweb Kucoin Labs Mentor
Santi Abakaz, CEO & Co-Founder Tastebud, Bio Buddy, and Future Food Network
Brandon Lee, Co-Founder & COO Block Asia Labs
Tristan Lee Zheyi, Head of Southeast Asia Zokyo
Chanon Charatsuttikul, CEO and Co-Founder Forward
Pun Jaruthssanakul, Leading the Efforts in Asia & Investment Manager Seedstarts
Patarakorn Nicharankun, CEO DeepCapital
Sethapong Sethakarun, Principal Singha Venture
Myrtle A, Founder & CEO Block Tides
Vitavin Ittipanuvat, Executive Director Vertex Ventures Southeast Asia & India
Wanwares Boonkong, Senior Investment Manager Beacon
Helena Margarido, COO Kodo Assets
Sarun Sutuntivorakoon, N-Vest Ventures
Amirsan Roberto, CoFounder and Investor Sinofy
Derrick Loi, General Manager, International Business, Digital Technolgies Ant Group
Arthur Tan, Chief Executive Officer Metapac
Daniel Wang, Partner – IVC – CIO – YGG SEA
Steffano Virgilli, Busniess Partner for PR & Media DWF Labs
View More Speaker
---
16-17 Feb 2023, focus on Tech startups with 4 selected categories from following categories: E-commerce & Logistic, Adtech & Martech, Food & Agtech, HealthTech, TravelTech, Saas, EdTech, Financial Services.
18-19 Feb 2023, focus on Web3 startups with 4 selected categories from following categories: Education, DApps, Infrastructure, Mining, Dao, Defi, Gaming, NFTs, Metaverse, IoT, L2, Community, Cross-chain, Wallets, Security.
---
Facebook: facebook.com/techinvestmentshow
Telegram: t.me/techinvestmentshow
---

Trescon
Contact
Email:
info@mvisioncorp.com
Login to View
---