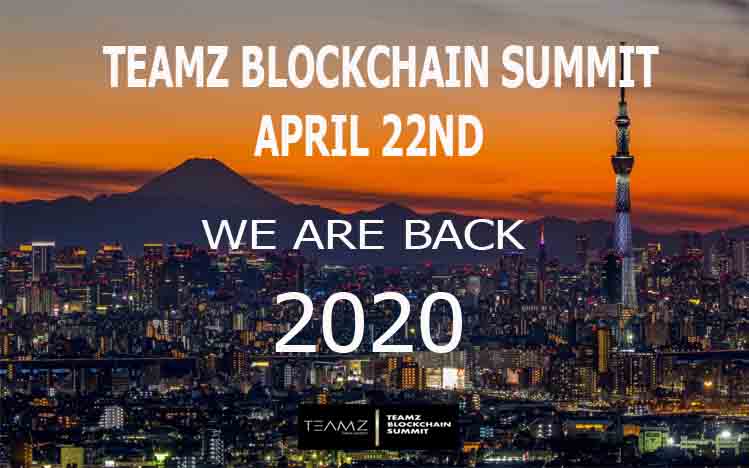 – This event has ended, see other events in the Events Calendar. –
---
This Summit will be held on April 22, 2020. In time for the Tokyo Olympics, the TEAMZ Blockchain Summit will also fully reflect the Olympiad of "mutual understanding, friendship, solidarity and fair competition" in the blockchain industry. Cheers, make a positive contribution to the ecology of the blockchain industry. The theme of the summit is "Blockchain-the technological revolution leading the new technology era". Through the in-depth participation of industry experts and scholars, outstanding high-quality projects, traditional funds, traditional technology companies, investment banks, funds and global news media, we fully understand the current situation. The status quo, issues and trends for the future development of the blockchain industry, and promoting industry peers through a series of links such as guest keynotes, fireside dialogues, project exhibitions, VIP closed conference forums, red carpet dinners, and Tokyo Blockchain Week. Active exchange, learning and cooperation, in the truest sense of the word, provide a good opportunity for the entire blockchain industry ecology to mutually benefit, win-win and unite.
OVERVIEW SUMMITS
MAIN STAGE, As the main stage of the TeamZ Blockchain Summit, we invite global industry leaders to share their developments, industry views, use cases, blockchain ideas, investments and demo shows for the attendees.
PANEL DISCUSSION Panels covered the following topics: Blockchain technology integration, AI & IoT, Investment, Innovation, DApp ecology, security & regulation, connected industries, decentralized transactions, blockchain ecosystem in Japan and overseas.
EXHIBITION, This place is connected to the Japanese inner garden with a technology exhibition area. Share your ideas, showcase products to attendees, talk about partnerships at project booths, and gather resources on the latest blockchain innovations from around the world.
RED CARPET, As the highlight closing event, engage and interact with guest speakers, innovative projects, key talent and industry experts from around the world. Free cold drinks and delicious food served. Dress up and enjoy a night in the city of Tokyo.
TOKYO BLOCKCHAIN WEEK, this is the second time to host blockchain week in Tokyo which is brought together by the community during this special year in Japan for the Tokyo Olympics 2020. Join some of the famous blockchain and cryptocurrency ambassadors around the world.
VIP CLOSED MEETING CONFERENCE, Closed meeting including all investors and entrepreneurs participating as speakers and panelists. VIP guests are allowed to ask questions to learn from these industry elites.
---
Facebook: facebook.com/teamz.jp/
Twitter: twitter.com/teamz_inc
Linkedin: linkedin.com/company/teamz-entertainment/
Telegram: t.me/teamz_inc
---