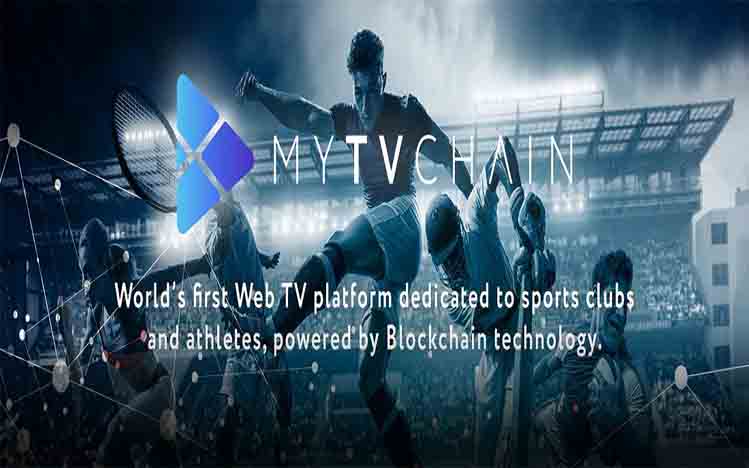 MYTVCHAIN.COM RECORD GROWTH FOR THE FIRST WEB BLOCKCHAIN TV PLATFORM DEDICATED FOR SPORTS CLUB AND ATHLETES.
PRESS RELEASE, Sophia Antipolis (France) and Singapore: The first web TV platform dedicated to sports clubs and athletes opened in October 2018 and has reached more than 33,000 users, as well as multiple web TV channels for sports clubs in more than 50 countries, with more than 1, 5 million visits already in the first month of the year. The company has announced in September 2019, that the "Sport in France" channel was launched from the initiative of the French National Olympic and Sport Committee (CNOSF), which has joined the platform to develop the promotion of all disciplines, including federations and their clubs.
The company develops blockchain-based technology by allowing users to share their storage space and bandwidth. MyTV tokens will be used not only for remuneration of users and communities in this participation, but also for remuneration of users who share their club content on their social networks. When they earn MyTV tokens, users will be able to make donations to their favorite sports clubs or even purchase services such as subscribing to channels or accessing exclusive content via tokens.
With a community of several thousand users and fans, the company is in a period of private sale of its MyTV tokens, with a period that will end on February 28 and during which the company is offering a discount. Terms of sale are available at https://mytvchain.io/press. Participants can register and create their own portfolio at https://ieo.mytvchain.com/press. If the MyTV token sale does not reach the target of 8 million euros, an IEO (Initial Exchange Offering) will take place from February 29 to March 27 on the Latoken and Vindax exchanges.
MyTVchain offers a 10% bonus for every purchase of MyTV tokens on its platform using the referral link shown below: https://bit.ly/2PDbdaD.
Xavier Gesnouin, President of MyTVchain stated that "the growth of the platform in terms of audience allows us to accelerate monetization with the launch within a few weeks of a series of services for sports clubs and fans, based on MyTV tokens which will be listed on various exchanges after the IEO. Several press outlets have reached out to us and wish to join the movement, we are confident and pleased to know that we will be making an announcement sooner rather than later. "
@MyTVchain

/MyTVchain

/MyTVchain Official

@mytvchain
(*)