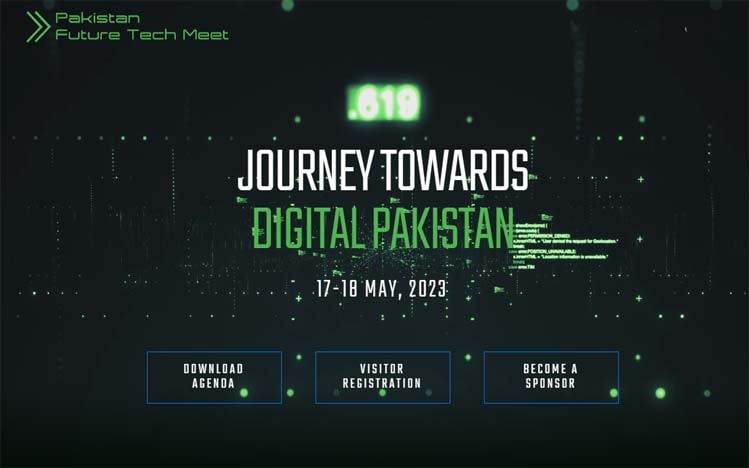 – This event has ended, see other events in the Events Calendar. –
---
Innovation and technology is paving the way for digital Pakistan as per the 2030 vision. The government is striving to improve its citizens' quality of life and economic well-being by ensuring availability of accessible, affordable, reliable, universal and high-quality ICT services. As a country, Pakistan is developing steadily by adopting the emerging digital technologies and innovative applications to cross-sector socio-economic development, transformation of economic activities, governance models, social interaction and achievement of sustainable development goals.
The Pakistan Future Tech Meet will bring together the high-level technology experts, consultants, government officials, international and local stakeholders, C-level executives, leading industry experts, manufacturers and suppliers, retailers, technology pioneers, decision makers, investors, developers, policy makers, startups and many more relevant personnel to discuss the ICT development, challenges and achieved new technologies. The Meet will also showcase a delegation of 200+ entrepreneurs, technology experts and digital leaders visiting from across Pakistan.
The Pakistan Future Tech Meet 2023 will take place in Pakistan from 17-18 May 2023.
---
Salma Nisar, Partner Investments Lead, Microsoft Middle East & Africa
Dr. Sana Farid, President, VRAR Association MENA Chapter
Mughees Shaukat, Islamic Banking Advisor, Oman & Vice Chairman, AEB, AAOIFI, FGI
Javaid Iqbal, Chief Commercial Office, Special Technology Zones, Authority Govt. of Pakistan
Muhammad Asif Qureshi, Business Head, Leaders Corporate
Ahmad Manzoor, Founder & CEO, Pakistan Blockchain Institute
Ibrahim Amin, Chairman & Cofounder, PAFLA, Chairman Dellsons Group
Tufail Ahmed Khan, CEO, PAFLA – Pakistan Freelancers Association
Ammar Hussain Jaffri, Founding President, Pakistan Information Association (PISA)
Dr. Waleed Bin Shahid, Assistant professor, Military College of Signals (MCS) NUST (Phd Scholar NCSAEL)
Furqan Aziz, CEO, InvoZone
Sidra Irshad, Former PWiC Islamabad Chapter Lead, SDM Cloud, XGid
Shoaib Malik, Vice President Northbay Solutions
Badar Khan, Director of Digital Platforms, Tonomus, Neom
Saquib Ahmad, Country Directory, SAP Pakistan
Mohammad Ali Ibrahim, Head Marketing & Communications, Mobilink Microfinance Bank Ltd
Kamran Aslam, Director of Digital Technologies & Data Analytics (DTDA), PHC Global Pvt. Ltd
---
Linkedin : linkedin.com/showcase/pftexpo/
Facebook : facebook.com/pftexpo
---