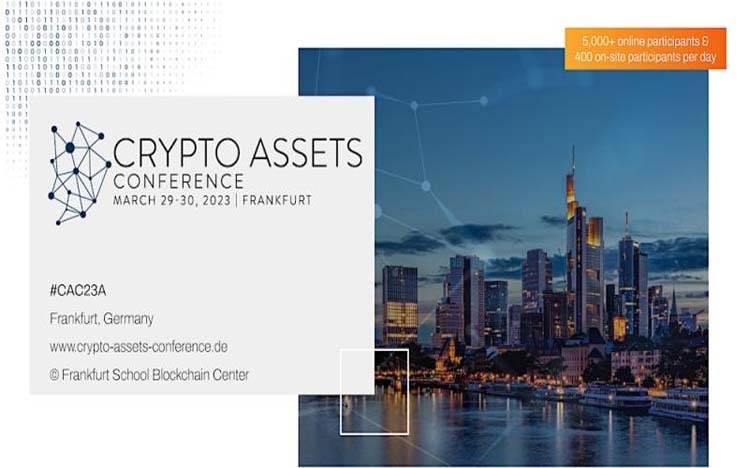 – This event has ended, see other events in the Events Calendar. –
Mar 29-30, 2023
Frankfurt, Frankfurt School of Finance & Management Adickesallee 32-34 60322, Germany
crypto-assets-conference.de
---
The world of digital assets evolves and matures in unprecedented style. With Web3 having the ability to revolutionize how society interacts and tokenization transforming the concept of ownership, blockchain technology has more use cases than ever before. Increasingly, established industries adapt to these use cases and a future without digital assets becomes unthinkable.
To unite industry experts, corporate leaders and entrepreneurs, the Crypto Assets Conference 2023 in Frankfurt from March 29th – 30th will once again delve into the latest trends in DLT, blockchain and crypto assets.
---
Patrick Hansen, Circle
Dr. Ulli Spankowski, Borse Stuttgart
Benjamin Duve, BNY Mellon
Jan Van Eck, VanEck
Alexander Bechtel, DWS
Prof. Dr. Philipp Sandner, Frankfurt School Blockchain Center
Prof. Dr. Isabell Welpe, TUM
Simon Seiter, Hauck Aufhauser Lampe
Dr. Heiko Beck, DWPBank
Jens Siebert, KPMG
Lukas Enzersdorfer-Konrad, Bitpanda
Christoph Hock, Union Investment
Katharina Gehra, Immutable Insight
Philipp Weiling, Polygon
Frank Schaffler, Deutsher Bundestag
….
Christoph Kreiterling, BaFin
Dr. Sven Hildebrandt, Borse Stuttgart
Kurt Zeimers, BNP Paribas
Jan Brzezek, Crypto Finance Deutsche Borse Group
Maik Jordt, Chainalysis
Dr. Carola Rathke, YPOG
Dr. Anika Patz, YPOG
Christoph Jentzsch, Tokenize.it
Andy Flury, Wyden
Thomas Labenbacher, Assetera
Victoria Jahn, Waldeck Rechtsanwalte
Jan Liepe, Waldeck Rechtsanwalte
Sascha Dolker, DWPBank
Dr. Hamid Haqparwar, BMW Group
Marius Van Der Wijden, Ethereum Foundation
Dr. Annette Doms, Xcircle
Wolfgang Mannel, Blockchain Founders Capital
Sarah Gottwald, Blockchain Founders Group
Dr. Matthias Hirtschulz, D-Fine
Michael Duttlinger, Cashlink
Clara Medalie, Kaiko Smart Data
Nayana Talwar, Sygnum
Seamus Donoghue, Metaco
Susanna Fromm, Vanagon
Lucas Zaehringer, Blocksize Capital
Till Rugge, Heartstocks
Maximilian Bruckner, 21e6 Capital
Volker Liermann, EY
Arno Pernthaler, Dec Institute
Nicolas Weber, Metagamehub
Victoria Gago, European Blockchain Convetion
Sandra Sohn, Intas Tech
Eduard Grigorjan, Intas Tech
Alexander Schlicher, Fansea
Michael Spitz, 360X
Dr. Jonas Gross, Digital Euro Association
Tamara Ferreira Schmidt, Digital Euro Association
Sarah Palurovic, Digital Euro Association
Nils von Schoenaich-Carolath, Tradias
Maximilian Roesgen, Ecota
Peter Lange, Sustaim Earth
Moritz Schildt, Blockchain Bundesverband
Daniel Wingen, Event Innovate
Sven Wagenknecht, BTC Echo
Sheraz Ahmed, Crypto Valley Swiss
Masud Sultan, ITSA
Philipp Schulden, RudyCapital
Marcel Kaiser, Defiria
Alexandra Overgaag, Thrilld Labs
View More Speaker
---
Day 1 – Digital Assets (Wed., March 29, 2023): Digital Securities, Tokenization of Assets, Funds, Asset Management, Infrastructure, Custody, Digital Finance
Day 2 – Crypto Assets & Web3 (Thu., March 30, 2023): Bitcoin, Ethereum, DeFi, Metaverse, Web3, NFTs, Stablecoins, Carbon Tokenization (CO2), ESG
---
Linkedin: linkedin.com/company/crypto-assets-conference/
Youtube: youtube.com/@cryptoassetsconference1556
---