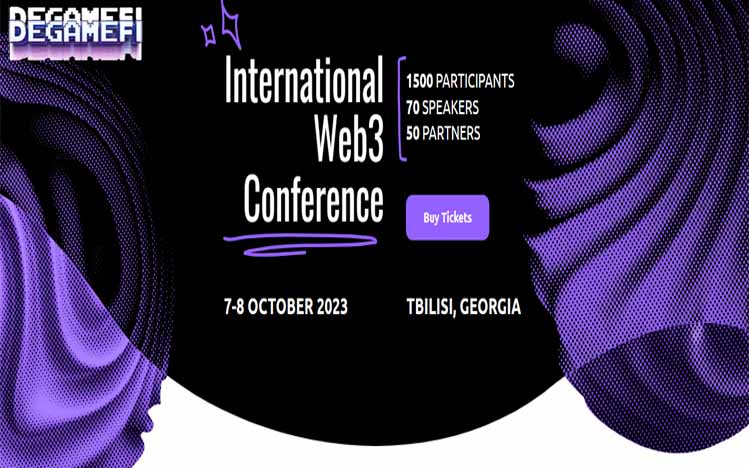 This event will take place in the next,
Register
---
DEGAMEFI 2023 is an international network of distinctive events that bring together individuals interested in the blockchain sector. It unites investors, creators, developers and anyone involved in the industry. This creates a global platform for all participants to connect and collaborate.
Including:
– A biggest annual conference in CIS region.
– Private Club for Investor and Founders.
– Public events.
International Web3 Conference – DeGameFi 2023 will take place in Tbilisi, Georgia on October 7-8, 2023.
---
Tobias (Tobi) Bauer, Web3 Investor | Tech Enthusiast | Thinc Sholar
Cal Evans, Award Winning Digital Asset Lawyer & Strategy Expert
Marco Dal Lago, Head of Expansion at Tether and Bitfinex
Dr. Vilma Mattila, Founder 5ire.org | VC
Irina Karagyaur, Top 100 Women of The Future | Founder & CEO at BQ9
Mikheil Didebulidze, Founder of Arena Games & DegameFi | Entrepreneur IDEs | Web 3.0
Yosef Shaftal, Founder of Israeli Blockchain Association
Laura Inamedinova, Crypto Marketing OG
Dominic Ryder, Founder & CEO at vEmpire DDAO
Fred Antunes, CEO of @RealFevr | Fearless #Web3 Builder
Kalin Metodiev, CFA, Co-Founder and Managing Partner at Nexo
Felix Mago, Co-Founder and Chief of Crypto of SPACE | Metaverse
Dr Deeban, Venture Capitalist | Doctor | PhD'ing | GD10 Capital
….
Laurin Bylica, Director of Partnerships at Illuvium.io
Jonathan C. Dunsmoor, Securities Attonery | Investor
Alex Fatuliaj, Co-Founder & COO at Simplicity Group | Token Economist
Tamar Menteshashvili, Solana Foundation | Head of Western Europe
Yuri Rabinovich, Managing Partner at VNTR Capital | Investor
Nicholas Lo, BD Lead at BingX | OffCahin Hong Kong
Giorgi Gvazava, Chief Crypto Officer at Bank of Georgia | Board Member at CryptX
Dina Mattar, Founder & CEO of DVerse
Eralp Hatipoglu, Co-Founder & CEO at City Pay
Fehmi Fennia, CIO at Arena Games | NFT | GameFi
Andrew Thornhill, Fintech Etrepreneur | Founder at BrewDAO
Daniel Schmid, Co-Founder of Finco | Digital Asset Management | Bitcoin Mining
Ilya (UnderKong) Orlov, Web3.0 Executive | Founder & CEO at Filemarket.xyz
View More Speaker
---
Linkedin : linkedin.com/company/degamefi
Facebook : facebook.com/DeGameFi
Instagram : instagram.com/degamefi
Youtube : youtube.com/@Degamefi
---