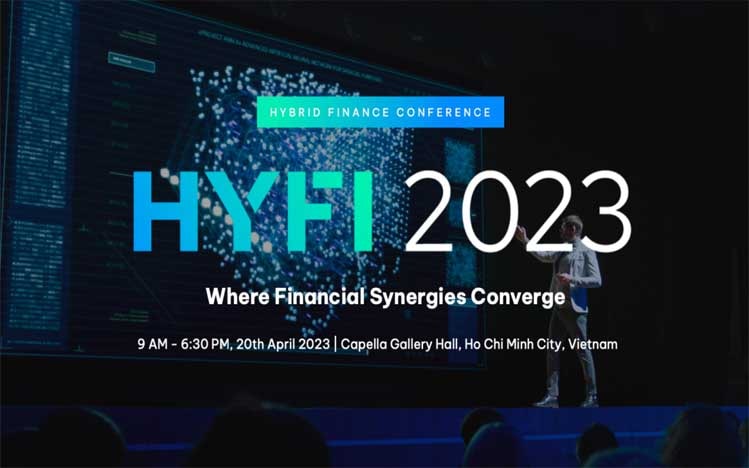 – This event has ended, see other events in the Events Calendar. –
---
HYFI 2023 is a one-day conference that aims to marry TradFi (Traditional Finance) with the Web3 world. Traditional Finance has been the engine that powers the world's economy for centuries. However, the Web3 wave is a new technology revolution aiming to significantly enhance how we do things more efficiently. The emerging concept of Hybrid Finance, or HyFi, refers to a mechanism that bridges the gap between traditional finance and decentralized finance.
HYFI 2023 believes that TradFi needs Web3 and vice versa to enable robust solutions and drive mass adoption of Web3 Finance.
---
Patrick Tan, CEO & General Counsel, Novum Alpha
Takatoshi Shibayama, Head of Sales APAC, Copper
Jonas Thurig, Managing Partner, F10 Asia
Sanjay Popli, Co-Founder, Cryptomind
Colin Allison, Associate Partner, APAC, Rainmaking
Vanessa Ho (Moderator), Business Development, SO-COL
Myrtle Anne Ramos (Moderator), Founder and CEO, Block Tides
Dr. Binh Nguyen Thanh, Senior Program Manager of Finance, RMIT University Vietnam
Geoff Ira, Co-Founder & CEO, TradeTogether
Tobias Bauer, Partner, Blockchain Founders Fund
Jenny Nguyen (Moderator), COO, Kyros Ventures & Coin68
….
Jinnie Lee, Head of Global Partnerships, Klaytn Foundation
Jack Nguyen, Managing Partner, BlockBase Ventures
Liu Anqi, Partner, Metaverse Fund, Quest Ventures
Belinda Pham (Moderator), Blockchain Portfolio Management, Brinc
Sharon Lourdes Paul, CEO and Co-Founder, Headquarters (HQ.xyz)
Ram Shanmugam, Serial Entrepreneur, Web3 Projects
View More Speaker
---
Mainstreaming Digital Assets: How Institutions are Embracing the Future of Finance
Regulating the Future: Navigating Digital Asset Custody and Compliance
How Traditional Finance is viewing Digital Assets and their stance for 2023
Trading Titans: Inside the Minds of Hedge Fund Managers and their Winning Strategies
Unicorns and Blockchains: How VCs are Funding the Future of Web3
---
Twitter : twitter.com/hyficonference
Linkedin : linkedin.com/events/hyfi20237019256877309988864/
Facebook : facebook.com/hyficonference
---