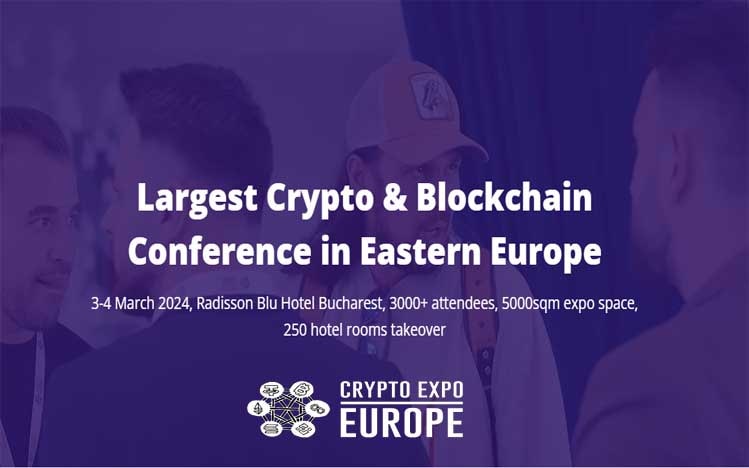 This event will take place in the next,
Register
---
Crypto Expo Europe 2024 is the largest Crypto and Blockchain conference in Eastern Europe, with a 10 years experience in Global Expo Events with more than 4000 attendees/edition, our company was searching for new markets, and, since Romania has one of the highest Crypto adoption in Europe, this event came naturally to us.
Crypto Expo Europe 2024 is more than a network event, we are also focused on sharing the newest information, the fresh trends, finding solutions to the latest issues, all for helping you growing in your career or increasing your business.
---
Kyrylo Khomiakov, Binance – Regional leader in CEE and Ukraine
Andrew T., Partnerships Director for APAC/MENA at CoinDesk
Ilie (Elijah) Puscas, Binance – Country Manager
Allen Wei, Global CEO and Co-Founder of LBank
Jane King, CEO and Founder, LilaMax Media at the NASDAQ. Host, New to the Street, NewsMax TV
Ekaterina Daminova, Business Development at Gemini
Hussein Almahroot, Business Development Manager at OKX
Dorian Vincileoni, Europe Business Development Manager, KuCoin
Christo Peev, CEO @ Motion Software. Forbes 30. Entrepreneur. Remote Work Activist
Vasil Tuchkov, Co-Founder & CEO of ItRemains.io | Writer, Producer, Entrepreneur | Speaker, Educator | Blockchain Aficionado
Shantnoo Saxsena, Founder of Encryptus
Marwan Haddad, CEO and Founder Katana Inu
Vilma Mattila, Founder & CBO at 5ire
Ondrej Pilny, Co-founder & CEO at Baserank
….
Felix Crisan, Co-Founder NETOPIA / mobilPay
Adrian Posteuca, CEO of Concept Factory Bucharest/London, partner in Immersive Studios (UK) and Metaverse Creative Advisor Humans.ai
Marius Morra, CEO/cofounder TOKERO Crypto Exchange
Adrian Stratulat, CIO CLAPART
Przemysław Kral, Chief Executive Officer at Zonda
Marina Petrichenko (Crypto Marina ), Web3 Marketing and Business Development Specialist, Head Of Growth (Europe) at Nym Technologies
Vanina Ivanova, CMO at Ambire
José. F. Pereira, Venture Capital Caerus
Stefan Tanase, Senior Consultant Jasill Accounting & Business
Sergiu T. Vasilescu, Managing Partner VD Law Group
Luca Dejan, Partner VD Law Group
Jean-Paul Tarud-Kuborn, Partner and co-founder of Deca4 Advisory Dubai
Arvin Khamseh, Globally Recognized NFT Marketing Expert
Viktoria Soltesz, Founder and CEO PSP Angels
Cristian Dorobantu, Co-founder and CEO of the Leaders-Tribe project
Bogdan Clipici, Co-Founder & CBO @ Stailer
Adrian Niculescu, Founder TOMORROWerse Capital
Alex Mincu, Founder Farm.XYZ
Alex Pana, Marketing Manager at Oveit
Meike Krautscheid, CEO & Founder of blockXspace
Mugur Cosmin Frunzetti, Founder MetaStudio DAO Creator's Platform
Daniel Tamas, Co-founder and CEO at WAM
Antonio Enache, Founder & CEO Sense4FIT
Alexandru Carbunariu, Project and Marketing Advisor for Banksters.com
Alexandru Macovei, Lawyer, CEO & Founder of Herity Network
Benedetto Biondi, Chief Executive Officer at Folks.Finance
Denys Lothbrok, Founder and CEO of GTEX
Amy Peck, Founder & CEO of EndeavorXR
Roland Roventa, Portfolio Manager @ Altana Digital Assets Fund
Alexandre Horvath, Chief Information Security Officer & Data Protection Officer at Cryptix AG
Claudia Tapardel, CCO and Vice President for International Affairs of ARIVA DIGITAL
Flavian Manea, CEO Bware Labs
Oh Thongsrinoon, CMO for ALTAVA
Silvia Mogas, Founder – Blockchain Marketing Boutique
Sergiu Draganus, DAO Spark at Ludo
Tammy Lovin, Digital Art Experiences Creator
Nikolay Angelov, Head of Blockchain Nexo
Roxana Pistolea, Web3 Evangelist at Humans.ai
Bogdan Filip, Head of Global Community at Humans.ai
Vali Mălinoiu, Head of Blockchain & Infrastructure at Humans.ai
Sabin Dima, Founder & CEO, Humans.ai
Peter Hopwood, Global Speaker Coach & TEDx Coach / Presenter / Story Strategist
Paul Moukhin, Co-Founder of BDC Consulting
Ioana Frincu, Technology Advisor at Hellen's Rock Capital
Alexandru Stratulat, Founder of SourceLess Blockchain
Stefan Gergely, Head of Growth at Soleadify
Dr. Razvan Costin, PhD in Cybernetics and Statistics and Co-Founder Prodigy IT Solutions, Starfish, Star Chain, Typeqast and Deb0x
Prof. Dr. Radu Ionescu, Professor at the University of Bucharest and co-founder of SecurifAI
Sorin Mierlea, President of InfoCons
Sebastian Cochinescu, CEO and founder of Tailpath.com
Mike Costache, Investor
Stanislav Havryliuk, COO at Zonda
Andrei Popa, co-founder Hypercent
Gasper Stih, Director of Marketing at Zonda
Eduard Oneci, Co-Founder & CEO of ZoidPay
Cristian Voaides, CEO and Founder at Welthee
View More Speaker
---
TBA
---
Twitter : twitter.com/cryptoexpoeu
Instagram : instagram.com/cryptoexpoeurope
Linkedin : linkedin.com/company/cryptoexpoeurope
---